VEGAN(ISH) BUTTERNUT SQUASH WITH KIMCHI RECIPE
by Rachel John, Executive Chef Ziegfeld Ballroom, Gotham Hall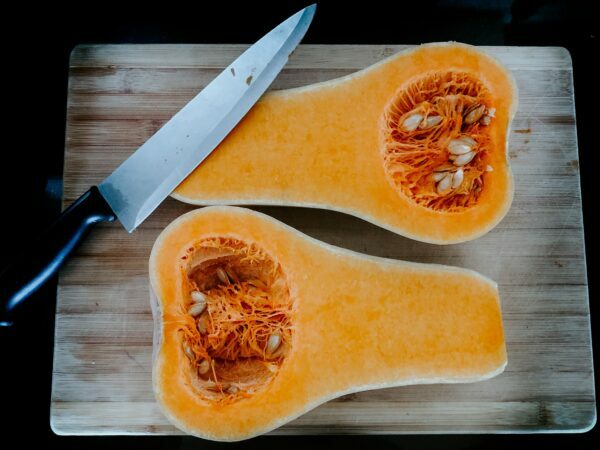 1 butternut squash, peeled, halved and seeded.
½ cup kecap manis
1 cup tamari
1 shallot, sliced thinly
3 cloves garlic, halved
1 tsp toasted & ground coriander
1" ginger, peeled, sliced thinly
1 lime, juiced
1 Tbsp fish sauce (optional)
Sesame seeds
Poppy seeds
2 oz sour cream
2.5 oz sweet chili sauce
Fresh cilantro
We suggest pairing this recipe with Chef Rachel's Carrot & Napa Cabbage Kimchi Recipe
Add the tamari, kecap manis, shallot, garlic, coriander, and ginger to a metal saucepan. Simmer the ingredients on low until the mixture thickens.
Brush the butternut squash with vegetable oil, sprinkle lightly with salt & pepper, and place on an oiled baking sheet, cut side down. Bake at 350 degrees. When it is about halfway cooked, about 15 – 20 minutes in, baste with the kecap manis liquid. Continue to baste until the squash is cooked.
Once the squash can easily be pierced with a fork, remove from the oven. When it's still slightly warm turn it over so the cut side faces up and baste the inside with more of the liquid. Strain remaining basting liquid and add lime juice and optional fish sauce.
Slice the warm butternut squash into half moons and serve with steamed jasmine rice and Carrot & Napa Cabbage Kimchi. Drizzle the warm basting liquid on top and sprinkle with some toasted sesame and poppy seeds.
Make a quick sauce with 2 oz sour cream, 2.5 oz sweet chili sauce and 2 sprigs chopped cilantro. Serve with the squash and enjoy.
More Food Festival Recipes