Chef Batya from Mae Mae Cafe shared several of her delicious recipes for Mother's Day.
Originally called our Asparagus Cashew Soup, it's more aptly name as a Vegan Cream of Asparagus Soup. Pureed cashews stand in as cream, offering a rich, creamy flavor without dairy. The comes together in less than 30 minutes and can be eaten as a starter or as a main dish when paired with one of her other Mother's Day recipes.
Note that raw cashews found in the grocery store have typically been steamed, which destroys the toxins that naturally occur in cashews.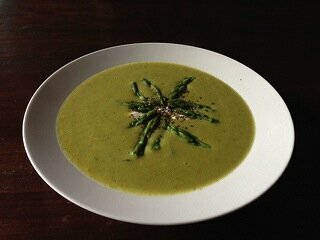 VEGAN CREAM OF ASPARAGUS SOUP
Ingredients:
1 onion, chopped

5 cloves garlic, minced

2 tablespoons olive oil

2 pounds asparagus, trimmed and chopped

4 1/2 cups vegetable broth

1 cup raw cashews

¾ cup water

¼ teaspoon sage

½ teaspoon salt

¼ teaspoon black pepper

2 teaspoons lemon juice
Procedure:
In a large soup pot, sauté onion and garlic in olive oil for 2–3 minutes until onion is soft. Reduce heat and add asparagus and vegetable broth.

Bring to a simmer, cover, and cook for 20 minutes. Cool slightly, then purée in a blender, working in batches as needed until almost smooth. Return the pot over low heat.

Purée cashews and water together until smooth and add to soup. Add sage, salt, and pepper and heat for a few more minutes, stirring to combine.

Stir in lemon juice, and adjust seasonings to taste.