VALENTINE'S MUSHROOM FRICASSEE
by Georgette Farkas
In my traditional French culinary past I would have made a "vol-au-vent" a flaky puff pastry cup filled with sautéed mushrooms. Mushroom pot pie would be the rustic version. For this one skillet recipe, with a lighter touch and valentine's day in mind, I'm simply topping my mushroom fricassee with puff pastry hearts. The celery root adds body and flavor. The fricassee can be prepared a day ahead, just up to the point before adding the spinach. While you may be cooking for only two on Valentine's Day, you won't regret having extra portions on hand as a side dish in the days that follow.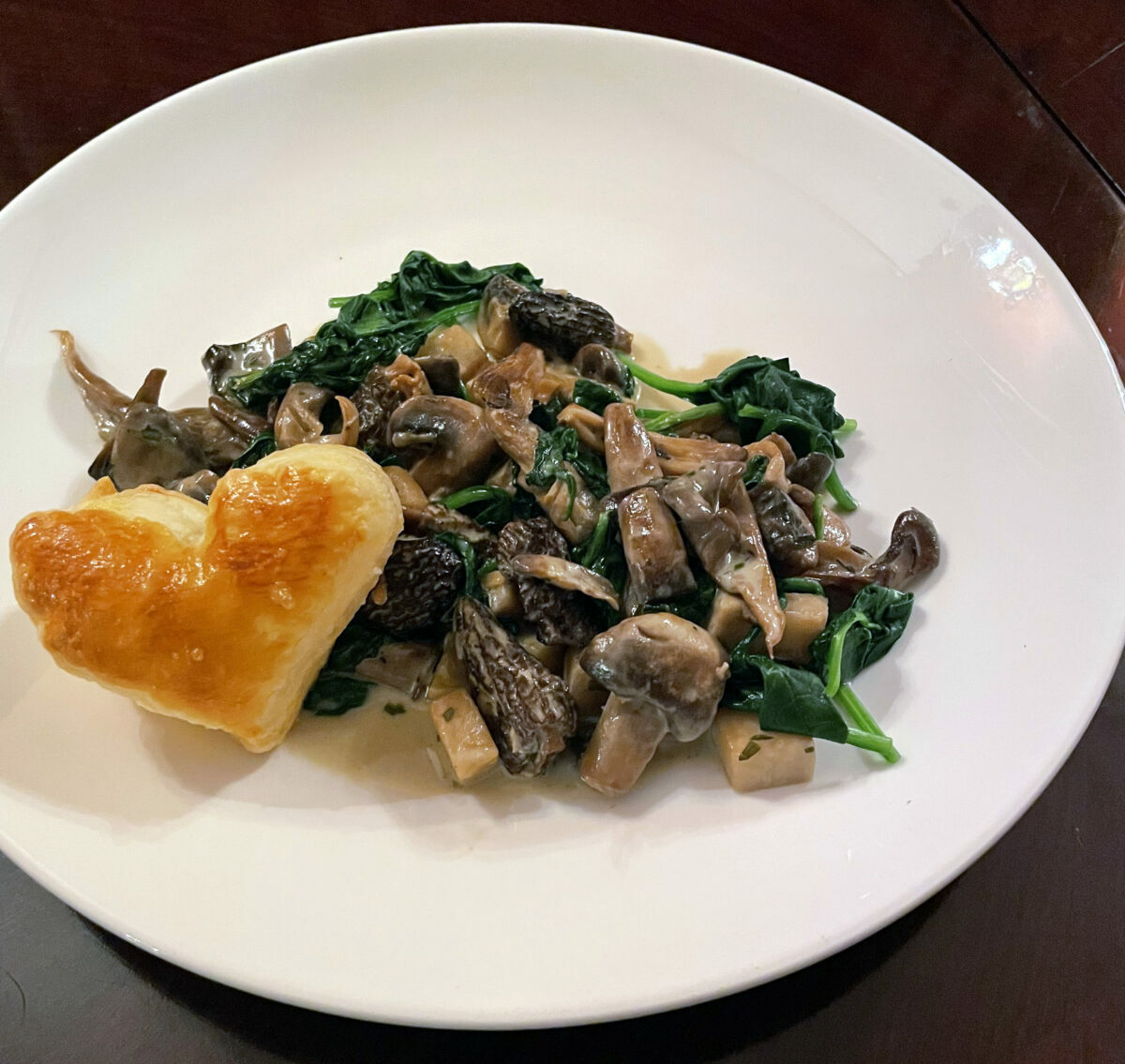 4 oz. puff pastry, (enough to cut four hearts, each approx. 3" wide x 4" long
1 small egg, beaten with 1 tsp water
½ cup shallots, peeled and finely minced
1 clove garlic, peeled and finely minced
2 Tbs butter
12 oz white mushrooms, quartered
4 oz oyster mushrooms (or other wild mushrooms), pulled in strips
¾ cup (.75 oz.) dried morels soaked until softened (OPTIONAL)
1 cup celery root, peeled and cut in ¼ cubes
2 Tsp dried tarragon
1 cup dry white wine
1 cup heavy cream
5 oz fresh spinach
Salt and pepper to taste
Cut heart shapes from puff pastry using a cookie cutter or simply cutting free form with a paring knife. I prefer the latter. Brush hearts with the egg wash and refrigerate for at least 30 minutes before baking. Place on non-stick baking sheet or baking sheet lined with parchment paper. Bake in an oven pre-heated to 375 for 15 to 20 minutes or until golden. Keep warm or re-heat when ready to serve.
In a skillet over low heat, melt butter, add shallots and cook stirring until soft and translucent. Increase heat to medium and add garlic, mushrooms, celery root and dried tarragon. Cook tossing occasionally for 15 to 20 minutes. Add white wine and cook stirring until mostly evaporated. Season with salt and pepper to taste. Add cream and cook stirring a few minutes until the cream is thickened and reduced by about half.
Just before serving, add spinach, tossing only a minute or two, just until it wilts into the mushroom fricassee, but maintains its bright green color. Adjust seasoning to taste. Add a drop of water, only if the mixture has become too thick.
Spoon fricassee onto warm plates, top each serving with a warm puff pastry heart and serve immediately.
Substitutions
Puff Pastry is readily available frozen in grocery stores. In a pinch substitute a slice of bread, anything from simple white bread to brioche to multi-grain or even gluten-free. Cut out heart shapes, approx. 3" wide x 4", butter and toast just before serving.
Mushrooms Use any combination of plain white mushrooms and wild mushrooms, such as oyster, shiitake or other. Substitute dried morels with dried mushroom, such as porcini or shiitake, or use only fresh mushrooms.
Pro Tip
Add a teaspoon of dried porcini powder when sautéing the mushrooms.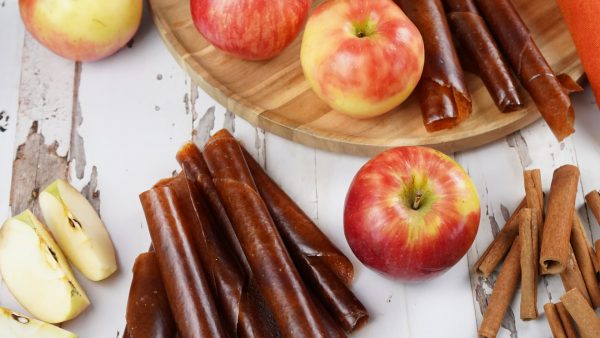 We're closing out a year of Preservation with our recipe for Apple Rollups, the perfect treat for adults and kids alike.
Read More »