By Chef Saul Bolton
I started cooking for Passover over 24 years ago in the west village. My boss's mom came into the restaurant kitchen and would teach me her Passover recipes. The wonder. The honor to be given a personal glimpse into a family, a tradition and a culture. We cooked together for three Passover holidays. It was special.
I drew the following recipes from the past and present; from the freedom one has not being bound by years of tradition; from the enrichment by my culinary peers and the world we live in; and from the deep respect for the importance of family, culture and tradition.
4 cloves of garlic, sliced

1 small white onion, small dice

1 medium red pepper, julienned fine

½ lb shitake mushrooms, destemmed and cut in half

2 tbsp red curry paste (shellfish free)

8 oz egg noodles, cooked al dente

6 oz extra firm tofu, cut into ½-inch dice

4 whole cage free eggs

4 oz coconut milk, mild

1 or 2 thai chilis, chopped

4 oz cream cheese

1 tbsp fish sauce or to taste

2 tbsp soy sauce or to taste

Salt and pepper to taste

1 cup cilantro stems and leaves, chopped

½ cup mint leaves, chopped

Canola oil
Preheat oven to 350°F. Lightly oil an 8×8 casserole dish.

Heat a large sauté pan over medium heat.

Add 3 tbsp canola oil to pan. Add garlic slices and cook until golden brown.

Now add the onions, peppers and mushrooms. Cook for 5 minutes.

Add the red curry paste and coat the veggies. Cook for 2 minutes. Set aside.

In a large bowl, mix eggs, coconut milk and cream cheese until smooth. Add in the red curry coated veggies, noodles, tofu, Thai chilis and herbs. Mix gently. Season with the fish sauce, soy sauce and salt and pepper.

Transfer the mixture to the casserole dish and place in the 350°F oven. Bake for 20 minutes.

Remove from the oven and let cool for 10 minutes.

To serve, scoop and place the finished mixture in the center of a warm plate. Garnish with a wedge of lime, fresh mint and cilantro leaves.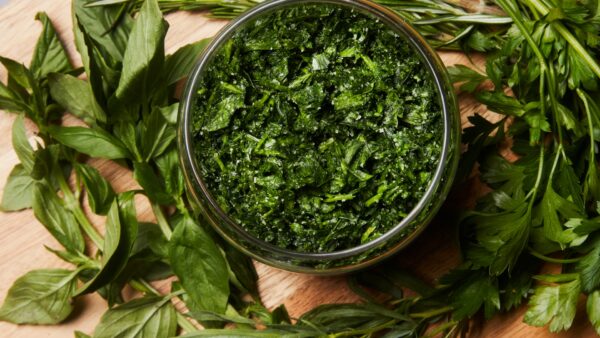 This month we're celebrating Preservation with an Herbed Salt recipe that adds flavor to any meal.
Read More »