SURPRISE, WE ARE THE SINATROS!
Planning a Wedding at the Plaza Hotel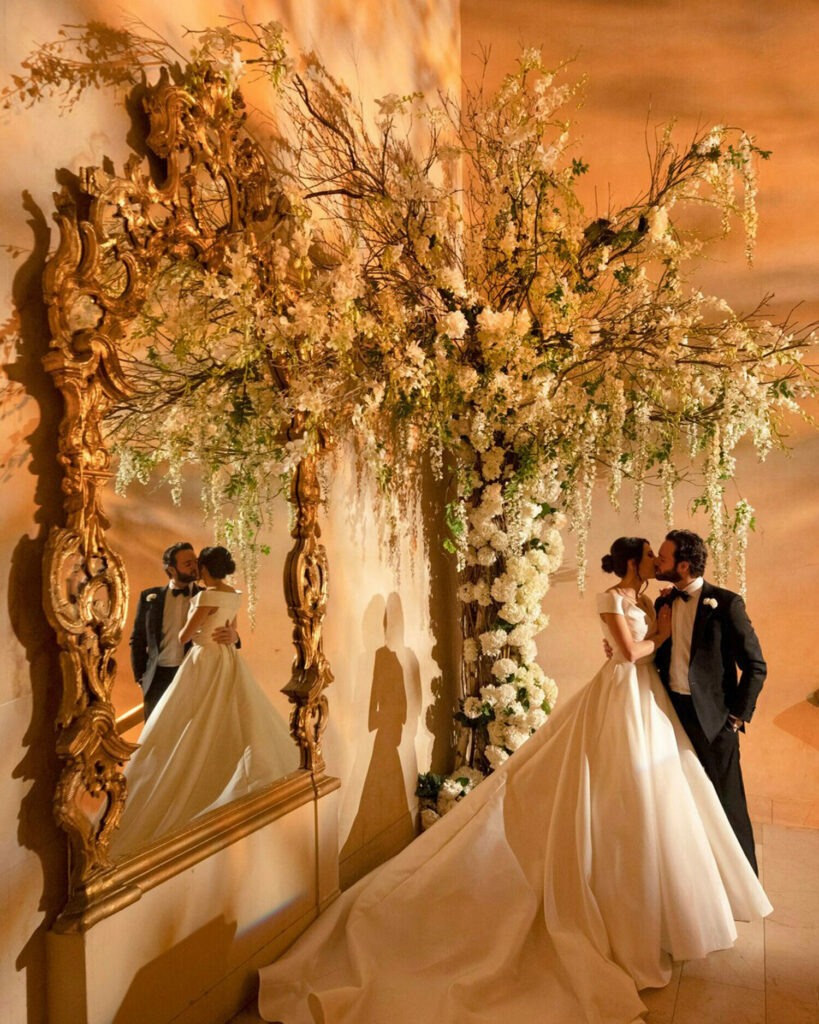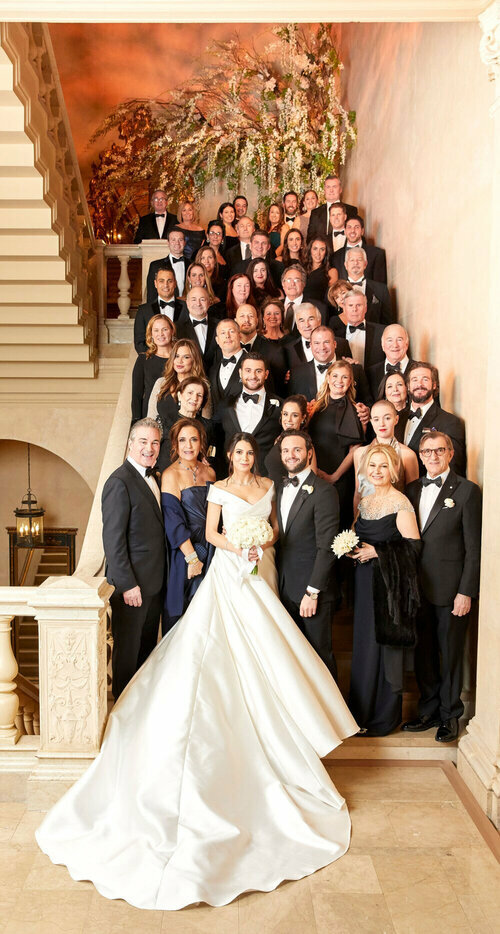 It's not every year that the wedding season kicks off in January, but in 2020 it did just that with an intimate and unique affair – the Sinatro wedding.
I had the pleasure of speaking to Beth, the mother of the groom. A mother of two boys Darren and Alec, and a wife to her amazing husband Tim, she told me how she never in her life expected to plan a wedding, but here she was calling The Plaza to plan one. Her son Darren and fiancée Selin reside in London and really put their trust in Beth to make their celebration memorable.
We met in person because at that point she wanted to see the The Plaza so she could get a feel for what she wanted to do with the space. We started our conversation discussing the big day, but we ended up talking more about life and common acquaintances than the actual wedding.
I was enamored by the international feel of the wedding that Beth envisioned, with the bride originally from Turkey, and the couple now living abroad. Their guest list comprised friends and family from all around the world. We locked down a date and went straight to planning.
Beth and I curated the perfect team to create what Beth had in mind: a classic, formal dinner party. David Beahm's team was up for the challenge of creating the perfect vibe in The Terrace Room. That's right – we didn't use The Grand Ballroom!
Throughout the process, I met with Beth and her husband multiple times. We had an ongoing joke that the wedding would be a complete surprise for Darren and Selin. Soon it was time for our tasting, and I was so excited to finally meet this mysterious couple.
As life has it, though, unexpected life challenges wouldn't allow the couple to travel to NYC that day, so Beth, Tim, Tiffany and I toasted in their honor and selected a fabulous menu! Darren and Selin were about to be surprised with so many wonderful details! Soon thereafter, I was finally able to meet Darren and his brother Alec. Beth was unable to attend, but I was delighted to reveal some of her thoughtful menu selections.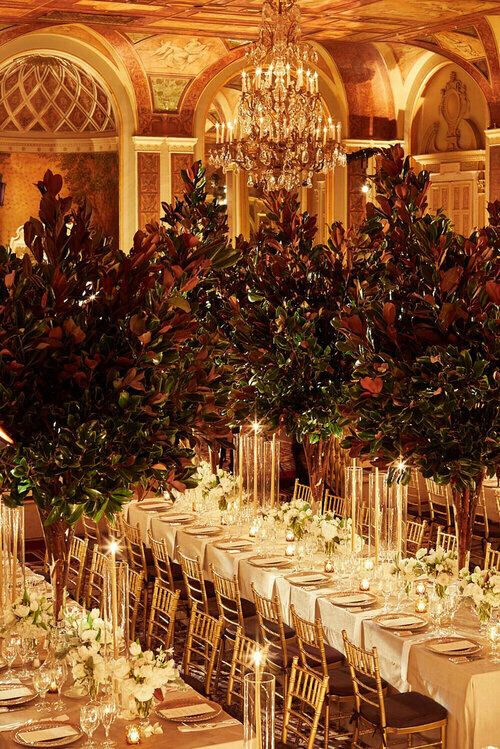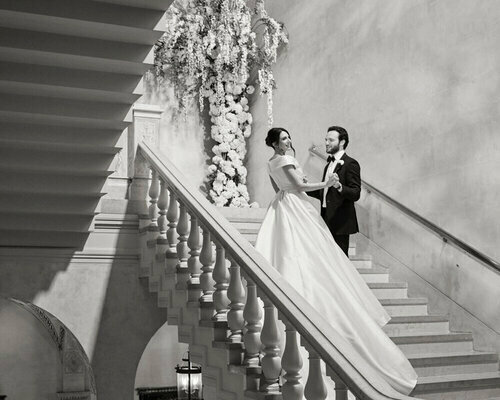 During the week of the wedding, I got to meet the gorgeous, elegant Selin. I had a great conversation with the couple and we made sure they were thoroughly represented in all aspects of the celebration. They were gracious, appreciative and very much in love. It was apparent that their long-distance relationship and now living abroad together had created such a strong foundation.
The big day finally arrived; it was a long workday, but I enjoyed working on every detail of their wedding day vision. Shawn Connell and his skilled photography team were able to get beautiful shots of the couple, family and guests. These included a beautiful family photo on The Grand Staircase, a Sinatro family tradition. Guests arrived and enjoyed champagne, hors d'oeuvres and our custom Turkish Station, an homage to Selin's roots.
Then to the guests' surprise we moved them all to face the iconic Grand Staircase where the ceremony began right then and there on the landing. David Beahm's team created this stunning arching tree which was the perfect backdrop to say "I do!" Guests loved it as the couple walked down the aisle onto the stairs. Soon it was time for everyone to see the Terrace Room that was adorned with magnolia trees, white flowers and endless glimmering candlelight.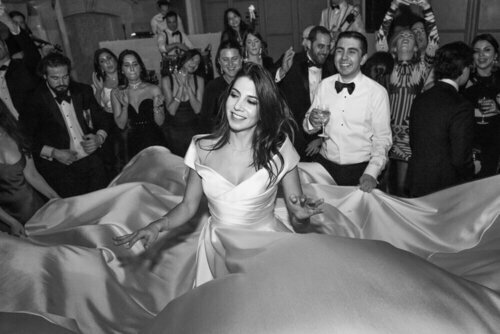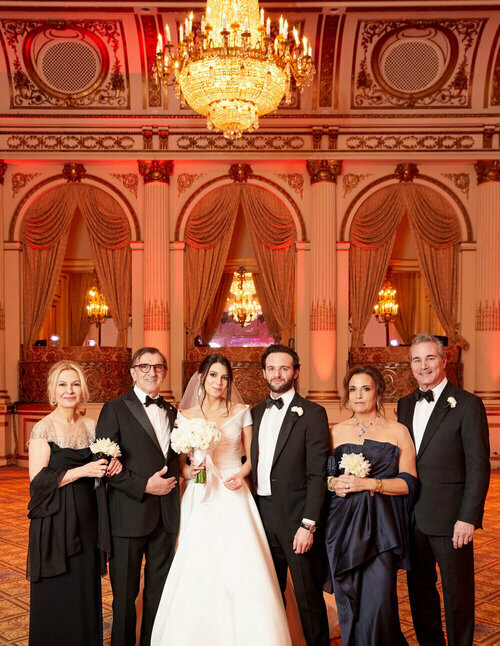 Alex from Style Events and a few musicians played the perfect music to entertain this worldly crowd. We seated everyone to a three-course dinner for toasts and special wedding dances, then the party really started. The exuberant crowd didn't stop dancing for three hours.
Darren and Selin loved how Alex perfectly mixed music from the United States along with Turkish music and other international artists; it was the perfect mix. We passed Shake Shack burgers, fries and milk shakes at the end of the night as on ode to NYC and the crowd loved it all.
Beth, Tim, Darren, Selin, Tiffany and I had multiple group hugs at the end of the night. They really got to enjoy their special day and all of its surprises! The couple was officially the Sinatros and they couldn't have been happier…and that's what it's all about.
Thinking about having your wedding at the Plaza Hotel? Great Performances is the official caterer for the Plaza. Learn more about the Plaza here, and if you are ready to plan your Plaza wedding, just fill out the form below. We will get in touch shortly.