For 40 years, Great Performances has been feeding the people of New York City at corporate events, social gatherings, non-profit fundraisers, and even more critically, during times of crisis and uncertainty.
Today, as we face the threat of Covid-19 we continue to offer our services and support to our New York family.
We're working with hospitals to support their staff; with city agencies working with at-risk populations; and with businesses unable to release employees with critical functions that cannot be managed from home.
CATERING OFFERINGS DURING THE COVID-19 OUTBREAK
What we can offer:
Contactless delivery to designated sites
Delicious, nutritious meals from daily breakfasts to packaged, boxed or bagged lunches and dinners
Food prepared and packaged in facilities exercising the highest levels of food safety and sanitation
SAFE FOOD SERVICE DURING NEW YORK'S COVID-19 CRISIS
We are committed to the health and safety of our clients, guests and employees and follow the highest levels of food sanitation and safety.
Our commissary is a secure, gated area and there is no access for the general public
All employees are monitored; any employee showing a sign of illness will not be allowed on the premises
We require employees to


Wash hands every 20 minutes
Sanitize all surfaces every 20 minutes
Wear single-use gloves for all food preparation
Change into uniforms that are only worn in the kitchens
We have the capacity to provide over 25,000 meals per day; let us know how we can support you.
BAGGED BREAKFASTS
Option 1
Bread + Fruit + Protein
Sample: Muffin, Banana, Yogurt
Option 2
Pastries, Fresh Fruit, Boiled Eggs
Sample: Bagel, Fresh Berry Cup, Boiled Eggs
BOXED LUNCHES / DINNERS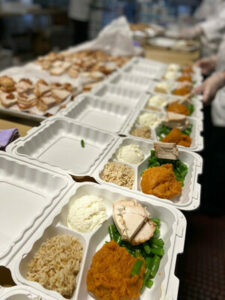 Option 1
Bagged Lunch
Salad, Sandwich, Snack
Sample: Mixed Green Salad; Ham & Cheese Sandwich; Chips
Boxed Dinner
Starch, Protein and Vegetable Bowl
Sample: Grilled Chicken with Sauteed Spinach on Polenta Cake
Option 2
Boxed Lunches / Dinners
Gourmet Salad, Handcrafted Bowl, or Chef's Daily Sandwich; Dessert
Sample: Grilled Chicken Cobb Salad with Bacon, Blue Cheese, Avocado, Egg, Market Greens & Aged Sherry Vinaigrette; Cherry Pistachio Crumble Bar
BENTO BOXES
Lunches & Dinners
Boxed dishes with sides and dessert
Sample: Soy Glazed Cod, Zucchini Noodles with Ginger Vinaigrette, Bok Choy, Black Rice Edamame, Coconut Rice Pudding
Minimums apply. To discuss your options, contact our team today at shaun.roberts@greatperformances.com