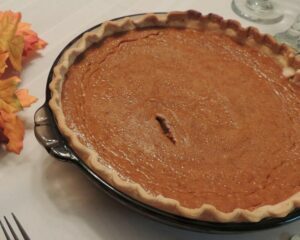 Yields Two 10" Pies
Ingredients
For Flaky Pie Dough
12 ½ oz bread flour

1 tsp salt

8 oz cold, unsalted butter

2 ½ oz cold shortening
For Filling
5 eggs

3 cups cooked pumpkin puree

12 oz granulated sugar

1 tsp salt

2 tsp ground cinnamon

1 tsp ground ginger

½ tsp ground cloves

3 ½ cups half and half

1 pt heavy cream

1 tbsp granulated sugar
Procedure
For the Flaky Pie Dough
Combine the flour and salt in a bowl. Add the firm butter and shortening to the flour and pinch the fat to the size of a hazelnut with your fingertips.

Add the ice water and mix with your hands just until the dough comes together. The butter should be lumpy. Gather the dough into a ball and flatten it into a disc to help it chill faster.

Cover the pie dough and allow it to rest in the refrigerator for at least 1-2 hours before using. This step is important to allow the dough to hydrate, since the flour absorbs some of the moisture. Roll the dough out so it is 1/8 inch thick and large enough so it extends about 1 inch beyond the edge of the pie pan. Use the knuckle of your right index finger and the tips of your left thumb and index finger to bend the tip of the dough into an evenly spaced fluted design. Cover the dough in the pan with baking paper and fill the shell with dried bean or pie weights. Bake the shell at 375° F until the dough is set but has not yet started to color (about 12 minutes). Let the shell cool completely and then remove the paper or plastic and bean or pie weights.
For the Pumpkin Filling
Beat the eggs lightly to mix. Stir in the pumpkin puree. Mix together the first measure of granulated sugar, the salt, cinnamon, ginger and cloves. Add this to the egg mixture. Stir in the half and half. Divide the filling evenly between the pie shells.

Bake at 375°F for approximately 45-50 minutes or until the filling has puffed slightly and is firm around the edges. Let the pie cool.

Whip the heavy cream with the second measure of granulated sugar until stiff peaks form. Slice the pies and serve at room temperature with a large dollop of whipped cream.
---