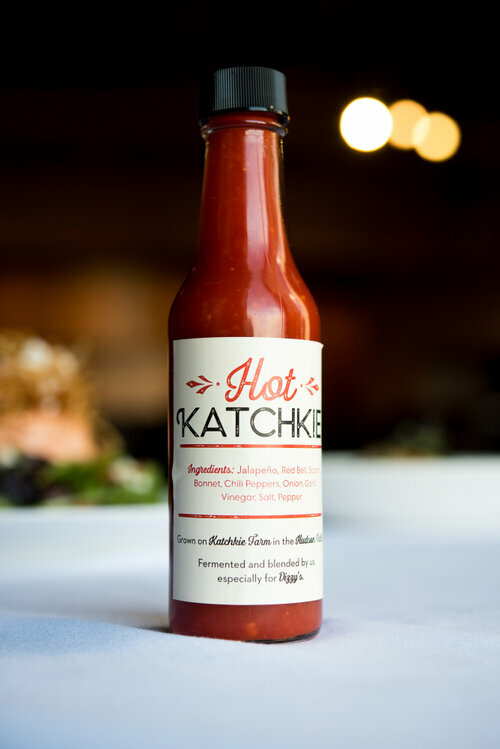 Several years ago, as a result of great weather, few pests and a long growing season, we found ourselves with a surplus of peppers. We're always looking for ways to preserve our abundance and thought what would be better than making our own hot sauce.  And so, Hot Katchkie was born.  In the past 3 years, it has been on the table at our cafes, restaurants and dining rooms, with a growing fan club!
Given our passion for fermenting vegetables, we utilized the fermentation process to craft our signature hot sauce. 
For the 2020 crop, GP Sous Chef Dana Marie Moore brought her powerful and creative palate to the process, enhancing the flavor profile of Hot Katchkie with ingredients reflective of her West Indian/Jamaican roots.
Making our hot sauce is more about method rather than a precise recipe. 
Broad Strokes:
We chop our blend of peppers which include jalapeno, chili, Scotch bonnet, scorpion, Carolina Reaper, Peruvian aji amarillo, habanero, Jimmy Nardello, Canoncito landrace, hot cherry and sweet bell peppers. Some were purchased from the Greenmarket to lend more flavor to the mix.
Added to the peppers are chopped onions, shallots, garlic and salt.
Batches include lemon peel, orange peel, fresh thyme, orange juice, lemon and lime juices.  Some of the sweet peppers were charred first. 
The fermentation process began and the ingredients came alive, bubbling away every time we checked on the blend. 
The buckets sat for a few weeks before we added white vinegar.  A few weeks later, it was ready to be pureed and jarred. 
Our chefs, reflecting a broad cross section of hot food lovers, are crazy about the hot sauce. It's a great blend of flavor and heat and doesn't overpower food. Rather, it enhances the tastes. It's a true 'condiment' in the original sense of the word.
Hot Katchkie, which is available in 5 oz. bottles, is sold at The Café at Wave Hill. If you want to buy a bottle, email us at celebratefood@greatperformances.com and we will make arrangements.