SOCIAL ATTRACTION AND EVENTS AT THE PLAZA
By Rob Arango, CPS Events at The Plaza
For the past 15 months, we have heard and read the term "social distancing" in an effort to halt the global pandemic. Our forced seclusion and isolation have made us long for the days when we could meet for drinks, share a meal with friends, and socialize with others. Our initial emergence from pandemic have demonstrated that we've been craving connection, and I think the new normal will be "social attraction."
Of course, we must adhere to all the CDC guidelines and continue our efforts to eradicate this virus. I was asked a month ago to write a piece about the Plaza re-opening and the much anticipated Fall Gala season. Within the last few weeks, numerous discussions and concerns have taken place with various planners, development staff, and board members asking what are the safety protocols in place at the Plaza? Should their foundation require proof of vaccination at check in? What should they do if someone isn't vaccinated? What about our staff? All these concerns are extremely valid and important to continue to address. At the Plaza, we are listening carefully to the CDC and state officials and will be passing along all our information to our guests to ensure a safe environment for their galas once we have a clear understanding of how to implement safety protocols.
With all that said, I also must share the other discussion, which is taking place daily with our clients. Dr. Keltner, co-founder of the Greater Good Science Center has expressed, "we're hyper social mammals—it is our most signature strength." For decades, Dr. Keltner has studied human behavior with a focus on "pro-social" states: behavior that strengthened connection between individuals and that are especially good for society.
Our culinary team at Great Performances, who provides all our delicious meals served at the Plaza, has a company saying that "Life happens around food.®" I add that connections with another person provide food for the soul.
In the 114 years that the Plaza has been open, it has endured the worst of historic crises including both World Wars, the first stock market crash, the Great Depression, 9/11, and countless other global calamities. Through it all, the Palm Court, Edwardian Room, Persian Room, Oak Room, and Oyster Bar remained open to soothe the social anxieties of their time. Whether it was enjoying an afternoon tea or a dry martini, Plaza guests yearned for a place to gather, hug, laugh, and enjoy the company of a friend during the worst of times. As we know even in the best of times celebrations of life are never taken for granted.
I tend to think the human spirit is nourished by social gatherings and the enjoyment of food and beverage. Many clients have expressed a strong desire to get dressed up again and begin to mingle in person as opposed to seeing one another in a Hollywood Squares-like box via video calls.
The collective actions of raising much needed funds for a good cause, the arrival of guests in their newest ballgowns, the first sip of dry champagne and a nibble of a savory canape, is what so many New Yorkers are craving. I believe there can be enormous healing among social gatherings. We aren't meant to eat alone; we thrive on giving a hug and a smile to our dinner guest. But never forget we still need a little gossip and commentary when we can't help but to whisper to another friend in person–"look at her dress!" or even, "she looks amazing—who is her doctor?"
We are ready to open the doors to the grand ballroom and welcome all of our friends back to celebrate.
There is a great line in a famous Sondheim lyric, "As if we never said good-bye". That is what I imagine guests will say when they return the Grand Ballroom.
Until then, stay informed and continue to ask vital questions.
More From CPS Events at The Plaza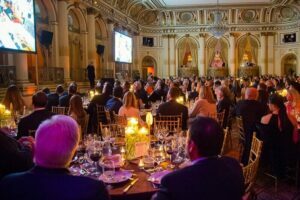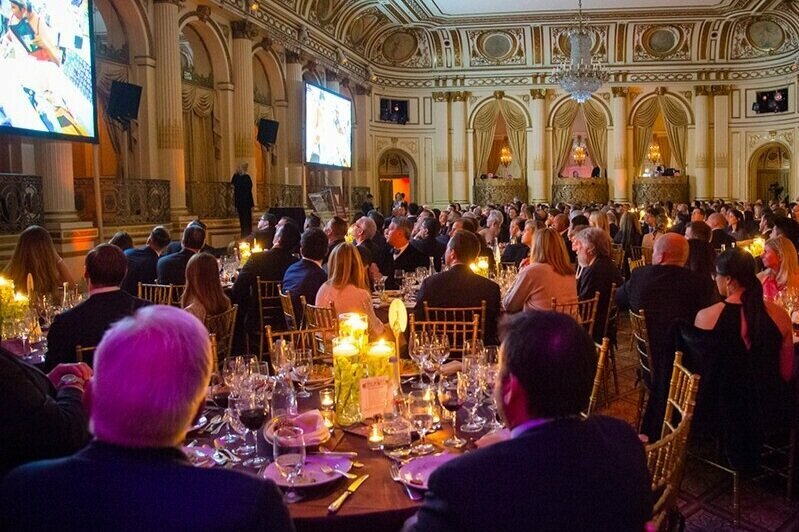 AND WE'RE LIVE! THE RETURN OF IN-PERSON NONPROFIT EVENTS By Great Performances 40% of nonprofit organizations reported losses in total
Read More »