QUICK AND EASY SUMMER DESSERTS
As we roll into the hot and hazy days of summer, we fill our plates with the best of summer's bounty from flavor-packed, sun-warmed tomatoes to surprisingly sweet and fresh corn; from cool and crisp summer salads to hot-off-the-grill kabobs. We love celebrating summer with all things vegetables — especially when it's fresh from our farms.
And for those of us who crave something sweet at the end of the day (or as midday treat), we've rounded up some super easy summer desserts. These no-sweat recipes will not only satisfy your sweet tooth, but allow you to enjoy summer evenings in the backyard, watching the fireflies do their nightly dance.
Cake Mix Magic
Julie Vallo, our HR manager who supports our venues, loves baking. Although she typically bakes things from scratch, her magical recipes using boxed cake mix make baking a snap. The beauty of these treats is they are so versatile. You can easily change up flavors and create delicious combinations. Strawberry cake mix with chocolate chip add-ins. Chocolate cake mix with chopped up toffee candy bars. The possibilities are endless.
Cake Mix Magic Cookies
Preheat oven to 350˚F. Line 2 baking sheets with parchment paper.
In a bowl, combine any flavor cake mix, ⅓ cup vegetable oil, 2 teaspoons vanilla, 2 large eggs, and up to 1 cup of mix ins (chocolate chips, mini m&m, coconut, chopped nuts, sprinkles, chopped up candy bars).
Put batter in refrigerator for about 30 – 45 minutes. Once chilled, scoop 24 balls and place on prepared baking sheets. Bake 8 to 10 minutes. Remove from oven and cool on wire rack.
Cake Mix Magic Biscotti
Preheat oven to 350˚F. Line a baking sheet with parchment paper.
In a bowl, combine any flavor box cake mix, 1 cup all purpose flour, ½ cup melted butter, 3 large eggs, and up to 1 cup of mix ins (chocolate chips, mini m&m, coconut, chopped nuts, sprinkles, chopped up candy bars).
Divide dough in half and form 2 flattened logs about 12 x 2 inches. Cover with plastic wrap and chill in refrigerator for about 30 – 45 minutes. Bake logs for 25 – 30 minutes (they should feel firm in the middle). Remove from oven and let cool 15 – 20 minutes. Reduce oven temperature to 325˚F.
Once the logs have cooled, cut into ½" to 1" slices. Arrange slices on baking sheet and bake for 6 minutes. Flip logs and bake another 5-7 minutes. Remove from oven and cool on a wire rack.
Once they are cooled, dip in melted chocolate – you can dip the entire cookie or just half the cookie.
Store in an airtight container. These are perfect to enjoy with a cup of coffee or on their own. I promise they won't last long!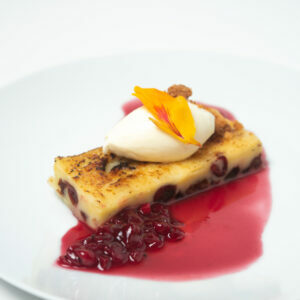 Celebrating Cherries
Ronnie Davis, our indefatigable managing director (and international man of mystery), shares his recipe for cherry clafoutis.
Traditional clafoutis is made with cherries that still have their pits. The pits give some almond flavor to the dish. But prepared that way can be a little more difficult to eat, so in this recipe we have pitted the cherries first. You can leave them in if you want.
Note that the texture of clafoutis is like a sturdy custard, so if it feels a little rubbery, that is just how it's supposed to be.
Cherry Clafoutis
Ingredients
2 cups of fresh sweet cherries, pitted
2 tablespoons of blanched slivered almonds
3 eggs
1/2 cup of sugar (can reduce to 1/4 cup)
1 tablespoon of brown sugar
1/2 cup of all-purpose flour
1/8 teaspoon of salt
1 cup of milk (2% or whole milk)
3/4 teaspoon of almond extract (can sub 2 teaspoons of Amaretto)
1 1/2 teaspoons of vanilla extract
Powdered sugar for dusting
Note: 
Feel free to reduce the sugar to 1/4 cup if you are working very sweet cherries or would prefer a less sweet clafoutis.
Method:
Butter and flour baking dish, scatter with cherries and slivered almonds: Preheat the oven to 350°F. Butter and lightly flour a 9X9 or 10X7 baking dish. Scatter the cherries and slivered almonds over the bottom of the dish.
Make batter with eggs, sugar, salt, and flour: Whisk the eggs and sugars together until smooth. Whisk in the salt and flour until smooth.
Add the milk, almond extract, and vanilla extract: Whisk until smooth.
Pour batter into the baking dish over the cherries and slivered almonds.
Bake: Bake at 350°F for 35-45 minutes or until lightly browned and a tester inserted into the center comes out clean. Check about halfway through the baking and if the top is getting well browned tent it loosely with aluminum foil.
Remove from oven to cool: When you pull it out of the oven it will wiggle a bit which is normal. Place on a wire rack to cool. The clafoutis will have puffed up quite a bit and will deflate while cooling.
Dust with powdered sugar: When cool dust the clafoutis with powdered sugar. Serve.
Cobbled Together Dessert
Liz Neumark, our inimitable founder and fearless leader, spends as much time as possible up at Katchkie Farm. Her passion during the summer months when produce is at its peak is to can, pickle, and preserve the summer bounty for gifts and to enjoy during the colder months.
Second to her penchant for preserving is her love of baking, and we often are treated to delicious banana bread and muffins at the office. Here she shares a delicious recipe for a rhubarb crumble that can easily be adapted to any summer fruit.
Summer Rhubarb Crumble
Combine 8 cups of chopped rhubarb (or peaches, or any combination of summer fruits) with 1 cup of sugar and let sit for about an hour in your baking pan.
Mix together 1 ½ sticks of softened butter, 2 cups of flour, 1 cup of oats or granola, ¾ cup of brown sugar, and 1 tablespoon of cinnamon. Mix until well blended. Add 1 egg and combine until it starts feeling crumbly. This is your topping.
Spread the topping on the waiting fruit and bake in a 350˚F oven for 45 minutes until bubbly. Let cool for at least 15 minutes (if you can wait that long), and enjoy straight up or top with ice cream or crème fraiche.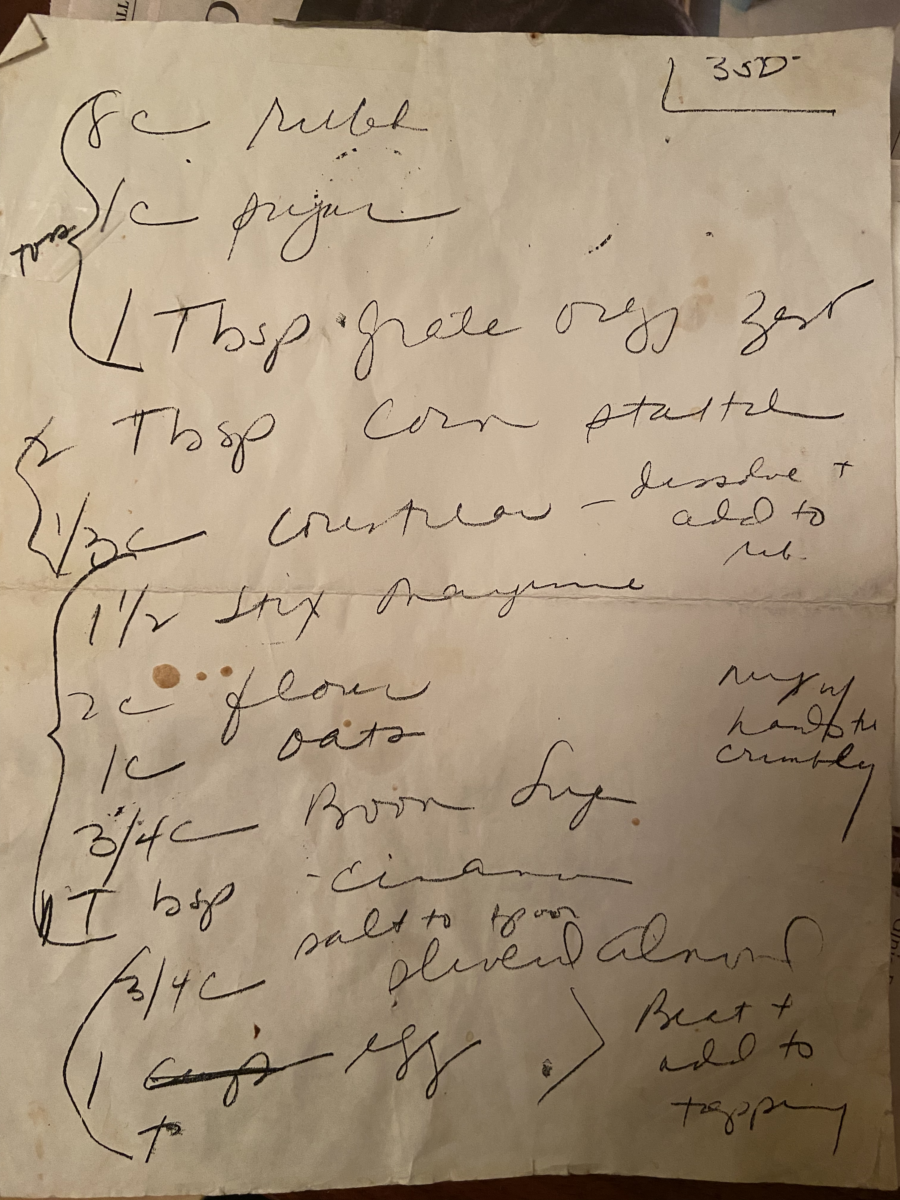 Strawberries and Cream with a Kick
Carina Hayek, our Director of Marketing, loves vanilla ice cream because it's perfection on its own or a delightful paired with other flavors. On most evenings, she'll throw a dash of cinnamon on top (you know, for the health supportive benefits), but when she's feeling a little extra fancy, she'll add some strawberries with a twist. This unexpectedly delicious combination pairs well with a Lambrusco.
Black Pepper Balsamic Strawberries with Vanilla Ice Cream
When you're buying balsamic vinegar, read the labels. You'll find that the thick, syrupy ones tend to have a lot of added sugars. Instead, make your own – buy a bottle of balsamic vinegar, pour into a small saucepan, and reduce over medium / medium-low heat until it's thick and syrupy. Make sure to keep an eye on the pan so it doesn't burn! Store in a clean, glass bottle or jar and use any time you need something sweet, tangy, and tart.
Roughly chop or slice a pint of strawberries and macerate with up to a tablespoon of sugar. Don't add too much sugar as you want them to be a bit tart. Scoop some vanilla ice cream into a bowl, spoon a generous amount of strawberries with their juices on top. Drizzle with a thick and syrupy balsamic vinegar (a little goes a long way), and finish with some grinds of fresh black pepper. Serve immediately and enjoy!
Going Bananas
Sarah Saracino, our HR director, looks for quick and easy desserts that will tempt the tastebuds of her family. This super easy banana cream pie recipe is easily customized, comes together in minutes, and is the perfect solution for last minute gatherings. Even though it takes a couple hours to chill, that means you have time to enjoy your meal and the day before tucking into this deliciousness.
Easy Banana Cream Pie
Using a hand mixer, whip 1 cup of heavy whipping cream with 1 tablespoon of sugar until you have soft peaks.
Slice 2 bananas into 1/4″ slices and lay on the bottom of a fully cooked 9″ pie shell (you can make your own or buy a pre-baked one). 
In a medium bowl, combine 2 packages of vanilla instant pudding with 2 ½ cups cold milk and whisk until thoroughly combined. Fold in ½ cup of the prepared whipped cream. Pour into prepared pastry shell.
Chill for at least 3 hours, garnish with remaining whipped cream and additional banana slices. Slice, serve, and enjoy!