Prepare for your holiday celebrations with this inspiration for a delicious meal at home.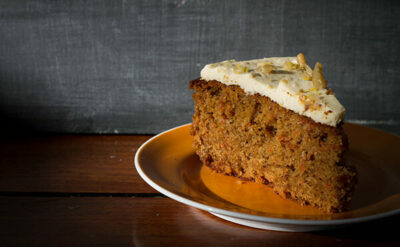 PASSOVER HONEY WALNUT CARROT CAKE
Ingredients:
2 cup matzo cake meal, additional cake meal for dusting the pan

9 large eggs, separated, at room temperature

½ cup sugar

¾ cup kosher honey

1 ½ cup vegetable oil

3 cup grated carrot

1 cup ground walnuts

1 teaspoon vanilla

1 teaspoon ground cinnamon¾ teaspoon ground ginger

Pinch of salt
Method:
Preheat oven to 350 degrees. Grease a 9-inch springform pan and dust it lightly with the additional matzo cake meal.  In a large bowl with an electric mixer, beat the yolks until they are thick and pale, add the sugar gradually, beating.  Continue beating the mixture until it is very thick, then add honey.

Add the carrot, cinnamon, ginger, walnuts, vanilla, and the remaining 2 cup matzo cake meal. Beat the mixture until it is combined well. In a bowl (with the beaters cleaned), beat the whites with a pinch of salt until they just hold stiff peaks.  Stir 1/2 cup of the white into the carrot mixture. Fold in the remaining whites gently but thoroughly. Pour the batter into the prepared pan.

Bake the cake in the middle of oven for 40-45 minutes or until a tester comes out clean. 

Let the cake cool in the pan on a rack. Run a thin knife around the edge of the pan, and remove the sides of the pan.