NY's Waiters Sing Their Hearts Out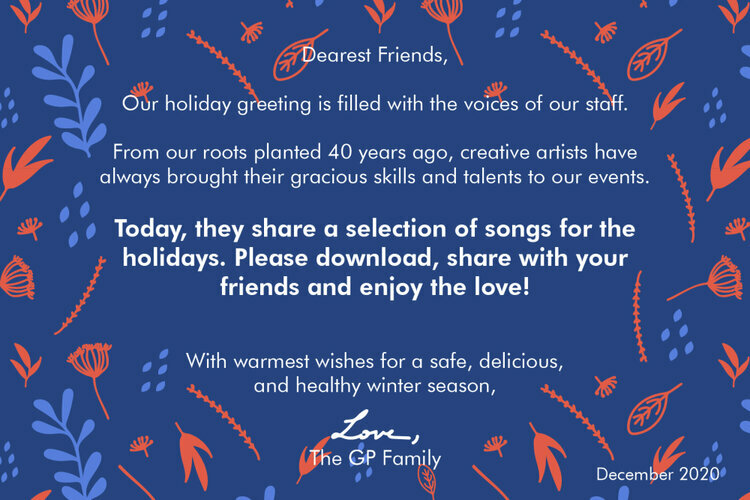 It's a different holiday season for us. We're not throwing parties and our gifted waiters aren't able to extend their skills and talents to provide the gracious service you've associated with our events. Instead, NY's Waiters Sing Their Hearts Out as Great Performances' incredibly talented team members share their talents in song, story, and music to help spread holiday cheer in your homes.
Aubrey Barnes
Come, O Come Emmanuel
The Christmas Song
Christmas Medley (Live)
Aubrey Barnes is indeed the musical doyen of multi-genre song.  His current project, the debut of his jazz standards CD, in the spring of 2021, is his passionate focus for the time being.  He's actually fond of sharing the fact that the venerable Frank Owens, pianist to the stars and former Johnny Mathis pianist, is his pianist for his debut CD.  "The CD will showcase an impressive array of familiar and uncommon songs from the primer songbook, 'The American Songbook…' " Aubrey shares.  Aubrey credits and thanks his Mother for his lifelong artistry, for her personal example and for her love and support.  "Hearing Aubrey sing is nothing short of receiving a spiritual transmission.  He sings from such an intensely personal place that it immediately becomes universal; the audience is included, embraced and uplifted.  Aubrey Barnes is a stunning vocalist and a deeply powerful performer.  He will make you want to live more fully, love, laugh and cry.  Aubrey Barnes brings the magic-inspiring audiences in this hurting, yet still precious world."  Hilary James
Website: aubreybarnes.com
Caitlin Borek
Grown Up Christmas List
I'm Caitlin Borek. I hail from the midwest but I've called NYC my home for nearly 5 years now. GP was a huge reason I was able to flourish in this grand city, with it's flexible hours, solid pay, and the artists they hire. It's the best kind of environment for a hustling performer. I studied musical theatre, and am currently performing in a Christmas Concert up in Wisconsin. The theatre has gone above and beyond with safety measures due to Covid-19, including occupying the house at only 25% capacity, installing iodizers in the filtration system, social distancing the audience and requiring the use of masks, and keeping the 4 singers 8ft away from everyone at all times. This piece I submitted is one of the songs from the show. I love how it captures the desire for peace and love in these trying times, and I wanted to share that sense of optimism. 
www.caitlinborek.com
IG @sea2bee2
Tiktok @caitlinborek
Chandra Albritton
The Man with the Bag
Chandra Albritton is a singer/actor originally for Maryland. She has worked in various theatre in Virginia, Wisconsin, Florida, and New York. She is currently keeping herself busy with classes and working on her film reel. You can find her vocal work at http://www.youtube.com/user/PinkChan09 and acting work at https://vimeo.com/user66398098. 
Ellen Christi
Merry Christmas Baby
Santa Baby
Since the mid-seventies, Ellen Christi has steadily gained ground as an important contributor to American improvised music and contemporary jazz. As a composer/vocalist, Ms. Christi has worked in varying performance venues ranging from multi-media theatrical productions to solo vocal concerts. She has also been an active advocate in supporting innovative performing artists through organizations that she has co-founded or directed. Presently, she has reopened Christi Sound Studios and has begun  recording and editing podcasts and also teaching vocal technique and vocal improvisation. You can find more information at her website www.ellenchristi.com.
Jason Lee
The Laughing Heart
Jason Lee is an actor/singer from Taiwan currently based in New York, and is a Lee Strasberg Theatre and Film Institute. Recent credits include Eighty-12 (Amazon Prime Video), Richard III (American Theatre of Actors), Gypsy (Heights Players), Here To Recruit You (Wild Project) and Yell-Low (Dixon Place). He has also acted in an original French play he co-wrote with friends, and a theatrical adaptation of Franz Kafka's The Metamorphosis which won the Excellence Award of Taipei Fringe Festival. His latest work CherryBomb will launch on Amazon Prime Video in March 2021.
www.jasonchlee.com
Instagram: @jason.c.h.lee
Jerome Brooks, Jr.
Jerome Brooks, Jr. is a SAG-AFTRA/ AEA Actor/ Composer.
FaceBook: @JeromeBrooksMusicFans
Twitter: @JeromeBrooksJr
Instagram: @JeromeBrooksMusic
YouTube: @Azeyol
Christmas Medley (Live)
Kat Liz Kramer – American Singer Songwriter.  Favorite past credits include: Cabaret- This Is Me at Don't Tell Mama, David Drumgold's variety show, Kat Liz Kramer & Friends, and Mondays, mondaysintheclub.com Theatre- Smokey Joe's Cafe 20th Anniversary(National tour) Man in The Mirror(World tour) Hero, An Origin Story as Rea(NYMF), Single Room Occupancy as Crystal(Fringe), Anything Goes as Reno Sweeney(regional), Special guest on Rising Star(BeTerrificTV) Kat's original music can be found on all streaming platforms with My Wonderland Special Edition. She is currently recording her first full length album using Broadway musicians and production staff affected by the COVID shutdown. The world may have stopped but the music lives on. Kat was the first artist in residence for We Light www.welighthome.com another way to bring a bright light in times as these.
https://gf.me/u/yz5g93
https://music.apple.com/us/album/my-wonderland-special-edition/1536264382
Instagram & Facebook @katlizkramer
katlizkramer.com
Kat is a proud member of Actors Equity.
Kendrick Mitchell
This Christmas
Kendrick is a New York based actor and singer originally from Houston, Texas. He has toured the country, and sailed the seas with the Tony Award winning show, After Midnight. You can catch him on select Wednesdays and Saturdays at the Seville, jamming alongside his bandmates.
Instagram: @KendrickMitchellOfficial
Website: KendrickMitchell.com
Kevin Horne
Kevin is an actor, writer, director, and producer. He has performed in many regional productions, and although you probably don't remember it, he sold you something via various commercials on TV. For seven years he produced the 90X Arts Festival, which was a showcase of the professional talent working at GP where shows such as Into the Woods, Little Shop of Horrors, and Urinetown were presented. He wrote the modern day farce Death Is a Waltz (affectionately described as Weekend at Bernie's meets Chopped) which was being presented just as the pandemic hit, so be on the lookout for that when things get back to "normal". You can follow him on TikTok and Instagram @NightWindNYC where he makes short videos showcasing restaurants in New York City.  He also finds it awkward writing about himself in the third person.
Lauren E King
The Spirit of Christmas
Lauren E King is an actor, singer, dancer, and NYC transplant from Lilburn, GA. After obtaining her BA in Theatre and BA in Advertising from the University of Georgia ('19), she joined the North American tour of PAW Patrol Live! The Great Pirate Adventure! as Mayor Goodway. After the cancellation of the tour from COVID and moving to New York, she performed in a workshop production of Homeless Garden with Refracted Theatre Company and is now channeling her energy into song covers and crafting her voiceover reel. Off stage you can find her admiring bodega cats while running errands as a Personal Assistant. She would like to thank her friends and family for their continuous outpour of love and support and the Universe for having a wicked sense of humor when it comes to making your plans into bigger and better things. 
Youtube Channel: https://www.youtube.com/channel/UCrOcnAZdcb77m46vUkag0vw?view_as=subscriber
Instagram: @ren.elizabeth.king 
Mark Donato
Panis  Angelicus by César Franck
A "jack of all trades:" Mark Donato is a professional singer of 33 years, and Vinyasa Yoga (& Meditation) instructor of 22 years. He also worked professionally as a Tap Dancer for 15 years; doing National & International tours of Broadway shows; like "42nd Street," "Crazy For You," "The Will Rogers Follies," & "State Fair."
The last 15 years have been primarily focused as a classical tenor doing choral work in several concerts & Opera's. Much of which have been with The American Symphony Orchestra, and the Bard Music Festival. Mark sang at Carnegie Hall 15 times. Once as a soloist! He also has an extensive history singing in Churches & Synagogues; much of which is as a Cantor/Chanter in Catholic Churches.
Within all of that, Mark also has a long history performing on cruise ships with companies like Holland America, and Celebrity.
Working in the Catering industry all these years is what makes this performing arts lifestyle possible.
Michael Fisher
SnowBirds
I'm an AEA actor and a U.S. Army veteran.  I love camping, hiking, and just being outdoors with friends and family. My dream house would have a woodworking shop in the back yard and a big wraparound porch where I could sit and play guitar in the evening. I love riding motorcycles and I am newly engaged to be married and my favorite color is orange!
https://soundcloud.app.goo.gl/ozAeoCqEuwuuwDHCA
Trifon Dimitrov
Alone Together
Christmas Time Is Here
Trifon Dimitrov was born in Pleven, Bulgaria. After graduating the National Academy of Music in Sofia, Bulgaria in 2002, Trifon moved to Frankfurt, Germany where he studied and performed till 2004. In 2004 he began studying at Brooklyn-Queens Conservatory of Music in New York, USA. He is
honored to be a student of the jazz legend Ron Carter. Trifon has performed at numerous Jazz Festivals, clubs, TV, Radio and Broadway shows. Currently based in New York, Trifon actively performs in USA and around the world.