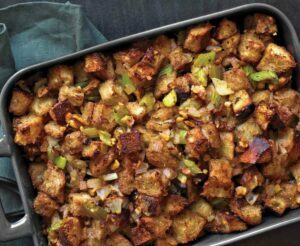 Ingredients
12 tbsp (1 ½ sticks) 4 small shallots, finely chopped

3 garlic cloves, minced

1 cup chopped onion

3 tsp thyme leaves

1 lb portobello, shiitake, or a combination of wild mushrooms, stems removed, cut into ½ inch chunks

½ cup white wine

1 cup chicken stock

8 cups cubed day-old bread, crusts removed

¼ cup chopped parsley

3 sage leaves, chopped

¾ cup hazelnuts, halved and lightly toasted

3 large eggs, beaten

2 cups heavy cream

1 tsp hazelnut oil (optional)
Procedure
Preheat your oven to 350°F. Melt 10 tablespoons of the butter in a large skillet over medium heat; add the shallots, garlic, and onion and sweat until translucent. Add 1 teaspoon of the thyme and the mushrooms. Cook, stirring, until the mushrooms are lightly browned. Add the wine and cook over medium-high heat until the liquid is nearly evaporated. Add the stock and continue to cook until it nearly evaporates. Season the mixture well with salt and pepper and transfer it to a large bowl.

Butter a 9 x 13 inch baking pan or 3-quart casserole with the remaining 2 tablespoons of butter.

Add the bread, parsley, sage, hazelnuts and the remaining 2 teaspoons of thyme to the mushroom mixture and mix everything well. Combine the eggs, cream, and hazelnut oil and stir into the stuffing until well mixed. Season with 1 teaspoon salt and ½ teaspoon black pepper.

Spread the stuffing in the pan, cover with foil and bake for 45 minutes. Remove the foil and bake for another 30 minutes, until the top is golden brown.
---