By Great Performances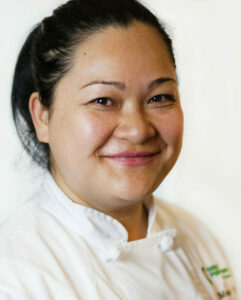 In celebration of National Dessert Month, we're highlighting our resident pastry chef, Monica Ng. Since joining Great Performances in July 2018, she's dazzled our guests with her innovative, beautiful, and delicious desserts.
Monica was born in China but spent most of her formative years in Venezuela where her family owned a restaurant. She graduated from City Tech, the New York College of Technology, with a Bachelor of Technology in Hospitality Management. She already had an interest in pastry but worked the fish station at an apprenticeship in the French Pyrene after school (the pastry post was already taken by a French student).
Her love for pastry and baking "evolved [over time] and, without me knowing, it had taken me in a trajectory that I never expected or planned," she explains. One of the most surprising aspects about Monica is that she doesn't favor eating sweets. This manifests in her desserts with their balanced sweetness, use of fresh, seasonal fruits, and the inclusion of savory and sweet spices that enhance the desserts' flavors.
Monica lists her pastry heroes as Deborah Racicot, Claire Heitzler, Michael Laiskonis and Francisco Migoya.
Most recently, Monica collaborated with Callebaut® as it launched Ruby RB1, a chocolate made from the ruby cocoa bean. Monica served as the only female ambassador for Callebaut® Ruby RB1 and recently participated at The International Culinary Center's third annual Pastryland. She created the Ruby Velvet Choux, showcasing the beautiful pink color and natural fruity flavors of the ruby chocolate.
Monica's artistry and attention to detail are evidenced in each dessert she creates.
Her pastry heroes are Deborah Racicot, Claire Heitzler, Michael Laiskonis and Francisco Migoya.
You can take a look at our complete Fall/Winter 2019 dessert menu here.
---