MAPLE CRÈME CARAMEL VALENTINE'S DESSERT
By Chef Geoff Rudaw


Nothing says "I love you" like taking a risk, dabbling in the unknown, and trying something new. Crème Caramel is a dish that can be made with easily available items, and once mastered, it can be simple to make while coming across as a skilled and difficult dish to produce. For a little color, add some pomegranate seeds (optional).
Serves 10-12 portions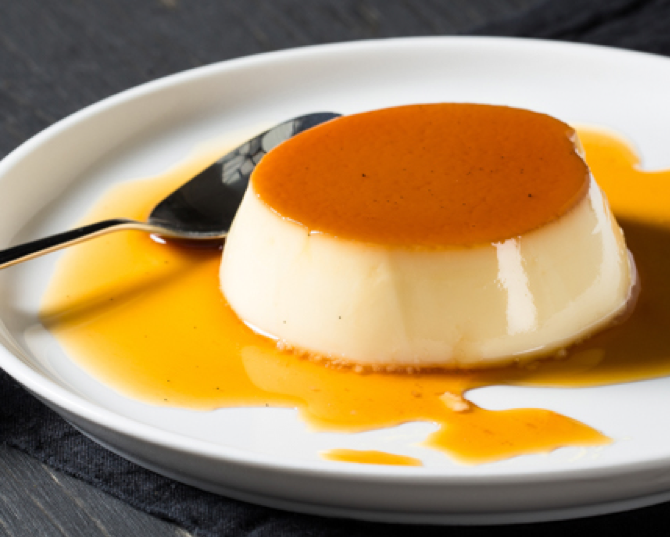 1 cup sugar

½ cup water

2 Tbsp lemon juice

3 cups cream

1¼ cups milk

1 cup maple syrup

7 egg yolks

2 whole eggs

½ tsp vanilla extract
Heat sugar, water and lemon juice in a pot until a dark amber color. Pour into 4 ounce aluminum cups or ramekins that have been sprayed with non-stick cooking spray.

Heat cream and milk until hot.

Combine maple syrup, egg yolks and whole eggs and whisk well.

Temper the egg mixture by adding a few ounces of the hot milk mixture to the egg mixture while whisking.

Continue to add a few more ounces of the hot milk mixture, constantly whisking, until the egg mixture warms up. Then add the warmed egg mixture to the hot milk mixture and whisk. Strain to ensure a silky texture, then cool in an ice bath.

Divide the cooled custard mixture into the cups or ramekins (about halfway up the side).

Gently put the cups into a deep baking dish (at least 2" deep) and pour cool water around the cups. Cover with aluminum foil.

Bake at 300˚F for 50-55 minutes until the custard jiggles slightly.

Cool, remove from pan and chill overnight.

Once chilled, loosen edges by gently inserting a pairing knife and carefully sliding it around aluminum cup. Invert onto plate.

Pomegranate seeds can be sprinkled on top and around plate, if desired.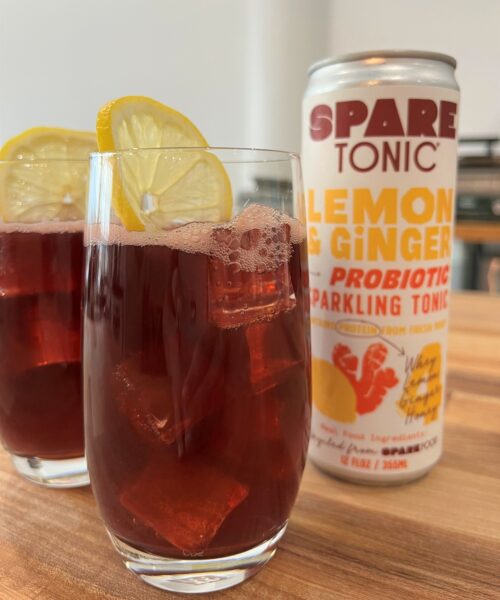 We're celebrating Climate Week with our friends at Spare Tonic and their take on a Spanish classic, the "Spare Tinto".
Read More »