Even as we're practicing social distancing, we continue to see great examples of how life happens around food. Instead of the corporate lunches, we're seeing teams enjoy video conference lunches; instead of big dinner parties, families are having home-cooked meals together; and instead of packing bars at happy hours, friends are toasting each other virtually.
With more people cooking at home, we're collecting recipes from our Great Performances' team members, families, friends and partners to share with you and provide some inspiration for delicious dishes you can make at home. Share your recipes and photos with us: tag us on social media #gpcovidcooking, direct message @gpfood or email marketing@greatperformances.com.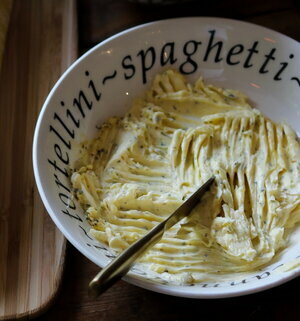 Lemon Herb Compound Butter
I don't know about you, but in our house we recently dusted off the grill for use again and fired it up.  Not every home in the NYC area has a grill, but if you do have one, there is nothing else that tastes exactly like it.  A lot of home cooks can make a mean steak, but most of the time it doesn't make sense to make a veal stock, reduce it for hours, and then build a red wine reduction sauce for one meal.  That's why I decided to share a compound butter recipe for steak that is easy to make, affordable, and freezes very well.  I like to apply it in a few slices on the hot steak after it is grilled to your desired temperature, while it is resting on the serving plate.  That way the butter melts into those tiny nooks and crannies and its flavor intermingles with the char, smoke and the steak itself. You can also play around with it and try applying it to roasted chicken pork or even vegetables (hello corn, hello cauliflower).
Recipe provided by Great Performances' chef
Geoff Rudaw
Executive Chef
CPS Events at The Plaza
Ingredients:
8 tbsp unsalted butter at room temperature

1 tbsp finely chopped herbs, you can use any herb like tarragon, parsley, thyme, chive or even a blend

1 small shallot, finely diced (optional)

1 lemon, zested and 1 tsp juice

4 grinds of black pepper

1/4 tsp kosher salt
Procedure:
Combine all ingredients In a stainless steel bowl until the butter is creamy and smooth.

Arrange two layers of plastic wrap, about 10" long each, on top of each other on your counter.

Using a rubber spatula, give the butter a final blend and scrape evenly on the plastic wrap into a rough log shape. If it is too soft to work with, refrigerate for 10-15 minutes.

Roll up the butter in a tight cylinder, keeping an eye that the edged of he plastic wrap doesn't get embedded deep into your roll. Twist the edges and chill thoroughly.

To use, cut into slices and add to grilled steak, chicken, pork or vegetables.

To store, wrap tightly in aluminum foil and store in freezer for up to 3 months.
Variations:
Compound butters can have anything delicious and harmonious in them.  I recommend experimenting with some of these combinations, or feel free to make up your own.  Necessity is the mother of invention, after all.
Cilantro, chipotle peppers, toasted ground cumin, lime juice.

Ginger, garlic, scallion, soy sauce and sesame oil.

Green curry, coconut, lemongrass and lime juice & zest. (Some of the ingredients may be harder to find, but they're worth it.)
---
Hungry For More?