JOYFULLY LIVING WITH PLANTS
In 2020, we completed the construction of our new office at 2417 Third Avenue. It features a block long wall of windows which face south – clearly a sun drenched paradise with a great view of the Third Avenue Bridge and the Mott Haven cityscape.
Although the kitchen downstairs was busy producing food, the office was still a ghost town. There were 3 of us there most days – Shawn, overseeing the construction; Brandon, our Director of Transformation and Technology; and me). The plants that survived our interim office space were thrilled to move upstairs. But there was so much space, and so much light…..something was missing and we figured it out.
Instead of people coming to the office, we started bringing in our 'green babies'. Every week, I would bring a few plants to liven up the office – and so did Brandon. Before we knew, there was a plant population explosion! It was marvelous and the office, though devoid of humans, was full of life.
There are some plants that I adore: staghorn ferns, hoyas, succulents, pileas, string of pears/turtles/hearts, and jade. There are several of each of those. One day we went to Wave Hill and came back with a load of plants from the gift shop – they continue to thrive.
Over time, as people came back to the office (and we are back in the office), we discovered the other green thumb people among us. They too have little plant families clustered around their desks. Our plant population has grown so large that we now have a talented plant lady (Jai) who comes on Sundays to water, do bug checks, repotting and other necessary oversight of our beloved jungle.
There is something very special about being surrounded by our plants. It is a wonderful connection to nature and to life. No matter how busy the day is, or how many zooms I have to endure, I look around and smile. It brings me peace and joy.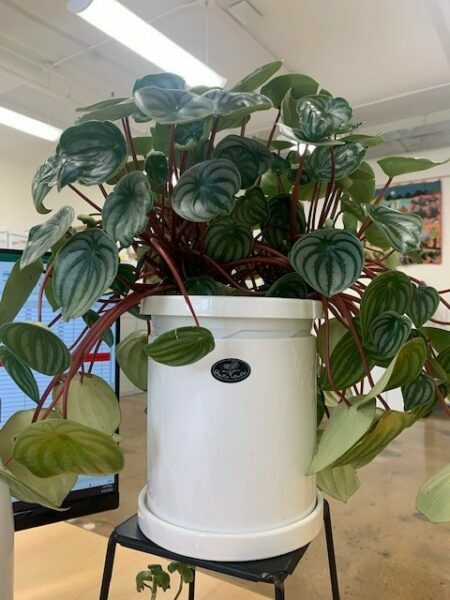 Human Resources Administrator
She is the first plant I have ever owned and, to be quite honest, I'm so happy she's still alive and blossoming beautifully. I have no idea what I am doing but I'm thankful to my coworkers who come to my desk and instruct me on how to take care of my sassy girl – yes, she's sassy like her owner. 😊
My desk has become a rescue/sanctuary for some of our office plants. Many have been brought to me in a sad state or propagated from clippings and I've managed to nurture them back to life! It has definitely grown into my own little oasis (one of many in our office!).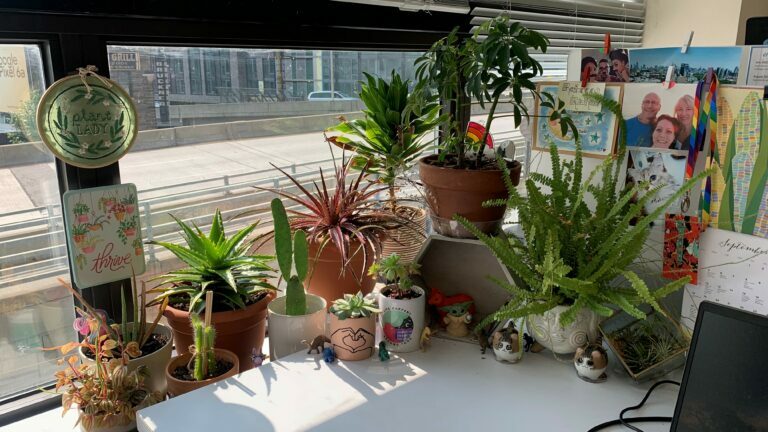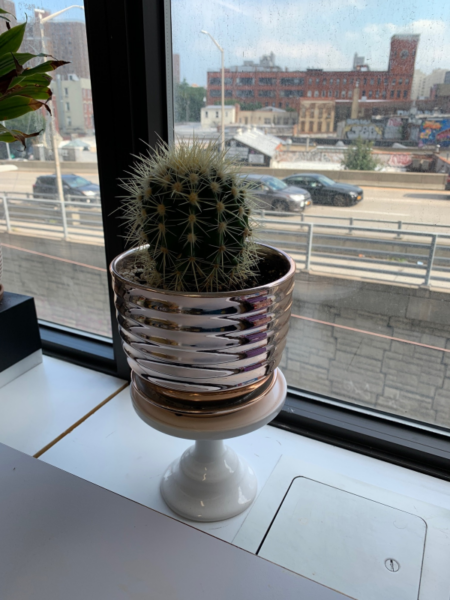 Historically, I haven't been very good at keeping plants alive (hence the collection of Lego plants at my desk.) However, as Liz went through greening the office, she dropped off Fluffy at my desk. I felt a natural affinity for him – a prickly exterior guarding a soft interior. He's the strong, silent type, and I keep him on a pedestal – literally. We get along well, and he sits by me at the window, counting the cars that go by.