JANUARY FOOD FESTIVAL: BLOOD ORANGE MARMALADE
Our 2023 calendar theme, Preservation, is an ode to the art of preserving the harvest as well as a salute to the self-preservation of body and spirit. These have been challenging years! It's fair to say we have been pickled and fermented, but that life goes on. It is the celebratory moments and the opportunities to come together that we relish.
This month, we're celebrating Blood Oranges! Winter is citrus season for us, and we love the crimson hues and raspberry-like flavors of Blood Oranges. Look for them in your local grocery store from December through March. The skin will often appear uniform and orange in color, but occasionally the dark reds can be seen on the rind, depending on the variety.
Micha Bentel, Creative Director at Great Performances, taps into her culinary training and experience as a chef in developing this recipe. Although this recipe calls for Blood Oranges, you could easily swap in other citrus fruits although you won't have the same bold, orange-red color.
Delicious on its own spread on toast, the sweet, sour citrus pairs delightfully with variety of cheeses from mild cream cheese and burrata to pungent gorgonzola and stilton.
Just in case you need another way to use the Blood Orange Marmalade, Micha also shares a delicious recipe for savory, sweet, sticky Blood Orange Marmalade Glazed Chicken Wings.
We do recommend some special equipment for this recipe including a candy thermometer and canning jars and lids, although you could do without if you plan to eat the marmalade quickly.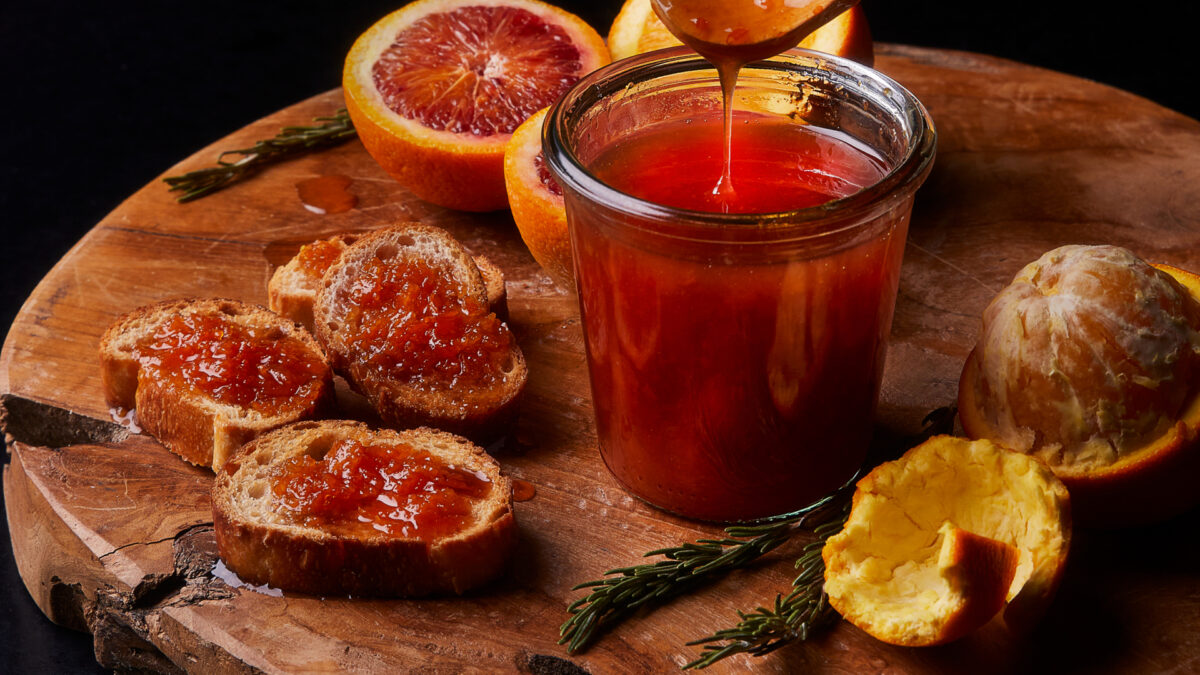 Blood Orange Marmalade Recipe
Yield: 40-50 ounces (5-6 8oz jars)
3 lbs blood oranges
6 to 8 c water 
Pinch of salt
1 lemon, juiced
5 to 6 c sugar 
6-8 qt pot 
5-6 (8oz) sanitized canning jars and lids 
Candy thermometer 
Ceramic plate chilled in the freezer for testing
Completely clean and sanitize your equipment and place a ceramic plate in the freezer.
Thoroughly wash the blood oranges, scrubbing off any residue on the outside.
Halve your oranges, then slice into half-moons about ¼ – ½ inches wide. Remove seeds and discard, or tie into a cheese cloth.
Add blood orange slices (and optional seeds) to 6-8 quart pot with 6 cups water and lemon juice.
Bring the mixture to a boil and let it boil for at least 30 minutes until the peels are completely soft and cooked through. This mixture should be juicy and not watery.
Remove the cheese cloth with the seeds and squeeze it to release any of the milky substance (pectin).
Measure the blood orange mixture and add 1 cup of sugar for every cup of mixture.
Clip the candy thermometer to the side of the pot and bring the mixture back to a boil, stirring often to prevent burning or sticking to the bottom of the pot.
Once the temperature reaches 218˚ F, test doneness on the frozen plate. Drop a dollop of jelly on the plate, wait 30 seconds and run your finger through it. If the jelly created ripples, it is done; if it remains syrupy then you should cook it longer. 
The marmalade should set anywhere between 218-222F 
When ready, take the marmalade off the heat and fill the jars leaving ½ inch of space at the top. Add the lid, pressing down on the lid as you close it tightly. Allow to cool completely. Leave jars at room temperature and use any time! Once opened, the marmalade should be refrigerated.
More Food Festival Recipes