JAMES BEARD FOUNDATION FELLOW: MIMI CHEN
Mimi's love of TV cooking shows led her to enter the C-CAP (Careers through Culinary Arts Program) Competition. Her 2015 win resulted in a full scholarship to the International Culinary Center and then a paid internship at Café Boulud. With Chef Daniel Boulud as a mentor, Mimi went on to cook at New York City's renowned Restaurant DANIEL. Always striving to work with and learn from the best, Mimi moved to San Francisco to join the team at Matthew Kirkley's three Michelin starred restaurant Coi. All the while, she continued to participate in prestigious competitions, including the famed Bocuse d'Or World Competition in 2017 and 2019. Mimi's creative talent, precision and competitive spirit will serve her well when it comes to starting her own culinary business.
How did you first learn about the program?
A professor whom I studied with at CityTech College encouraged me to apply. She has always looked out for me and my career and knew I would really benefit from the fellowship.
What was the most valuable training you received?
I learned a lot about myself personally and professionally. Program mentor Rosey Singh helped me understand my personality type and taught me to communicate with confidence. Another mentor, Valerie Wilson, taught me to pitch my story concisely. Previously, I had written a very long bio. Thanks to Valerie, I learned to focus on compelling details that illustrate the key points in my narrative.
What aspect of the program did you enjoy most?
I loved creating my Beard Box menu, translating my ideas into a meal kit for people to prepare at home. Everyone loves a good burger, but I wanted mine to be different. My family BBQ experiences inspired my five-spice burger. The charcoal bun was a technique I picked up in my cooking competition experiences. The resulting dish was familiar yet out of the ordinary.
How did the program influence the direction of your culinary career and the possibilities you see ahead?
It helped me build my business plan on the foundation of my culinary and pastry experiences. Prior to the program, I had been testing recipes, which the fellowship then helped me to refine.
What will your next career step be, following your fellowship completion?
I'm launching my own line of dessert mixes. They're called "Mish", short for mission. My products will be similar to what you find in the grocery store baking aisle, but with unique flavors inspired by my cultural heritage and French culinary training. My cake mixes will include matcha, earl grey and yuzu – flavors you just don't find in stores. I'm also creating unique dessert mix flavor profiles for rice crispy treats, cookies, cupcakes and mochi. I plan to offer them with the convenience of online shopping, and eventually in stores.
What was the most challenging aspect of the fellowship?
For an introvert like me doing the live zoom recipe event was a great challenge. For my Beard Box video presentation, being prepared with a well outlined script was a very effective strategy. Despite a few hiccups, it went smoothly. I felt great about it.
Slaw Mix
1⅓ cup napa cabbage, finely shredded
1⅓ cup purple cabbage, finely shredded
⅔ cup carrots, finely shredded
Soy Ginger Sauce
3½ Tbsp tamari soy sauce
1.5 Tbsp rice vinegar
1½ Tbsp honey
2 Tbsp vegetable oil
1 tsp sesame oil
¼ cup ginger, grated
1 tsp garlic, grated
1 scallion, thinly sliced
1 sprig cilantro, chopped
¼ tsp white sesame seed
In a small mixing bowl, whisk together soy ginger sauce ingredients and adjust seasoning to taste. Combine shredded napa and purple cabbage and shredded carrot. Toss in soy ginger sauce to coat evenly. Serve immediately.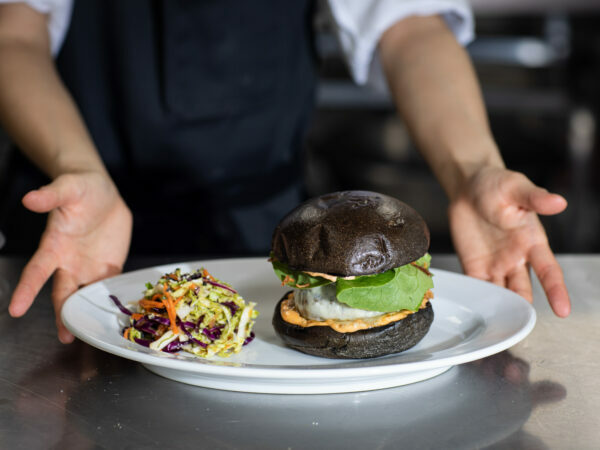 We would like to acknowledge CAPITAL ONE as the presenting Sponsor of the James Beard House Fellows Program.