IMMIGRANTS' PERSPECTIVES: CELEBRATING THANKSGIVING
Thanksgiving is a time that we celebrate with loved ones and share our food with our gratitude. This uniquely North American holiday has come to mean a lot to newcomers to America. What is beautiful about the holiday meal today is the influence of global flavors and cuisines via new citizens as well as refugees from all over the world.
Georgette Farkas interviewed some of the chefs we've worked with for People's Kitchen and at our Latke Festival. Each of these incredible women share their Thanksgiving stories and how they've made it their own, bringing in their cultures, traditions, and flavors, but always sharing a meal while sharing their gratitude.
Yen Vo, Co-Owner and Co-Founder, MADAME VO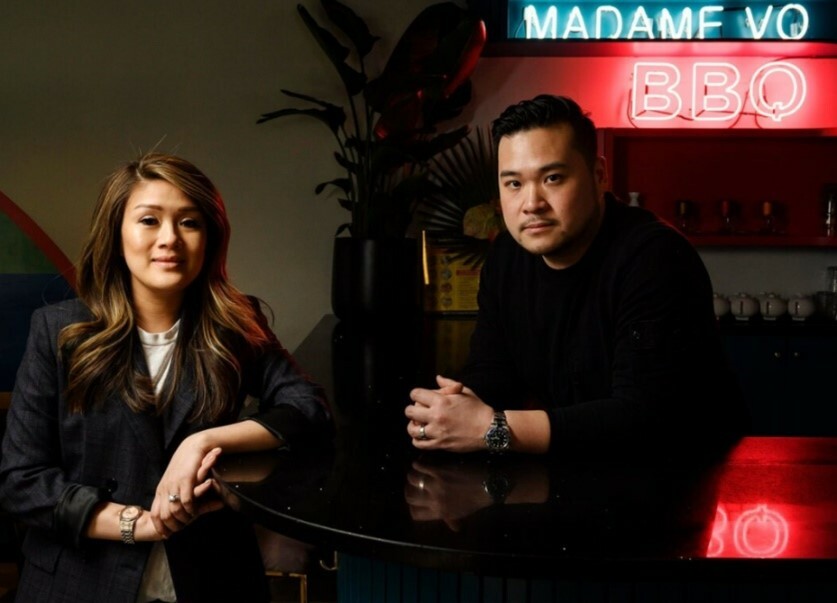 Yen Vo's hands down favorite holiday is Thanksgiving.  The Vietnamese born fashionista's penchant for the American harvest celebration reflects how families from around the world embrace the holiday as as they settle into American life on their own terms.
Yen and her husband, Chef Jimmy Ly, opened their chic East Village Vietnamese restaurant Madam Vo in 2017. Their second restaurant, Madame Vo BBQ, followed soon after. Jimmy had grown up working in his family's restaurants and easily won Yen over with his cooking. But when it comes to Thanksgiving, Jimmy takes the day off, and Yen takes over in the kitchen. It's also the only time her mother and grandmother give her free reign behind the stove, even if they still can't keep their hands off the seasoning.  
Yen's earliest Thanksgiving memories date back to age seven, and a feast hosted by the aunt who had sponsored her family to come to the US. Yen's aunt wanted them to have a truly American style holiday meal, with an emphasis on the side dishes. Yen's favorite, and one she still makes, is a classic green bean casserole. Her cornbread and andouille sausage stuffing has a Southern accent, thanks to the time her family spent in Mississippi. This year she'll also be serving roasted garlic mashed potatoes, brussels sprouts and maple glazed carrots.
Yet the menu would not be complete without cha gio, traditional Vietnamese shrimp spring rolls with their nuoc cham dipping sauce that are a must at all Yen's family gatherings. Roast pork lettuce wraps with vermicelli and cucumber are another must, before the turkey comes to the table. So while the Vo and Ly families don't fuse the flavors of East and West, they serve them side by side, combining their Vietnamese and American culinary cultures right up through dessert. They'll have traditional American pumpkin and pecan pies and then give out moon cakes as gifts. As with Thanksgiving, the moon festival celebrates the harvest, with both traditions celebrating family gathered around the table.
Learn more about MADAME VO here.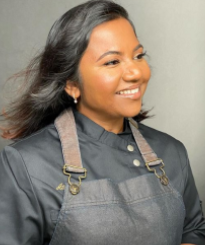 Aarthi spent her first American Thanksgiving as the guest of a school friend's Nicaraguan grandmother in the Bronx. She had no idea what the holiday stood for or what to expect on the table. To this day she recalls an incredible spread of pork stew, rice and beans, potato and egg salad, a giant pineapple glazed ham, and an even bigger bird that she did not know was a turkey, all followed by American pies and tres leches for dessert. She is still struck by the generosity and warmth shared by people she was meeting for the very first time.
Chef Aarthi Sampath first arrived in the US 2013 when she transferred from a food service management program in her native India to major in baking and pastry at Johnson and Wales. Her subsequent years in restaurant kitchens produced a wealth of turkey making experience. At the Breslin she learned from the highly technical and carefully tested sous vide approach. She was proud to put her own side dish on the menu and still remembers hand scrubbing mountains of rainbow carrots. She roasted them in her own blend of cumin, turmeric, honey, raisins and walnuts and finished the dish with a carrot top and cilantro pesto seasoned with ginger, garlic and lemon, clearly an East meets West inspiration.
At Junoon, Aarthi's Thanksgiving turkey was the center of a staff family meal. She marinated the bird Indian style, rubbed with turmeric, chili powder, cumin, coriander and garlic. "It was the first time I had ever brined anything, an entirely new technique for me learn, and it took the biggest pot we had in the kitchen," explains Aarthi. On the side she served black lentils and a rice salad.
For a Thanksgiving dinner in Seattle, where Aarthi was making her mark with her gourmet food truck, she took the night off to host a group of healthy eating athletic friends. She wanted them to be able to indulge with abandon on her menu of quinoa salad, roast vegetables and whole roasted tandoori chicken marinated in yogurt, lime, chili, coriander and cumin. The chef still remembers, "I didn't have enough plates in my own tiny kitchen and used every possible implement and container on hand to serve the dinner."
During the 2020 shutdown, Aarthi prepared Thanksgiving dinner as a private chef for a family with Italian and South American roots. "They wanted their many cultures reflected in the menu and especially asked me to add some Indian spices of my own," recalls the chef. "It was the most customized Thanksgiving dinner I have ever created." In addition to a rosemary and sage brined turkey, Aarthi made whole roasted plantains topped with spicey beef stew; Bengali style potato and egg salad with mustard seeds, curry leaves and asafoetida. For dessert, Aarthi served pumpkin and sweet potato trifle. "At home we had my grandmother trifle for every family gathering, so I served my own version of this childhood memory," say Aarthi. "The Thanksgiving meal is about family memories and traditions, no matter where they may originate."
Follow Chef Aarthi Sampath on social: @arthi_sampath
Hong Thaimee, Chef-Owner, Thaimee Love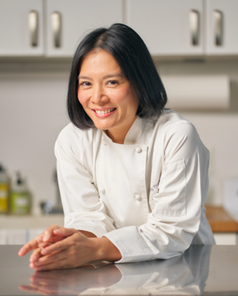 Today Hong Thaimee considers herself a New Yorker, yet she experienced her first Thanksgiving in her native Thailand as the guest of an expat American family. "I am open to new experiences, never judgmental, so I was happy to embrace this very foreign meal. I loved the stuffing and its aroma pervading the house. It must have been the celery," remembers Hong. "They served classic roast turkey with gravy and cranberry sauce. To this day, I can't imagine where they got that turkey."
Hong enjoyed her first Thanksgiving dinner here in the US in 1995, as an exchange student living in Portland, Oregon. Her host family were great cooks, but she still remembers the jazz soundtrack that accompanied dinner, more than the food itself. 
By 2006, Hong had moved to the US full time and took on a Thanksgiving dinner of her own for a group of friends from around the world. Learning to brine the turkey was the greatest challenge at the time. Ever since, she's been seasoning her bird with a Thai curry spiced butter under the skin. As a side dish, Hong makes fried rice with green curry paste, coconut milk, eggplant and Thai basil, which she explains can double as a stuffing. Yet the holiday recipe she remains most proud of is her now famous red curry paste pumpkin pie. It was published in Rachel Ray magazine and still appears on her restaurant menu.
Learn more about Thaimee Love here.
Lebjulet Braganti, Chef, Eat Off Beat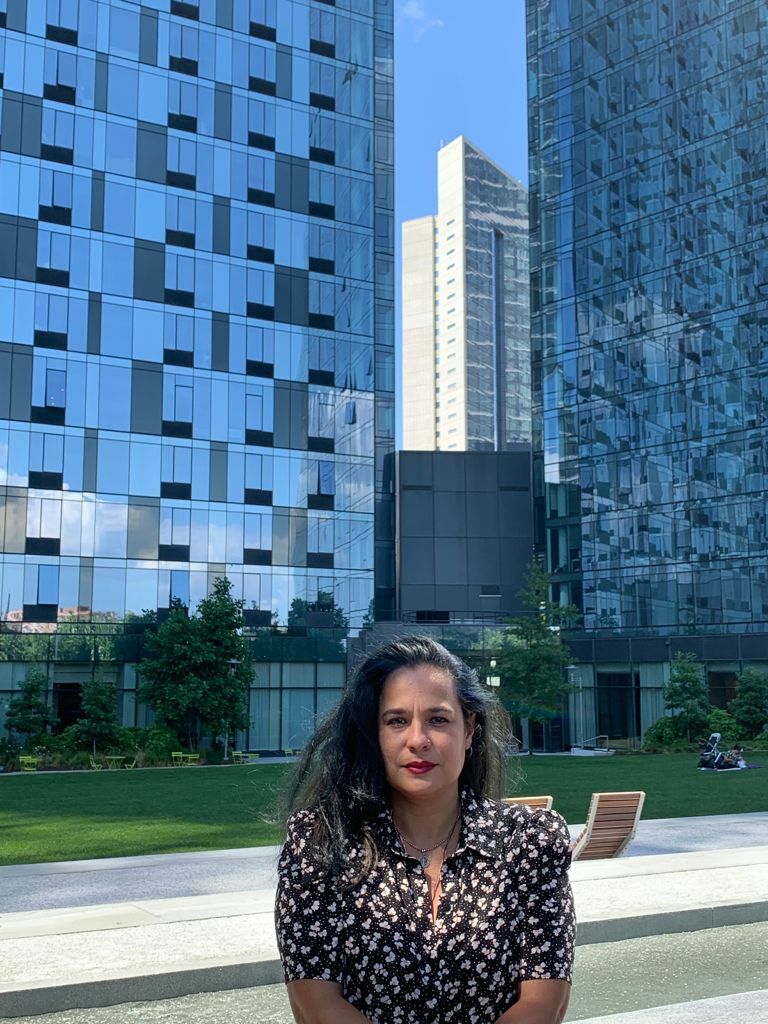 Lebjulet Braganti has two passions: the first, numbers and the second, cooking and making desserts. Prior to moving to the US in 2016, she taught university-level mathematics. But now, she shares her passion for cooking and making desserts at Eat Off Beat, a New York based company offering ready-made meals made by refugees to explore the world from your home.
Lebjulet remembers the first time she celebrated Thanksgiving: her mother-in-law prepared different dishes and a lot of food. Lebjulet cooked three desserts—a lemon curd fruit pie in strawberry, kiwi, and peach. As she sat to eat the feast, she felt nostalgic, remembering her childhood. Every Sunday, she and her parents, brother, and some friends would eat together, giving thanks to God for the family and everything they had. Thanksgiving brought back those cherished memories through the shared experience.
Every year, her family celebrates with five families at her friend Ana Maria's house. Each family brings Venezuelan dishes, and Lebjulet typically prepares meat and dessert. She'll traditionally prepare two or three desserts, typically desserts her friends request. One dessert she always makes is her famous tres leches cake, which as been described as "one of the best desserts I've had' by most. This past year, she prepared guanabana (soursop) cake filled with pastelera of guanabana and decorated with suspiro.
She and her family and friends like to celebrate Thanksgiving as a moment to share, talk, and most importantly, giving thanks for the opportunity to be together, to feel freedom, and to grow their children together without being afraid and sad.
"Every day we live in constant fear [of leaving] America. For asylum seekers, it's not easy to live here. Some people celebrate, but others, like parents, think about leaving everything again. I like Thanksgiving Day. It is the marvelous celebration when we can remember where we come from and where we are going. The decorations, the happiness, the food… this day is part of me now."
Learn more about Eat Off Beat here.