Happy Veganuary!
This year, we're participating in Veganuary, a plant-based revolution inspiring and supporting people to try vegan to protect the planet, animals, and their health. We've always advocated for a more plant-based lifestyle, leading the charge in the industry, from starting an organic farm, Katchkie Farm, in upstate NY, to developing a vegan demi-glace using nothing but plant scraps, and relaunching our beloved Mae Mae Café as a plant-based café and plant shop.
For Veganuary, we're bringing one of our favorite Mae Mae Café dishes, the Mushroom Mole Taco, to five of our cafes and restaurants across New York: Dizzy's Club (at Jazz at Lincoln Center); The Norm (at the Brooklyn Musuem); CRC Café (at Rockefeller University); The Café (at Wave Hill}; Trinity Café (at Trinity Church's Trinity Commons); and Wollman Café (at Wollman Rink). If you can't make it to Mae Mae Café in the Bronx, make sure you stop by one of our venues and give it a sample. Made with shiitake mushrooms and a soft corn flour tortilla, our savory, sweet, and gently spicy mole sauce is rich with notes of cocoa, sesame, almonds, clove, cinnamon, and of course chili pepper.
While Vegan dishes are a regular feature on our workplace dining menus, in honor of Veganuary they will offer new additions including Roasted Brussels Sprouts and Curried Red Lentils (with quinoa, Swiss chard pilaf, harissa vinaigrette); and  Lemon Roasted Romanesco (with butternut squash, farro, hummus.)
Going vegan doesn't mean giving up flavor! Check out some of our vegan dishes including Roasted Fennel & Parsnip Soup, Orange Miso Glazed Carrots with Carrot Top Pesto, and Celery Root Pancakes. Let us know what you try and if you're participating in Veganuary with us!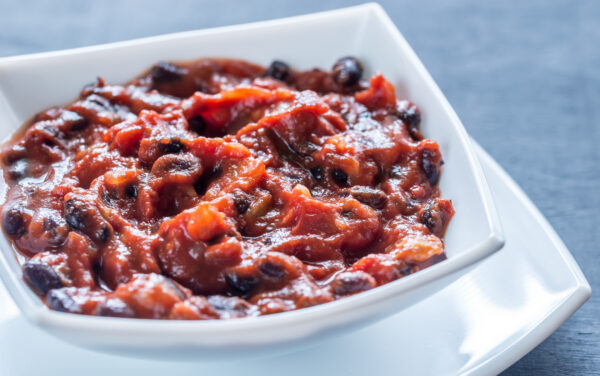 This vegan chili recipe is the perfect way to keep warm this winter.
Read More »