We asked our GP family for their Easter and Passover food memories. We hope you'll take inspiration from them!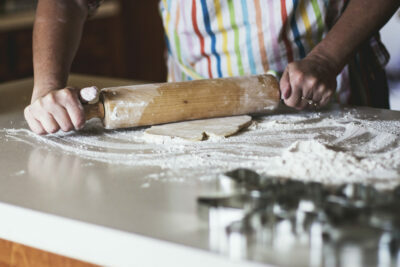 Easter Pie
Amanda DiUglio
Growing up in an Italian family, we learned to show our love by feeding people. "Here, have another bite" meant I like you. Just filling up an unsuspecting person plate with baked ziti and meatballs meant I really like you, or my favorite is when you have tin pans overflowing with food to go home with meant real love! My Grandmother had an open door policy at her home and always had food on the stove to welcome whoever stopped by. The smell could pull you in from miles away. I don't remember her anywhere else in her house besides the kitchen, over a large metal sauce pot stirring tomato sauce – yelling at my father to stop eating out of the pot.
I was the lucky one to get my Grandma's recipe book. It's a bright yellow photo album with index cards in her writing, falling apart at the seams. It's truly a piece of history. When I first tried to dive into making one of her legendary meals, I decided to start with one of my childhood favorites, Easter Pie (or Pizza Rustica as she called it). I was confused at first glance. 5lb of flour, 2 dozen eggs . .  who and what was she feeding! As I read down further, the recipe called for a handful of cut prosciutto and the light ham from down the block, 2 baskets of cheese, and a big ball of mozz. To her this was her way of doing one of two things; one: the recipe cards were a quick reminder to her because she made each recipe every year or two: making sure no could every duplicate one of her delicious treats.
After years of taste testing and family gathering, I think we have it pretty close. Nonna's recipe for Easter Pie!
Ingredients:
For the Dough
6 cups all-purpose flour

¼ teaspoon salt

1 pound chilled salted butter, cut into large pieces

5 large eggs, beaten
For the Filling
1 lb prosciutto, in 1/4-inch dice

1 lb boiled ham, in 1/4-inch dice

1 lb boiled ham, in 1/4-inch dice

8 ounces pepperoni, in 1/4-inch dice

8 ounces soppressata, in 1/4-inch dice

1 lb mozzarella, in 1/4-inch dice

8 ounces provolone, in 1/4-inch dice

2 pounds ricotta

8 ounces grated pecorino Romano

10 large eggs, beaten

1 teaspoon pepper

1 large egg, beaten, for brushing crust
Method:
For the dough: In a large bowl, whisk together 6 cups flour and the salt. Using a pastry cutter, large fork, or two knives, cut the butter into the flour until the mixture resembles coarse crumbs. Add eggs and knead for 1 minute. Add about 1 1/4 cups ice water, a little at a time, to form a cohesive dough. Knead the dough on a lightly floured surface until it forms a large smooth ball, about 5 minutes. Cover with plastic wrap and chill. Let set aside for 30 minutes.

For the filling: Mix the meats, cheeses, the 10 eggs and pepper in a large bowl.

Heat oven to 350 degrees. Divide the dough into two pieces: two-thirds for the bottom crust and one-third for the top. On a lightly floured surface, roll out the larger portion of the dough into a rectangle to line the bottom and sides of a 10 x 15 glass baking dish. Add the filling and smooth it lightly. Brush the edges with a little water. This will act like glue.

Roll out the remaining dough to cover the top of the dish with some overhang. I like to cut a little carrot on the top of the dough while its on the counter, you can just use a fork and poke some holes. Trim off excess dough and crimp the edges to seal. Bake for 45 minutes. Remove from the oven and brush top and edges with the beaten egg, then return to the oven until golden brown, another 45 minutes. Let pie cool completely before serving.