By Chef Saul Bolton
I started cooking for Passover over 24 years ago in the west village. My boss's mom came into the restaurant kitchen and would teach me her Passover recipes. The wonder. The honor to be given a personal glimpse into a family, a tradition, and a culture. We cooked together for three Passover holidays. It was special.
I drew the following recipes from the past and present; from the freedom, one has not being bound by years of tradition; from the enrichment by my culinary peers and the world we live in; and from the deep respect for the importance of family, culture, and tradition.
MATZO (CHILAQUILES STYLE)
1 lb tomatillos, husk removed

1 small white onion, peeled and cut into quarters

1 whole jalapeño, stem removed

4 whole garlic cloves

1 bunch cilantro, washed and shaken to remove excess water (set aside 12 sprigs of cilantro for garnish)

1 ripe hass avocado

1 lime, cut in half for juice

Salt and pepper to taste

Olive oil

1 packet of salted matzo, broken up into tortilla chip size pieces & toasted in oven until golden brown

8 whole cage free eggs, room temperature

¼ lb queso fresco, crumbled
Heat a sauté pan over high heat. Add tomatillos, onion quarters, jalapeño and garlic in batches. Carefully blister them on all sides until they have a nice char.

To prepare a salsa verde, add the charred ingredients to a blender. Add cilantro stems and blend until everything is well processed. Season with salt and pepper and set aside.

In a small bowl, mash the avocado with a fork and season with a squeeze of lime juice, salt and a touch of olive oil. Set aside.

Heat an appropriate sized sauté pan over medium heat. Add 2 tbsp olive oil then carefully add in the salsa verde. Add the matzo chips. Reduce the heat to a simmer and stir until the sauce is evenly distributed.

Add the eggs to the pan, gently stirring as per scrambled eggs. Cook to your liking.

Divide the mixture between six warm plates

To serve, top each mound of eggs with mashed avocado and garnish with a sprinkle of queso fresco, a sprig of cilantro and a squeeze of lime.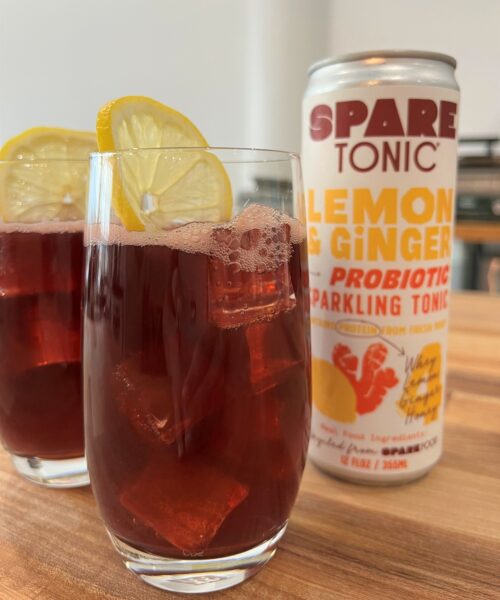 We're celebrating Climate Week with our friends at Spare Tonic and their take on a Spanish classic, the "Spare Tinto".
Read More »