By Great Performances
In March, the Great Performances' culinary team pays tribute to the healthy, versatile, and uncomplicated potato. Spuds are heart-healthy because they contain ample amounts of potassium, vitamin C and fiber. Also rich in vitamin B6, calcium, magnesium, and iron, they help boost the immune system, improve energy levels and contribute to overall health. Darker colored potatoes also contain antioxidants known as anthocyanins which slow down the aging process and keep the brain sharp.
An easy-to-make food for all seasons and occasions, you can bake, roast, grill, fry or even boil them, and they can be eaten hot or cold. There are fewer foods that lend themselves so well to topping – butter, sour cream, cheese, gravy, bacon bits, and more. The possibilities are endless!
This month, from Signature Cafe's Potato, Provolone, and Pancetta Flatbread to BAM Cafe's Patatas Bravas with Pimenton Aioli, enjoy our favorite dishes showcasing potatoes in a variety of delicious ways. You can also make them yourself using the easy-to-make Potato Rosti recipe below or check out the Katchkie Farm recipe archive for even more great potato ideas!
CELEBRATE POTATOES AT GREAT PERFORMANCES' RESTAURANTS & CAFÉS
By Chef Saul Bolton
A cross between a hash brown and potato pancake, the rosti is a Swiss dish often served for breakfast but is versatile enough to eat with any meal. Delicious eaten as is, it's also the perfect base for eggs, smoked salmon, a peppery arugula salad or a variety of other toppings.
Serves 6
1 pound Idaho or russet potatoes, peeled and grated on the large holes of a box grater

1 tsp fresh thyme leaves

1 cup canola oil

Salt and pepper
Squeeze excess water out of grated potato, then season with salt, pepper and thyme.
Divide seasoned potato into 6 equal portions, molding into discs of equal thickness with smooth edges.
Add oil to frying pan and heat over medium flame.
Add the potato discs in batches, being careful not to crowd the pan, and fry until uniformly golden brown and cooked through, approximately 10 minutes on each side.
Drain and keep warm on a cookie rack in a 200˚ oven.
Season lightly with salt and pepper then serve with your topping of choice.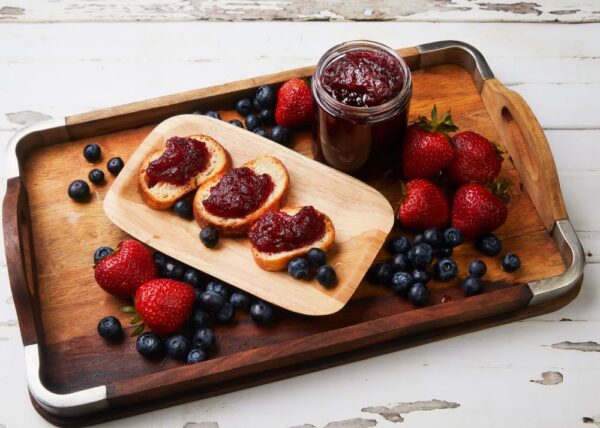 This month we're celebrating Preservation with a Berry Jam recipe brought to you by Pastry Chef, Albert Bello.
Read More »