By Great Performances
This month we're celebrating strawberries. Strawberries are currently at their peak and when fully ripe they maintain the perfect balance of acidity and sweetness. In addition to their delicious flavor, they are also packed with nutritious benefits such as lowering blood pressure, increasing eye health and boosting your immune system.
Enjoy our favorite strawberry dishes at our venues and be sure to try our recipe below.
CELEBRATE THE STRAWBERRY AT OUR CAFÉS
June 16-22
Grilled Chicken Tacos – strawberry pico de gallo 
SPAGHETTI WITH STRAWBERRY MARINARA
12 oz dry pasta

2 tbsp olive oil

1 small red onion peeled, halved and thinly sliced

1 tsp chipotle flakes

1 lb ripe strawberries, cleaned and hulled

1 12-oz can chopped plum tomatoes

1 cup basil leaves, thinly sliced, divided

2 cups whole milk ricotta

Freshly ground black pepper

Salt
Prepare the marinara: In a large sauce pot, heat olive oil. Add red onion and chili flakes and cook for five minutes. Add strawberries and chopped tomatoes and stir over medium flame. As strawberries soften, crush with the back of spoon. Reduce heat.

Prepare the pasta: Bring a large pot of water to boil and salt heavily, then add the pasta. Stir well to prevent the pasta from sticking together. Cook until pasta is not quite al dente.

Add one cup of pasta water to prepared marinara. Drain pasta then add pasta to marinara. Cover and cook until al dente. Season with salt and pepper. Add ½ cup of basil leaves and toss.

To serve, divide the pasta between 6 warmed pasta bowls. Garnish each with a dollop of ricotta, freshly ground black pepper and the remaining basil.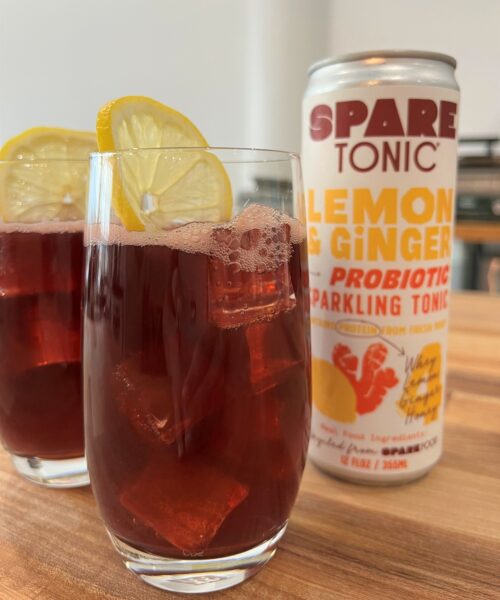 We're celebrating Climate Week with our friends at Spare Tonic and their take on a Spanish classic, the "Spare Tinto".
Read More »