By Great Performances
This month we're celebrating summer squash. Summer squash includes both zucchini and yellow squash. They taste similar with a mild, sweet vegetal flavor and the two can be used interchangeably. A quick way to differentiate them, aside from the color (zucchini are green), is by their shape: zucchini are straight while squash are tapered and tend to have a fat bottom. Squash may also have more seeds than zucchini.
Squash are exceptionally versatile, with over 16 types that come in a range of colors and sizes. Every part of the squash plant can be eaten, from the leaves to the skin to the tender shoots, and all can be cooked, baked, roasted or eaten raw. In addition to its versatility, squash is also packed with vitamins such as vitamins A, C and E, and is an excellent source for fiber, potassium and calcium.
Enjoy our favorite squash dishes at our venues, and be sure to try our recipes below or check out the Katchkie Farm recipe archive.
---
Celebrate summer squash at our Cafés
July 16-22
---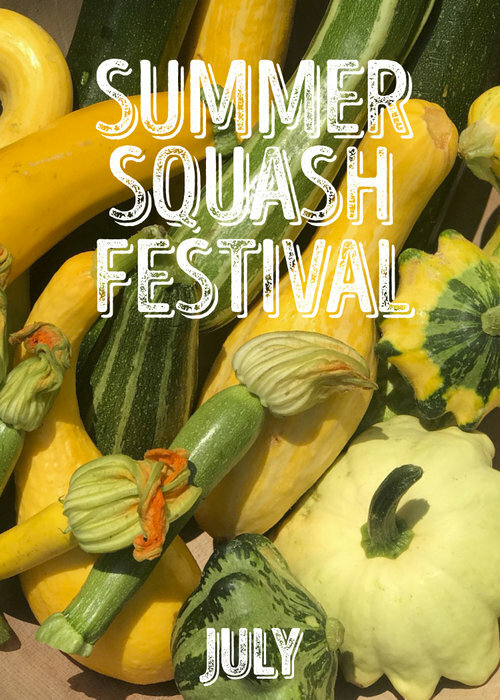 ---
Quesadilla de Flor de Calabazas
Serves 6
Ingredients
3 tbsp oil, divided

½ medium yellow onion, diced

4 cloves garlic, minced

1 tbsp chili powder

40 summer squash blossoms, rinsed then chopped roughly

10 corn tortillas

1 lb Oaxaca cheese, shredded (can use mozzarella or Monterey jack)

10 sprigs of epazote (available in Mexican grocery stores)

Salt and pepper

Optional garnishes

Cilantro

Pico de gallo

Guacamole

Salsa

Crema

Sliced avocado

Black refried beans
Procedure
Heat 2 tablespoons oil in a large saute pan over medium heat. Saute onions until translucent, about 4 minutes. Add garlic and saute until fragrant, about 1-2 minutes more. Add chopped squash blossoms and chili powder and cook additional 1 minute or until slightly wilted and warmed through. Season with salt and pepper to taste, remove from heat.

Heat a flat griddle or cast iron pan and brush with oil. Heat corn tortillas until they start to bubble. Add 2 ounces of shredded Oaxaca cheese, a sprig of epazote, and 2-3 tablespoons of the squash blossom mix. Fold tortilla in half and heat both sides till the cheese is melted. Continue for remaining tortillas.

Serve warm with optional garnishes.
---
Salad of Grilled Zucchini, Avocado, Feta and Mint
Serves 6
Ingredients
4 medium sized zucchinis, sliced on bias ½ inch thick
1 medium red onion, peeled and sliced into thin rounds

1 tsp salt

1 tsp sugar

1 lime, zested and juiced

3 Haas avocados, halved, seeded and peeled

6 tbsp thinly sliced mint leaves

1 cup crumbled feta cheese

6 tbsp extra virgin olive oil

2 lemons, juiced and zested

Salt and pepper to taste
Procedure
Brush zucchini slices with olive oil and season with salt and pepper. Grill over high heat to char without overcooking. Cool to room temperature.

In a small bowl, lightly salt and sugar the onion rings. Let sit for 5 minutes then add lime juice and set aside.

Cut each avocado half into 6 slices. You should have 36 slices total.

On six chilled salad plates, carefully arrange the grilled zucchini, avocado, mint, feta and onion rings. Drizzle with extra virgin olive oil, a squeeze of lemon juice and season with salt and pepper. Serve cold.
---
Squash Blossoms Stuffed with Shrimp
Serves 6
Ingredients
36 squash blossoms

1.5 pounds large shrimp, peeled, deveined and finely chopped

1 jalapeño, seeded and finely diced

2 cloves garlic, minced

1 lemon, zested and juiced (zest chopped)

1 lime, zested and juiced (zest chopped)

1/2 cup diced red pepper (1 small pepper)

2 scallions, sliced thinly

5 tbsp chopped cilantro

8 ripe plum tomatoes, seeded and diced; reserve seeds and juice

½ tsp chipotle flakes

2 cloves garlic, sliced

Pinch sugar and salt

1 ½ cups seltzer water

1 cup of flour

2 tbsp chopped cilantro

Olive oil

Canola oil
Procedure
Combine shrimp, jalapeño, red pepper, lemon zest, lime zest, lime juice, scallions, minced garlic, salt and sugar. Test seasoning by cooking 1 tablespoon of mix for 2 minutes in non-stick pan over low flame. Adjust to your liking.

Carefully open the squash blossoms and stuff with 2 tablespoons of shrimp mixture. Gently close the blossoms.

Combine seltzer, flour and cilantro and mix until smooth.

Heat 1 inch of canola oil in large frying pan over medium flame.

Dip stuffed squash blossoms in batter then carefully add to hot oil. Fry on each side until golden, then remove from oil and drain on paper towels. Sprinkle with salt while hot. Keep warm in 200°F degree oven.

Heat 2 tablespoons olive oil in a small pan over a medium flame. Add sliced garlic and chipotle flakes. Once fragrant, add the chopped tomato and reserved juices and cook for 1 minute. Season with salt and sugar. Taste and adjust seasonings. Add chopped cilantro.

Divide the prepared squash blossoms between 6 warm salad plates. Spoon a little tomato mixture over and around each plate and garnish with cilantro sprig. Serve.
---