By Great Performances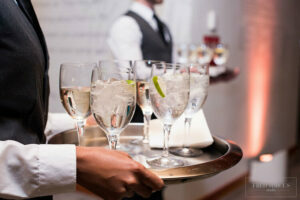 The success of our events depends not only on great food but on great service. It's the foundation (literally and figuratively) of Great Performances. Today, we have more than 900 cater waiters, bartenders, and service team members who support our events with unmatched attention to detail and impeccable service.
Most of these event staff members are also actively pursuing their artistic endeavors, which we support through our Artist Fellowship Awards: grants awarded to directly fund the projects and creative works of our team members. This year, we recognized four individuals and look forward to seeing their work evolve.
Managing the more than 900 individuals, from hiring through training to deployment across thousands of events each year is a herculean task requiring a deep understanding of the client, the event, and the staff members. Our stellar team of three manages all of this, and most remarkably, they all started as cater waiters at Great Performances.
This past year, the team has worked diligently to revamp our training and staffing process, resulting in even higher levels of attention and service at our events.
Hugh Chan, Catering Service Manager
I started working at Great Performances part-time in 2008 while I was still attending school, and it eventually turned into a full-time cater waiter position after college. In 2016, I heard of an opening in the booking department and decided that it would be a great chance to learn more about the company from a different perspective. I was immediately welcomed with open arms. My initial responsibility was tasking staff on future, or "long term", events, which means any event taking place anywhere from one week in advance to further out. Once I grew comfortable with those responsibilities, I moved into my current role, which is staffing anything last minute (same day) to one to seven days in the future.
It didn't take me long to fall in love with what I do, and from this role, I have learned to communicate better, solve issues promptly and understand that no matter what happens there will always be a solution. Everyone at Great Performances, from the team in the office to the staff working out on the floor, is available to help you whenever you are in need. We are indeed more than just a catering company—we are a family.
Maryelise Jones, Catering Service Manager
I've been with Great Performances for five years. I started as a waiter and about six months into working for the company I started captaining small parties. Over the years, I've been lead on events of all sizes, up to 500 person dinner parties, and all duration, including week-long events in Long Island. I was offered a position on the booking team in April 2019, and since then, I've been working as the newest addition to the team.
The staffing and service (booking) department are completely different than what I thought before starting. We do everything including entering staff orders into our online scheduling tool, corresponding daily with our 900 staff, problem-solving, hiring, training, booking staff into appropriate positions, and dealing with last-minute cancelations and callouts. It's a lot of work, but I feel that my current position allows me to make positive changes that directly affect the catering staff I've worked with for most of my career at Great Performances. The people are what make all of the difference for me.
Tim Berryman, Senior Catering Service Manager
I started with Great Performances in 2016 as part of the Front of House (FOH) events team. Chef Mike Deuel had encouraged me to apply to Great Performances as he and I had worked together since 2006 when we both worked at a camp in the Adirondacks. Mike was the executive chef and I did a ton of different jobs there. I started as the fencing counselor, then moved up to ahead of the sport, head unit leader, production manager, and in my tenth year (2006-2016) I was a director.
Before taking on the full-time role within Great Performances, I was the event director for a board game company, doing a ton of marketing and family events. I come from an events/theatre background, so planning and working on creative events is something I've been doing for about as long as I can remember!
In addition to scheduling 900+ active event staff for our daily calendar of events, we also train and hire all of our staff internally, working closely with the sales team to make sure that they have the support they need for their events. We're also redesigning a ton of our systems and practices to improve on what we already have!
---
CONTACT A GREAT PERFORMANCES PLANNER
If you have an event coming up and are interested in holding it at one of our catered events venues, contact us. We look forward to making your event come true.