EXCITING EVENTS AROUND THE BRONX: MAY 2023
By Great Performances
Explore exciting community events around the Bronx this month.
IN CONVERSATION:
ON THE LOWER FREQUENCIES
Saturday, May 6th from 4:00pm to 6:00pm
Presented in partnership with NSU Art Museum Fort Lauderdale, on the lower frequencies is a roundtable discussion centered on the recent lux et veritas: pushing a white wall exhibition curated by Bonnie Clearwater and publication by Skira. The conversation focuses on a group of art students of color who attended Yale University mainly between 2000 and 2010, and they will share stories on collaborating, in particular through collectives; supporting one another; and ways of achieving critical and personal success within institutional structures. Moderated by cultural practitioner, william cordova, this conversation features Abigail DeVille, Rashawn Griffin, Leslie Hewitt, Jamerry Kim, and Shoshanna Weinberger. Following the discussion will be a walkthrough by Abigail DeVille of her exhibition Bronx Heavens.
THE AMAZING BRONX RIVER FLOTILLA
Saturday, May 6th from 8:00am to 2:30pm
Location: Shoelace Park to Starlight Park
Join us on Saturday May 6 (rain date: May 20) for a 4-mile paddle down the Bronx River to raise funds for the Alliance's Paddling Program and the River!
Take advantage of this limited opportunity to paddle through the ONLY freshwater river in all of New York City. We hope to see you there!
BRONX FOOD AND FARM TOUR
Saturday, May 13th from 10:30am to 1:00pm
Location: River Garden (180th and Devoe Ave)
Celebrate the sites along the beautiful Bronx River during Bronx Week 2023! This tour will visit the longstanding and productive River Garden, one of the oldest community gardens in the Bronx which features large productive beds and sustainable gardening practices including rainwater harvesting and composting, and provides seasonal community events for all. Next we'll walk to Starlight Park where you'll enjoy a healthy food tasting and learn more about the Bronx River where dolphins were spotted earlier this year! We'll close off the tour at the nearby Concrete Plant Park, a former concrete plant that now hosts the Bronx River Foodway, one of NYC's only edible food forest, growing food and medicinal plants.
ASIAN PACIFIC AMERICAN HERITAGE MONTH: GINGKO TREE CELEBRATION
Saturday, May 6th from 1:00pm to 2:00pm
Location: Crotona Nature Center in Crotona Park
Celebrate Asian Pacific American Heritage Month with NYC Parks! Join the Urban Park Rangers and learn about Ginkgo trees and their significance in Asian culture and folklore. Then end with creating your own Ginkgo-inspired craft!
NATURE'S WORKSHOP: WILDFLOWER PRESSING
Sunday, May 14th from 12:00pm to 1:00pm
Location: Crotona Nature Center in Crotona Park
Join the Urban Park Rangers for the Nature's Workshop series. Each program in this series explores its topic in-depth and allows you to develop a skill, participate in a hands-on project, and indulge your curiosity. Join the Urban Park Rangers in appreciation of blooming flowers and learn how to press and preserve them. Bring your own book to take your blooms with you.
NYC PARKS PRESENTS: FAMILY DAY IN THE BRONX
Sunday, May 28th from 12:00pm to 4:00pm
Location: Ferry Point Park, 511 Balcom Avenue and Dewey Avenue
Join NYC Parks and Council Member Majorie Velazquez for a Family Day Celebration at Ferry Point Park! Activities will include games, obstacle courses, sports, and much more!
This event is FREE and open to the public!
HONEY INFUSION WORKSHOP
Saturday, May 13th from 12:30pm to 3:00pm
Location: New Roots Community Farm
As spring approaches and the bees gear up for another season of pollination and creating delicious honey, this workshop will focus on herbal infusions with raw honey. We will dive in on the benefits and medicinal properties of different herbal infusions and how they can be used as immunity boosters, for healing wounds, fighting off cold and flu symptoms, and combatting infections and allergies, among many other benefits. We will be using locally sourced Bronx honey to create our own infusions to take home. The free workshop will be hosted by NYBG in partnership with New Roots Community Farm.
MOTHER'S DAY WEEKEND GARDEN PARTY
Saturday, May 13th and Sunday, May 14th
Treat Mom to a One-of-a-Kind Garden Party
The most spectacular spring landscape New York City has to offer is the setting for live music, games, picnicking, and more.
SPRING WILDFLOWER WALK
Sunday, May 28th from 1:00pm to 2:00pm
Location: Pelham Bay Nature Center in Pelham Bay Park
Explore which plants are in bloom in our parks! Learn how to identify different species of flowers and pick up some botany basics on this engaging and educational hike with the Urban Park Rangers!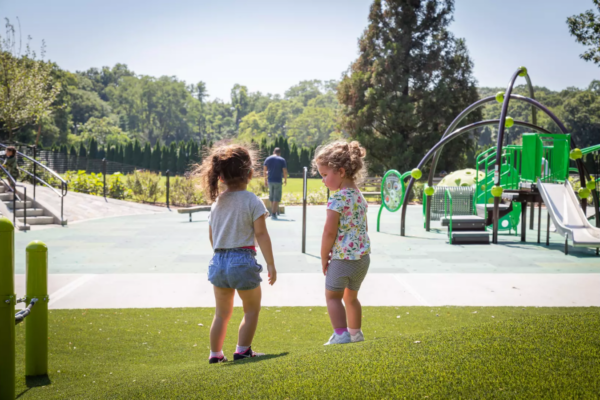 MOVIES UNDER THE STARS
Location: Indian Field, East 233rd Street and Jerome Avenue
Grab a blanket and come enjoy a movie in a neighborhood park or playground! This summer, NYC Parks will host family-friendly movie showings across the five boroughs.
Minions: The Rise of Gru – Wednesday, May 3rd from 8:00pm to 11:00pm
In the 1970s, young Gru tries to join a group of supervillains called the Vicious 6 after they oust their leader — the legendary fighter Wild Knuckles. When the interview turns disastrous, Gru and his Minions go on the run with the Vicious 6 hot on their tails. Luckily, he finds an unlikely source for guidance — Wild Knuckles himself — and soon discovers that even bad guys need a little help from their friends.
DC League of Super-Pets – Wednesday, May 17th from 8:00pm to 11:00pm
Krypto the Super-Dog and Superman are inseparable best friends, sharing the same superpowers and fighting crime side by side in Metropolis. However, when the Man of Steel and the rest of the Justice League are kidnapped, Krypto must convince a ragtag group of animals to master their own newfound powers for a rescue mission.