We're delighting in this crisp, cool weather and the chance to indulge in more hearty, warming dishes. Kick off your holiday parties with these elegant and delicious fall hors d'oeuvres that are easy to prepare – and even easier to devour! Although some may take a bit of preparation, those steps can be done in advance so you can enjoy your time with your guests.
Pumpernickel Crostini with Butternut Basil Pesto
by Chef Andrew Smith
Yield: 20 pieces
For the Hor d'Ouvre
1 recipe pumpernickel crostini

1 recipe pumpkin pesto

fresh basil
Pumpernickel Crostini
1 pumpernickel pullman loaf

olive oil

salt to taste
Butternut Squash Pesto
1 medium butternut squash, split and deseeded

¼ cup dried basil

½ cup toasted pumpkin seed

¼ cup olive oil

¼ cup water

salt to taste
Prepare the Crostini
Heat oven to 400 degrees.

If your bread is pre-sliced, use 5 slices of pumpnickel. Otherwise, cut 5 1/4″-slices of bread.

Remove crusts from each slice and cut along the diagonal to get 4 bite-sized triangles.

Brush with olive oil and season with salt.

Place in a single layer on a sheet pan and bake at 400 degrees for 7 minutes until toasted. Remove from oven and let cool.
Prepare the Butternut Squash Pesto
Pre heat oven to 350 degrees.

Split butternut squash in half length wise and using a spoon remove seeds from cavity.

On a sheet tray lay out squash flesh side up and brush with olive oil. Season with 1 tsp dried basil and salt to taste.

Wrap sheet tray with aluminum foil and place in 350 degree oven for 30 minutes or until soft. Remove and allow to cool.

Scoop butternut flesh into food processor taking care to avoid skin of butternut. Add in the remaining ingredients and blend until pumpkin seeds have broken down and are thoroughly incorporated.
Assemble the Hors d'Oeuvre
Spread 1 tsp of pesto on each slice of pumpernickel crostini and garnish with a piece of torn basil. Serve immediately.
Red Radish with Coconut Curry Rillette
by Chef Andrew Smith
Yield: 10 pieces
For the Hors d'Oeuvre
10 each small globe radish with tops 

1 recipe coconut curry rillette

fresh mint leaves
Coconut Curry Rillette
1 cup extra firm tofu, diced small

1 Tbsp vegan coconut yogurt

1 tsp toasted madras curry powder

1 tsp finely chopped shallot

1 lemon cut into wedges; add to taste

salt to taste
Prepare the Coconut Curry Rillette
In a small mixing bowl add the tofu, shallots, yogurt, curry, salt, and fresh lemon juice. Mix until all ingredients are combined.

Let stand in refrigerator for at least 30 minutes.

When ready to serve remove rillette from refrigerator and drain off any excess liquid.
Assemble the Hors d'Oeuvre
Remove leaves from the radishes leaving a small amount of the stem in place. Slice each radish in half lengthwise (through the stem).

Turn radish over and trim small amount of bottom so will sit flat.

Place one teaspoon of rillette at the bottom end of the radish then garnish with torn fresh mint leaves.
Fig, Gorgonzola, Prosciutto, and Pistachio Hors d'Oeuvre
by Georgette Farkas
Yield: 12 pieces
This recipe combines the perfect balance of sweet, salty creamy and crunchy in a single bite, making it the perfect hors d'oeuvre. Pro tip: line your hors d'oeuvre tray with fig leaves and arrange the hors d'oeuvre on top. By all means replace the pistachio with walnuts or pecans. If you don't have mascarpone on hand, use lightly whipped heavy cream.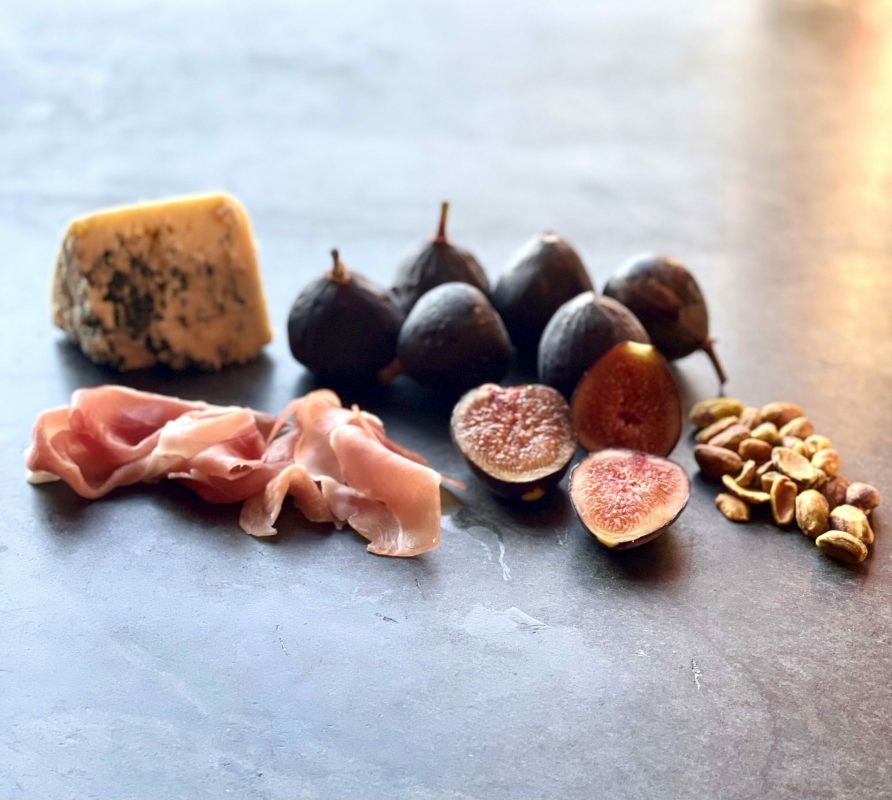 6 figs, stemmed and halved

1 oz gorgonzola or other blue cheese, softened (approx. 2 tbs)

½ oz mascarpone, softened (approx. 1 tbs)

3 slices prosciutto (approx. 1.5 oz)

½ oz pistachio, toasted and finely chopped

black pepper to taste
Place prosciutto on a microwave safe plate in a single layer (not overlapping). Cook for one minute. Transfer to a paper towel. Prosciutto will crisp as it cools. Break each piece into four shards about the same width as the fig halves. This can also be done in a skillet on the stovetop or in the oven.

In a small bowl, combine blue cheese and mascarpone until smooth, leaving some small chunks of blue cheese. Season with freshly ground black pepper to taste.

Cut a very thin sliver from the rounded surface of each half fig to create a flat surface for the fig to rest on. Place approximately ¼ teaspoon of blue cheese mixture in the center of each half fig. Sprinkle with chopped and toasted pistachio. Place a crispy prosciutto shard standing up in each hors d'oeuvre, using the gorgonzola mixture to anchor it.