DON'T HIRE A CATERER: VEGANUARY
Georgette Farkas is officially our Culinary Ambassador at Great Performances, but we've also crowned her our Hospitality Maven. Drawing upon her experiences working at leading restaurants and spearheading her eponymous Rotisserie Georgette, she brings a wealth of knowledge and experience. In addition to everything she does at GP across all teams, she also regularly entertains at home, creating incredible dishes that have that extra special touch that makes the food even more memorable and delicious.
In this series, Georgette shares tips from the caterer's tool kit to make entertaining at home (almost) effortless. From time saving shortcuts and grocery store secrets to garnishing hacks and presentation magic, she'll help you host a party that'll make your guests feel extra special and that you'll actually be able to enjoy.
She's also curated recipes for you, highlighting the tips she's shared. Each month look for dishes and ideas that would be delicious on their own, but that together make up menus that will have you entertaining like a pro.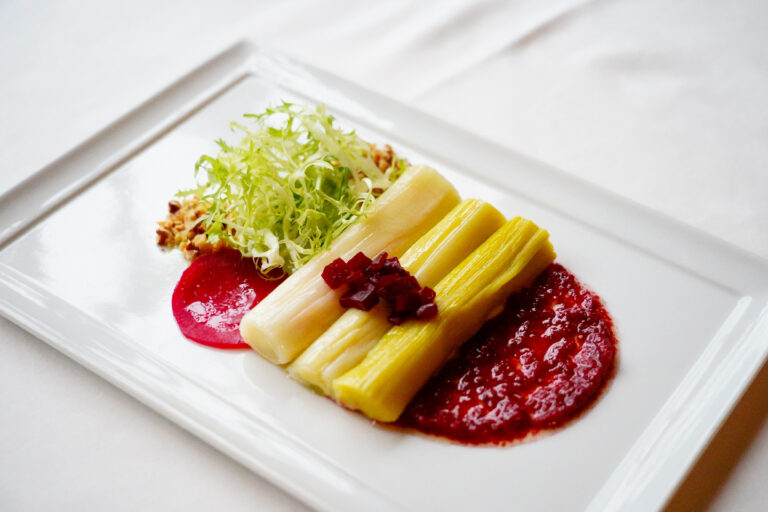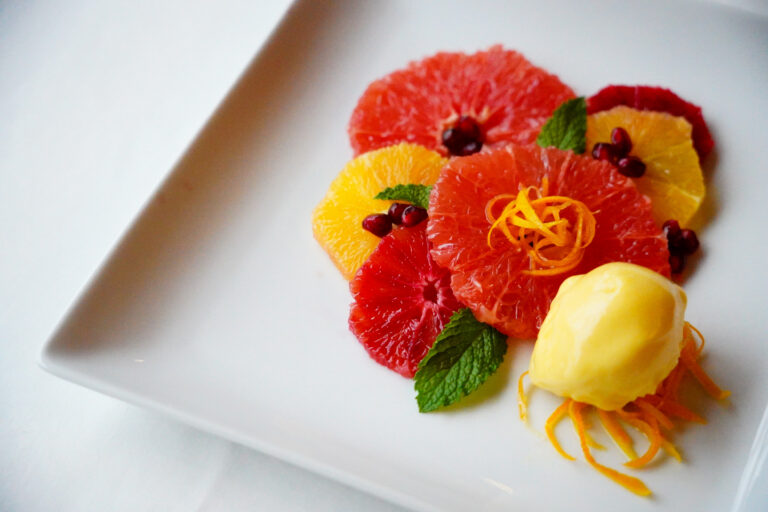 A Caterer's Tips for Entertaining: Celebrating Veganuary
Have you heard of "Veganuary"? It's a first for me, but Great Performances has long been at the forefront of plant-based cooking and celebrates this January innovation encouraging people to embrace a plant-based lifestyle. While I'm not ready to convert, I'm trying on "Veganuary" on for size as a culinary challenge and a fresh take on a few favorite winter dishes. In these recipes, you won't find meat substitutes or veggies masquerading as beef. It's not about depriving yourself, but rather celebrating flavor filled fruits and vegetables. No resolutions required.
For some dishes I've provided complete recipes, for others, just the broad strokes and tips you'll need to assemble the dish and make it your own.
Veganuary Menu
Poached Leeks with Red Beets and Walnuts
Butternut Squash and Radicchio Farrotto
Citrus Salad with Citrus Zest Confit, Pomegranate, Mint, and Mango Sorbet
Three Ways to Think Like a Caterer
Consider Contrast. Explore ways to incorporate contrasts in flavor, texture, color and even shape. This makes for menus that delight the eye as much as the palate. That said, avoid adding ingredients solely for aesthetic purposes. Everything on the plate should contribute to a dish's flavor or texture.
Shop Strategically. Don't hesitate to incorporate "purchased" items to finish a dish, cutting back on your time in the kitchen, not to mention the number of ingredients and storage space. We want to make your home entertaining a pleasure.
Create Kits. Caterers prepare each dish as a "kit" of components that can be prepared ahead and even assembled or plated in advance. This approach can facilitate your home entertaining, leaving as few steps as possible to complete just before serving.
Poached Leeks with Red Beet Vinaigrette Recipe
Get the recipe for poached leeks here
Until now, I had served only the classic French bistro version, typically made with chopped hard-boiled egg and crispy bacon, dressed with a good, mustardy vinaigrette. For this 'Veganuary" version, I'm using beets instead of eggs, and for the crunchy richness, toasted walnuts in place of bacon.
Applying Our Tips
Consider Contrast. The beets check several boxes in the caterer's bag of "tricks" by way of flavor, as well as a bright pop of color and texture that lends itself to slicing and dicing in a number of shapes. For a fun presentation, I've sliced them in disks, diced some in small cubes and pureed some to add to the vinaigrette, where the dish finds its acidic contrast to the vegetable's natural sweetness.
Shop Strategically. Although you could easily prepare beets at home, cooked beets are an item I wouldn't hesitate to grab from the grocery shelf. You can find them in the packaged section in the produce department at your grocery store.
Create Kits. As you prepare the component of the dish, package them as a kit to make assembly quick and easy the day of your event. For this dish there are five components. Label each one so as not to forget any!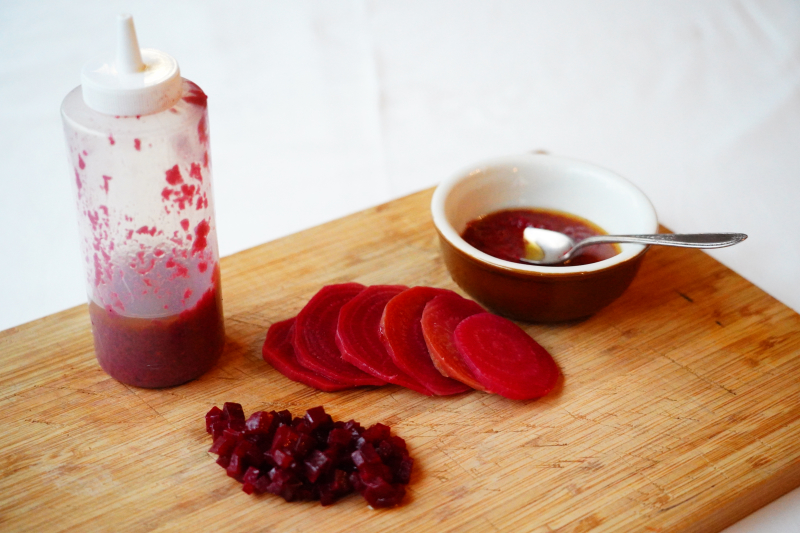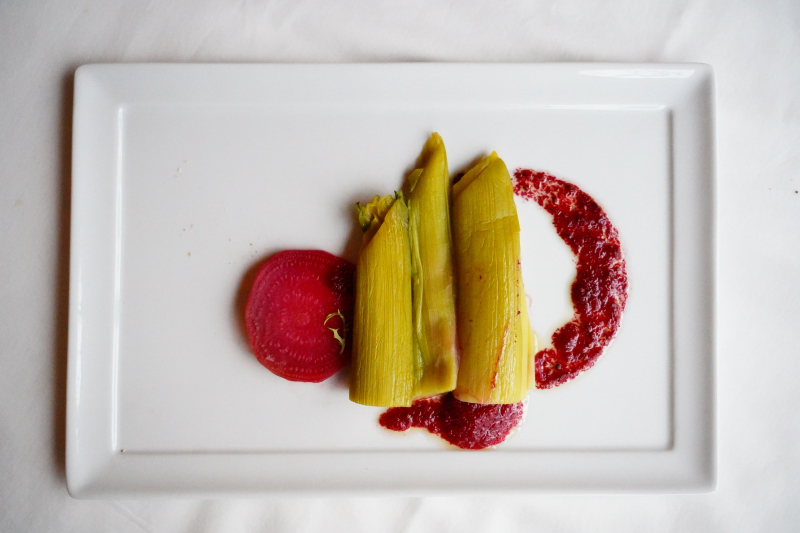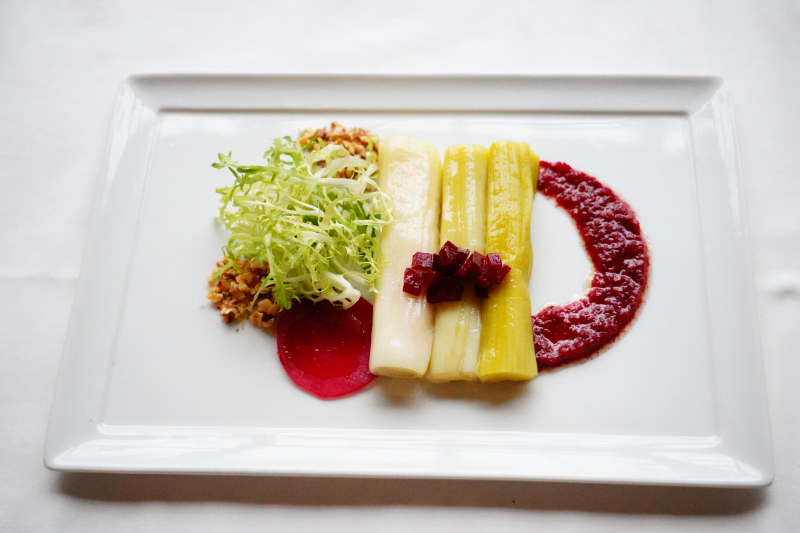 Make Ahead (Creating Kits)
Each component can be prepared several days in advance. Before serving, bring to room temperature.
Poached Leeks. trim the root end. Many recipes call for trimming the dark green tops, but much of that has been cut away before the leeks reach the store. Trim away only tops that are damaged. Split leeks lengthwise without cutting them all the way through and rinse very well under cold running water to remove dirt. Poach leeks in well salted boiling water. The water should taste like the sea. Cooking time will depend upon the leek's thickness. They should be tender and easily pierced with a knife tip. This is a vegetable that is not appealing al dente. Drain well, pressing out any excess water. If preparing ahead of time, be sure to drain again just before serving, placing them on cloth or paper towel to absorb liquid.
Cooked and Cut Beets. Reserve a beet for the vinaigrette. Cut remaining cooked beets in a variety of shapes, such as disks and cubes, to make for artful plating.
Red Beet Vinaigrette. To prepare the beet vinaigrette, use two tablespoons pureed cooked beet per one cup of vinaigrette.
Toasted Walnuts. Maximize flavor and crunch, always toast nuts before adding them to a dish. To toast walnuts, place in 350 degree oven for 6 to 8 minutes. Check frequently to ensure they don't burn.
Lettuce or Bitter Greens. Garnish with bitter greens for flavor, texture and color. Frisée is a classic to pair with leeks, but spinach or arugula are also great options. Wash and dry the greens, roll gently in a paper towel, and store in a bag in the fridge.
To Assemble
Serve this dish at room temperature, not ice cold. Remove components from refrigerator an hour or two before serving. While they are delicious at room temperature, also consider serving poached leeks very gently warmed in the oven for just a few minutes, or even in a microwave.
Brush leeks lightly with olive oil just before serving to give them an appealing sheen.
Butternut Squash Farrotto
Get the recipe for butternut squash farrotto here
Yes, you can make risotto and farrotto ahead of time. Most restaurants and caterers do. The trick is to cook it ahead to about 80 percent of it's doneness. Then finish the cooking by incorporating hot stock just before serving. Be sure to remove the pre-cooked farrotto from refrigerator at least an hour before completing the dish. This applies to most cooked foods to be finished or heated.
Applying Our Tips
Consider Contrast. Here again, contrasts in flavor, texture and color take this recipe up a notch. You could simply cube all the squash to cook in the farrotto. Reserving some to slice and roast separately makes for appealing color and texture contrasts in the dish, not to mention a sophisticated plating option. The bitterness of the radicchio provides a welcome counterpoint to the squash's natural sweetness.
Shop Strategically. While you can roast the pumpkin seeds at home, purchasing them roasted and salted would save a step in preparing this garnish that adds a nutty crunch to the dish. Although we highly recommend you purchase a whole butternut squash and roast it yourself, you can also find pre-cubed butternut squash in your produce department.
Create Kits. This dish lends itself well to preparing almost completely and finishing the day of your event
.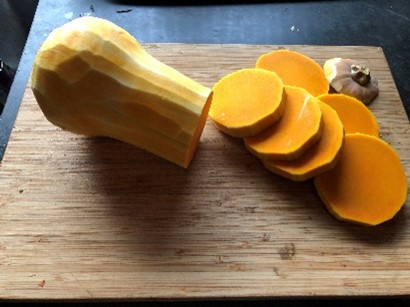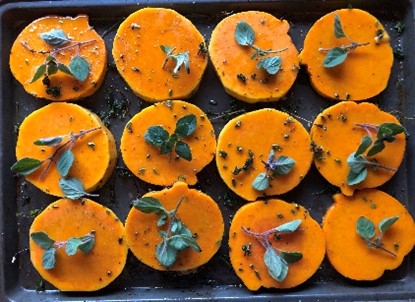 Make Ahead (Creating Kits)
Each component can be prepared several days in advance. Before serving, bring to room temperature.
Butternut Squash. Reserve some roasted slices or cubes of butternut squash for garnish.

Farrotto. Prepare the farrotto, being careful to cook until it's 80% done. Cool and store in a container until the day of your event. Reserve remaining sock in a container.

Pumpkin Seeds. Roast the pumpkin seeds (unless purchasing prepared) and store in an air tight container.

Radicchio. Slice the radicchio and store in a loosely wrapped bag.
To Assemble
Remove the pre-cooked farrotto from refrigerator at least an hour before completing the dish.

Bring the sock to a simmer and complete cooking the farrotto.

Add the radicchio (if using), and stir until just wilted. Season with salt and pepper and serve in a warmed serving bowl. Garnish with reserved butternut squash, sprinkle with pumpkin seeds, and serve.
Pro Tip
The nutritional yeast adds a note of umami. Use it in place of parmesan cheese if you are embracing the spirit of Veganuary.
Citrus Salad, Mango Sorbet, Pomegranate and Mint
Get the recipe for the citrus zest confit here
A deliciously refreshing dessert featuring bright citrus, tangy citrus zest confit, crunchy pomegranate arils, and cool mango sorbet. Although the citrus zest confit takes a bit of time to prepare, it transforms the dish and keeps for several weeks to be used in other dishes.
Applying Our Tips
Consider Contrast.
Contrast in flavors, textures, shapes and colors are the trick, even in this simple citrus dessert. I've purposely chosen three citrus varieties for this dessert: pink grapefruit, blood orange and classic orange for their very different flavors, colors, and sizes.  The pomegranate seeds provide a pop of bright red color and crunch.
Shop Strategically.
An ice cream machine is a luxury, not to mention finding the time to use it. I'm happy to reach for store bought in a pinch. For this dessert, I suggest mango sorbet as a delicious contrast to the acidity in the fresh citrus. Also look for pomegranate arils in the grocery store rather than purchasing a whole pomegranate to prepare.
Create Kits. This dish lends itself well to preparing almost completely and finishing the day of your event.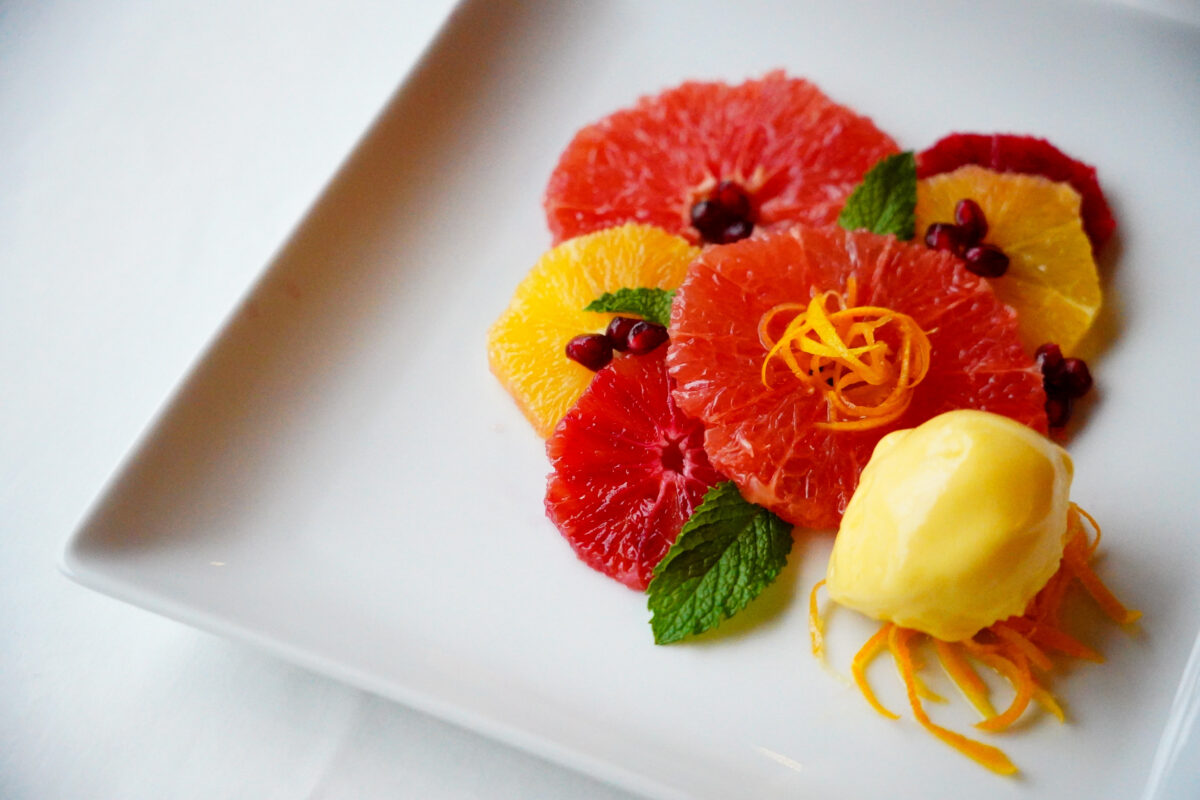 Make Ahead (Creating Kits)
Prepare the components a day in advance and keep chilled (citrus, confit, zest, mint) or frozen (sorbet).
Citrus Zest Confit. The citrus zest confit is a make ahead component that can be refrigerated for several weeks. In fact, it's an item I keep on hand as a finishing touch for salads and desserts and even as a garnish for charcuterie and cheese plates. If you're preparing it the day before for this dessert, you can zest your fruit before peeling and slicing. Find the recipe here.
Fresh Citrus. Peel and slice into disks the citrus fruit up to a day ahead and refrigerate in an airtight container.
Sorbet. Don't hesitate to scoop the sorbet ahead of time, early in the same day and store covered in the freezer. Be sure to dip your scoop in hot water between each scoop to assure a smooth finish. This is a step you'll be happy not to trouble with at the last minute when assembling dessert plates. This is a standard caterers' approach when preparing to assemble a large number of complex dessert plates that must reach guests in minutes.
To Assemble
Arrange the citrus slices, overlapping the slices, on individual plates.
Decorate with mint leaves and pomegranate arils.
Drizzle with citrus zest confit, putting a teaspoon to the side of the slices to provide a nest for the sorbet.
Add the sorbet and serve immediately.
Pro Tips
Chill your plates to keep the dessert cold as you plate and serve.
Keeping your knives sharp makes all your slicing and dicing easier, faster, and more efficient and produces a neat finish to cut surfaces. This is especially true when it comes to peeling citrus to slice into wheels.
While the days of garnishing dessert plates with mint sprigs only to be discarded are a thing of the past, here the fresh mint leaves are added for flavor that marries perfectly with citrus.
Use every part of the fruit for maximum flavor and minimize waste! While this citrus salad would be perfectly nice without the zest confit, it would be a crime to discard the zest. So confit it, add it to the salad and store the rest for future use.