DON'T HIRE A CATERER: GOT CRANBERRIES?
By Joe Bachman, Executive Chef, Rockefeller University
We're celebrating the voices of our chefs from our commissary at Great Performances to our venues across New York. This month, we asked Joe Bachman, Executive Chef at Rockefeller University, to share his thoughts about Thanksgiving and the ubiquitous cranberry sauce. What can we do with the leftovers? He shares some delicious post-Thanksgiving dishes that make use of the cranberry sauce (whether you like home made–and we have a delicious recipe for that–cranberry sauce, store bought, or even canned.
Let us know what you do with your leftover cranberry sauce and if you have a favorite recipe you want to share!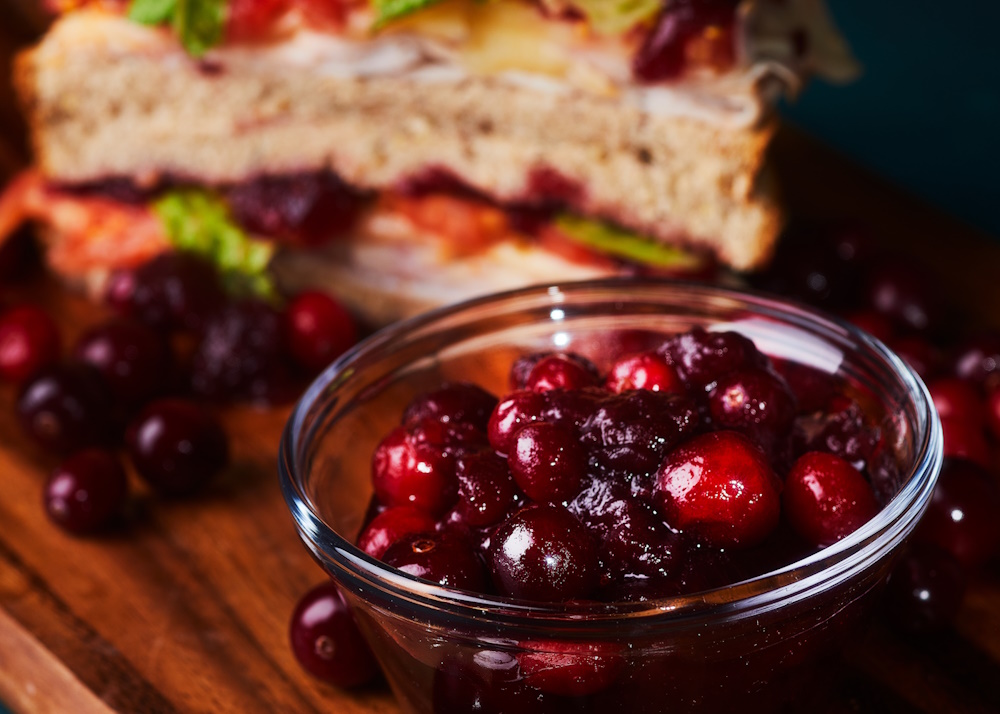 Many of us look forward to Thanksgiving – and especially the food we prepare for our loved ones: family, friend, or other. I know one of the challenges post-Thanksgiving is finding a use for the leftovers. Do have some to-go containers for people to take some food home. But don't forget to save some to create some of my favorite leftover dishes. These recipes can be adjusted as one pleases as it's all based on personal preference.  Just have fun with it!
Post Thanksgiving Empanadas
Note: this can be frozen for future consumption
Ingredients
Leftovers!

Turkey
Stuffing
Gravy
Cranberry sauce

Frozen empanada dough disks, thawed
2 eggs, whisked
Method
Shred leftover turkey, making sure to remove any skin/bones that may be left.
In a medium mixing bowl combine turkey, stuffing, cranberry sauce & gravy in a bowl.
On a thawed empanada dough disk, place a spoonful of the leftovers mixture in the middle leaving enough space around the sides to crimp closed.
Brush egg wash around the rim of the dough then fold in half and crimp the sides closed with a fork, making sure not to press too hard and tear the dough. (Alternatively, you can use an empanada press that makes things much easier and can be found on amazon for relatively cheap.)
Place the empanadas on a parchment lined sheet pan and brush egg wash the top. Place in 375 degree oven for 12-15 minutes or until they get golden brown.
Turkey & Cranberry Monte Cristo
Ingredients
Leftovers!

Turkey, sliced (preferably white meat)
Cranberry sauce

2 slices firm white or marbled bread (or bread of choice)
2 Tablespoons mayonnaise
2 slices Swiss or gruyere cheese
Butter
1 egg, beaten
Method
Slice the leftover turkey breast as thinly as possible and portion 3.5 ounces per sandwich
Spread one slice of bread with mayonnaise and the other with the cranberry relish
Place one slice of cheese on each piece of bread
Place turkey on top of one slice, then cover with other slice
In a separate bowl, whisk together eggs, salt, and pepper and transfer to shallow bowl or pie plate. Dip the dry sandwich into the egg mixture until it is totally coated.
In a medium heat pan add a bit of butter and griddle the sandwiches until they reach a nice golden brown color.
Cranberry-Sprite Spritzer
Ingredients
30 ounces leftover cranberry relish
2 Tablespoons peeled and chopped ginger
2 liters of Sprite or ginger ale
Ice cubes
Method
Combine the cranberry relish, ginger, and soda in a large pitcher. Serve immediately over ice.