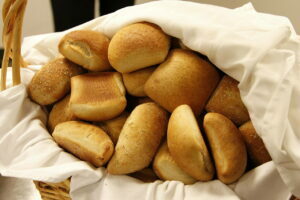 Yields 24 rolls
Ingredients
4 ½ tsp active dry yeast

½ cup warm water

2 cups warm milk

6 tbsp shortening

2 eggs

¼ cup sugar

7 cups all-purpose flour (3c and 4c), will need more for kneading.

Eggwash
Procedure
Dissolve yeast in water, put in mixer add milk, shortening, eggs, sugar and 3 cups flour. Beat until smooth with dough hook. Stir in remaining flour to form dough.

Knead dough for 3 minutes, then place in greased bowl and turn over once so all is greased. Cover the dough and let it rise until doubled in size. Punch down the dough to release the air and shape into rolls.

Preheat oven to 350°F. Egg wash rolls and bake for about 20 minutes, or until golden brown and fluffy.
---