Contributions by The Sylvia Center, Liz Neumark and Chef Vanay Coffey
This Thanksgiving, embrace the flavors of fall while celebrating with friends and family. From cocktails to side dishes to dessert, we've got you covered with these delicious recipes.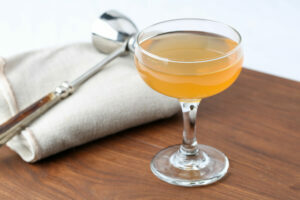 ROCKIN' THROUGH THE NIGHT
Ingredients
Rock and rye

Angostura bitters

Maple syrup

Fresh lemon juice
Procedure
Combine 1 ½ oz rock and rye, 1 oz angostura bitters , 2/3 oz maple syrup and ¾ oz fresh squeezed lemon juice in a shaker. Shake and garnish with lemon peel.
---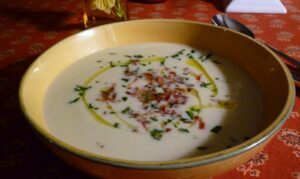 CELERY ROOT and PEAR SOUP
Ingredients
1 celery root, cut into ½-inch cubes

1 celery stalk, roughly chopped

2 medium onions, thinly sliced

4 ripe pears, peeled, deseeded, and cut into ½ inch pieces

2 qts vegetable or chicken stock

½ cup crème fraiche, plus more for garnish

2 sprigs thyme

4 tbsp olive oil

1 cup roasted hazelnuts

Sea salt, to taste
Procedure
Heat a large sauce pot over medium-low heat and sweat the onions with the oil and a large pinch of salt. Cook, without coloring the onions until they are tender, about 10 minutes.

Add the pears, celery, celery root, and thyme and cook for an additional 5 minutes. Add the stock and simmer until the celery root is completely tender, about 30 minutes.

Working in batches, blend the soup until it is smooth. Season the soup with more salt and stir in the crème fraiche. Garnish the soup with a dollop of crème fraiche and hazelnuts.
---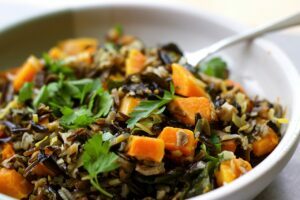 WILD RICE and BUTTERNUT SQUASH SALAD WITH MAPLE BALSAMIC DRESSING
Ingredients
For Dressing
¼ cup extra-virgin olive oil

2 tbsp pure maple syrup

2 tbsp balsamic vinegar

½ tsp sea salt

Scant ½ teaspoon black pepper

½ tbsp chopped fresh rosemary

1 clove garlic, minced
For Salad
2 ½ cups butternut squash, peeled and finely chopped

1 ½ tbsp olive oil

Sea salt

Black pepper

2 ½ cups thinly sliced kale (lightly massaged) or spinach

½ cup thinly sliced leeks, both white and green parts

½ cup dried cherries (or dried cranberries)

¼ cup fresh basil, thinly sliced

3 cups cooked wild rice, warmed
Procedure
Prepare dressing by pureeing all ingredients with an immersion blender or by vigorously whisking

Preheat oven to 400°F. Toss squash with olive oil, salt and pepper. Spread onto a baking sheet and roast for about 25 minutes, stirring once, until fork tender. In a large bowl, combine spinach, leeks, cherries and basil. Stir in warm rice and squash so that spinach wilts slightly from the heat. Stir dressing (recipe below) into salad; taste and adjust salt level if needed. Serve at room temperature.
---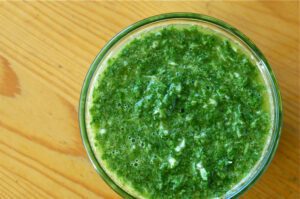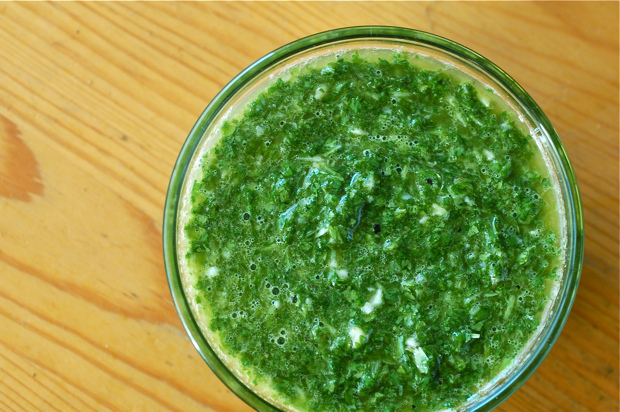 PERSILLADE SAUCE
Ingredients
2 packed cups parsley, washed and finely chopped

1 tbsp finely minced shallots

1 clove garlic, grated on a microplane or box grater

3 tsp white wine vinegar

1 tbsp extra virgin olive oil

Sea salt, to taste
Procedure
Combine all of the ingredients in a bowl and mix. Adjust the seasoning if needed with more salt and/or vinegar. Reserve in the refrigerator until needed.
---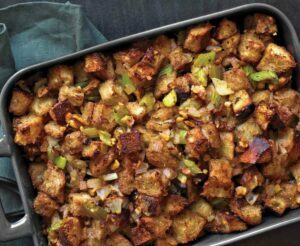 MUSHROOM-HAZELNUT STUFFING
Ingredients
12 tbsp (1 ½ sticks) 4 small shallots, finely chopped

3 garlic cloves, minced

1 cup chopped onion

3 tsp thyme leaves

1 lb portobello, shiitake, or a combination of wild mushrooms, stems removed, cut into ½ inch chunks

½ cup white wine

1 cup chicken stock

8 cups cubed day-old bread, crusts removed

¼ cup chopped parsley

3 sage leaves, chopped

¾ cup hazelnuts, halved and lightly toasted

3 large eggs, beaten

2 cups heavy cream

1 tsp hazelnut oil (optional)
Procedure
Preheat your oven to 350°F. Melt 10 tablespoons of the butter in a large skillet over medium heat; add the shallots, garlic, and onion and sweat until translucent. Add 1 teaspoon of the thyme and the mushrooms. Cook, stirring, until the mushrooms are lightly browned. Add the wine and cook over medium-high heat until the liquid is nearly evaporated. Add the stock and continue to cook until it nearly evaporates. Season the mixture well with salt and pepper and transfer it to a large bowl.

Butter a 9 x 13 inch baking pan or 3-quart casserole with the remaining 2 tablespoons of butter.

Add the bread, parsley, sage, hazelnuts and the remaining 2 teaspoons of thyme to the mushroom mixture and mix everything well. Combine the eggs, cream, and hazelnut oil and stir into the stuffing until well mixed. Season with 1 teaspoon salt and ½ teaspoon black pepper.

Spread the stuffing in the pan, cover with foil and bake for 45 minutes. Remove the foil and bake for another 30 minutes, until the top is golden brown.
---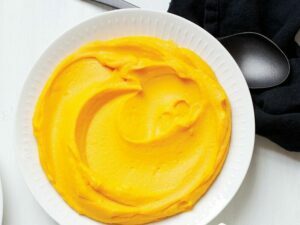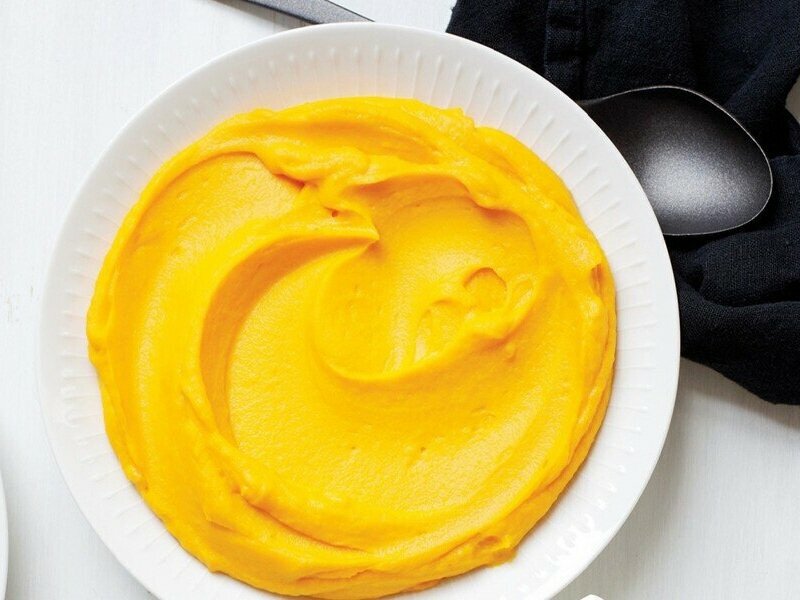 SIMPLE SQUASH PUREE
Ingredients
4 cups winter squash (butternut, acorn, delicata), peeled, deseeded, and sliced thinly

2 cups whole milk

4 tbsp unsalted butter

Sea salt, to taste
Procedure
In a pot, melt 1 tablespoon of butter over medium heat and add the sliced squash. Cook until the squash starts to become tender, about 7-10 minutes. Add the milk and bring to a low simmer. Cook until the squash is totally tender.

Drain off the milk using a strainer and puree the squash in a blender or food processor, adding milk as needed to get the mixture to spin. While the puree is still hot add the remaining butter and season with salt. Use immediately or reserve in the refrigerator for up to 5 days
---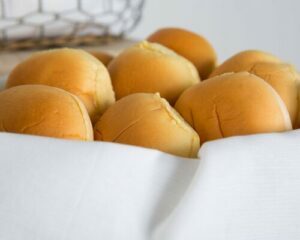 Dinner Rolls
Yields 24 rolls
Ingredients
4 ½ tsp active dry yeast

½ cup warm water

2 cups warm milk

6 tbsp shortening

2 eggs

¼ cup sugar

7 cups all-purpose flour (3c and 4c), will need more for kneading.

Eggwash
Procedure
Dissolve yeast in water, put in mixer add milk, shortening, eggs, sugar and 3 cups flour. Beat until smooth with dough hook. Stir in remaining flour to form dough.

Knead dough for 3 minutes, then place in greased bowl and turn over once so all is greased. Cover the dough and let it rise until doubled in size. Punch down the dough to release the air and shape into rolls.

Preheat oven to 350°F. Egg wash rolls and bake for about 20 minutes, or until golden brown and fluffy.
---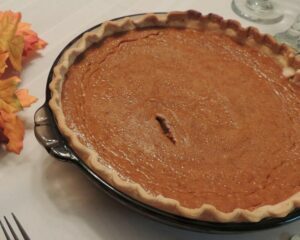 Spiced Pumpkin Pie
Yields Two 10" Pies
Ingredients
For Flaky Pie Dough
12 ½ oz bread flour

1 tsp salt

8 oz cold, unsalted butter

2 ½ oz cold shortening
For Filler
5 eggs

3 cups cooked pumpkin puree

12 oz granulated sugar

1 tsp salt

2 tsp ground cinnamon

1 tsp ground ginger

½ tsp ground cloves

3 ½ cups half and half

1 pt heavy cream

1 tbsp granulated sugar
Procedure
For the Flaky Pie Dough:
Combine the flour and salt in a bowl. Add the firm butter and shortening to the flour and pinch the fat to the size of a hazelnut with your fingertips.

Add the ice water and mix with your hands just until the dough comes together. The butter should be lumpy. Gather the dough into a ball and flatten it into a disc to help it chill faster.

Cover the pie dough and allow it to rest in the refrigerator for at least 1-2 hours before using. This step is important to allow the dough to hydrate, since the flour absorbs some of the moisture. Roll the dough out so it is 1/8 inch thick and large enough so it extends about 1 inch beyond the edge of the pie pan. Use the knuckle of your right index finger and the tips of your left thumb and index finger to bend the tip of the dough into an evenly spaced fluted design. Cover the dough in the pan with baking paper and fill the shell with dried bean or pie weights. Bake the shell at 375° F until the dough is set but has not yet started to color (about 12 minutes). Let the shell cool completely and then remove the paper or plastic and bean or pie weights.
For the Pumpkin Filler:
Beat the eggs lightly to mix. Stir in the pumpkin puree. Mix together the first measure of granulated sugar, the salt, cinnamon, ginger and cloves. Add this to the egg mixture. Stir in the half and half. Divide the filling evenly between the pie shells.

Bake at 375°F for approximately 45-50 minutes or until the filling has puffed slightly and is firm around the edges. Let the pie cool.

Whip the heavy cream with the second measure of granulated sugar until stiff peaks form. Slice the pies and serve at room temperature with a large dollop of whipped cream.
---