COOK LIKE A CHEF: KATCHKIE FARM'S CSA WITH GEORGETTE
How many jobs come with a local farm CSA attached? Despite a lifelong culinary career, this is the first time I've had the privilege of taking home a weekly haul of Hudson Valley vegetables – during the local growing season, of course. Great Performances is the proud owner of Katchkie Farm in Kinderhook, NY. While most of Katchkie's produce goes into our catering menus and educational programs for the Sylvia Center, some is also set aside as a very welcome perk for the GP culinary team. As a result, every Thursday, when I receive my vegetable stash, I feel I'm taking part in my very own private edition of "Chopped" or "Top Chef". I've challenged myself to use everything in the "mystery basket", although usually in several different dishes. This week, I confess I did gift some of my red beets to a dinner guest who was eying them jealously. Although I did keep the picture-perfect beet greens for myself to compose a sort of chimichurri to dress my grilled zucchini. I can't help but ask what the judges would think. Read on for a taste of this week's Katchkie Farm vegetables.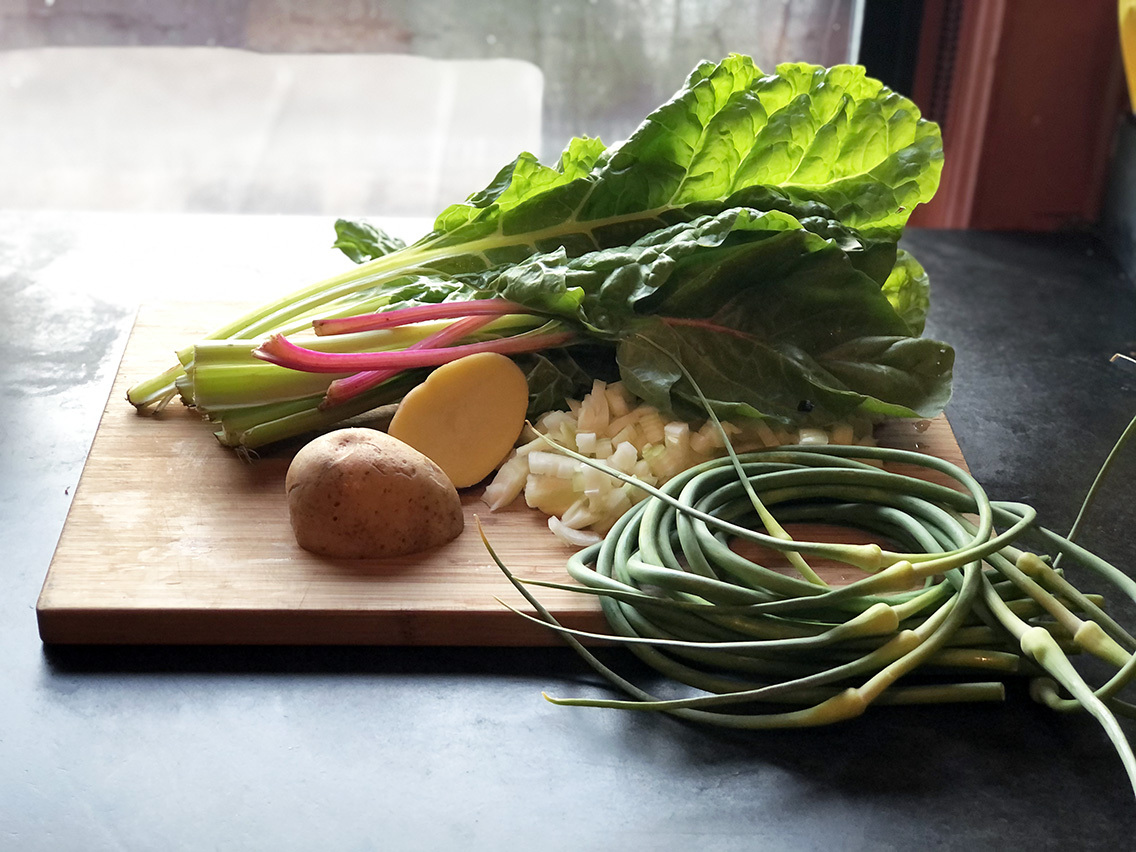 Chilled Swiss Chard & Garlic Scape Soup
This is a twist on the classic French "soupe de laitue". Greens, onion and just a little bit of potato are sautéed, then simmered with stock or water and then puréed to a silky-smooth consistency. It's also a cousin to vichyssoise, only made here with approximately three parts greens and only one part potato. I finished the soup with nonfat yogurt. The ratio I like is about two parts vegetable mixture to one part yogurt. While I haven't tried them myself, you could experiment with a non-dairy nut or oat-based yogurt, if you prefer a vegan soup. On the opposite end of the spectrum, a final dollop of crème fraiche makes for a decadent accent.
Swiss Chard & Thai Chili Summer Rolls
cucumber, carrot, rice noodles, ginger-sesame dipping sauce
This is my farm inspired version of the classic Vietnamese summer roll. I used blanched Swiss chard leaves (stems removed) in place of traditional rice paper wraps. My filling includes tamari-marinated carrot and cucumber, as well as rice noodles blanched and tossed in sesame oil, plus some of the Thai chili dipping sauce spread on the chard before wrapping,
Some of the CSA beets (steamed and shredded) would have been a fine addition to the rolls, but I gifted them to my beet loving dinner guest!
Learn from my mistake! I thought I could get away with not peeling the cucumber and imagined the skin would add extra crunch appeal. Bad idea! The bitterness in the cucumber skin is a deal breaker. 
Grilled Zucchini & Whole Wheat Couscous Tagine
apricot, beet greens, toasted pistachio
The success of this dish calls for boldness. Start by getting a really good char on the zucchini, using a stove top grill pan if you're cooking indoors. Once grilled on both sides, douse zucchini generously with plenty of lemon juice. For the couscous, sauté spices such as cumin, coriander, fennel and ginger in olive oil. Add the amount of boiling water required for the couscous and then pour it over the grain, along with some chopped dried apricot, and cover. However much seasoning you think is enough – double it! I finished the dish a lemony beet greens dressing, because I had beet greens! First blanch the leaves and toss with plenty of lemon and olive oil. Alternately, fresh coriander and/or parsley will do just fine. 
Pro tip: I really never use store bought spice blends, but happily make an exception for the ones made by my friend Chef Lior Sercarz at La Boite. Here, I used his Marrakesh No. 6