COOK LIKE A CHEF: KATCHKIE FARM'S CSA WITH CHRIS HARKNESS
One of the benefits of working at Great Performances is access to farm fresh produce from our own farm. Our weekly delivery of our farm share from Katchkie Farm, our own organic farm in Upstate New York, has been a great source of inspiration and helps me feel more connected to the planet and grounded. One of the best things we can do as chefs is bring out the natural flavors of the produce and find ways to entice the eye and the appetite. Check out what I've done with last week's farm share below.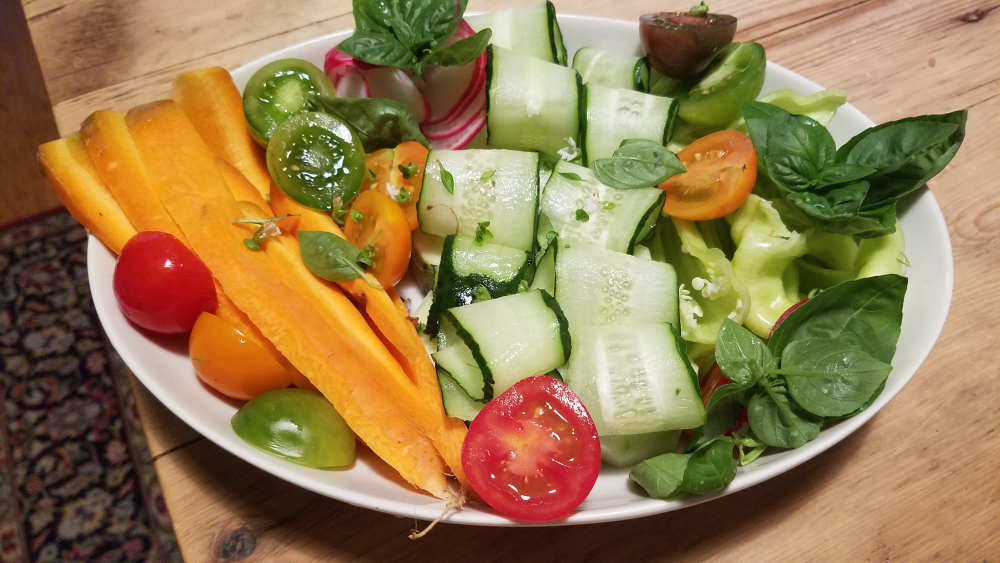 In this week's share, I received carrots, Swiss chard, cucumber, cherry  tomatoes, zucchini, yellow squash, and eggplant.
I also harvested some produce from my own personal garden: rosemary, cucumbers (I needed more cucumbers as I was feeding three people!), basil, and peppers.
As I looked over my offerings, a dish I love, ratatouille, immediately came to mind. I also had a free range chicken, so I thought I'd roast them together. It's a great way to add flavor to both the chicken and the squash. I added some small Italian canned tomatoes for more acidity and some rosemary to flavor the chicken.
I also had some great fennel on hand, so I decided to caramelize them for the swiss chard.
The rest of the ingredients felt like a wonderful salad. I kept it pretty rustic, peeling the carrots and slicing them into long wedges, halving the cherry tomatoes, thinly slicing the radishes, and chopping up the peppers. I decided to present the cucumber as long ribbons – this adds visual interest and are just fun to eat that way. I dressed the salad with lemon juice and olive oil and finished with sea salt and basil. 
Everything came out beautifully and highlighted the fresh flavors of the season.