CELEBRATING THE GRAND OPENING OF PLATFORM BY THE JAMES BEARD FOUNDATION
This month we're celebrating the long-anticipated opening of Platform by the James Beard Foundation™ and Good To Go by JBF™ at the Market 57 food hall at Hudson River Park's Pier 57. We're thrilled to have been selected as the service and hospitality partner providing the behind-the-scenes operational and logistical expertise of the James Beard Foundation (JBF) spaces. 
The physical manifestation of JBF's Good Food for Good® mission—Platform features a state-of-the-art show kitchen, event space, and educational hub for JBF's outstanding culinary arts programming, while Good To Go is a retail incubator for fast casual concepts featuring rotating menus from established operators who embody JBF's mission and values.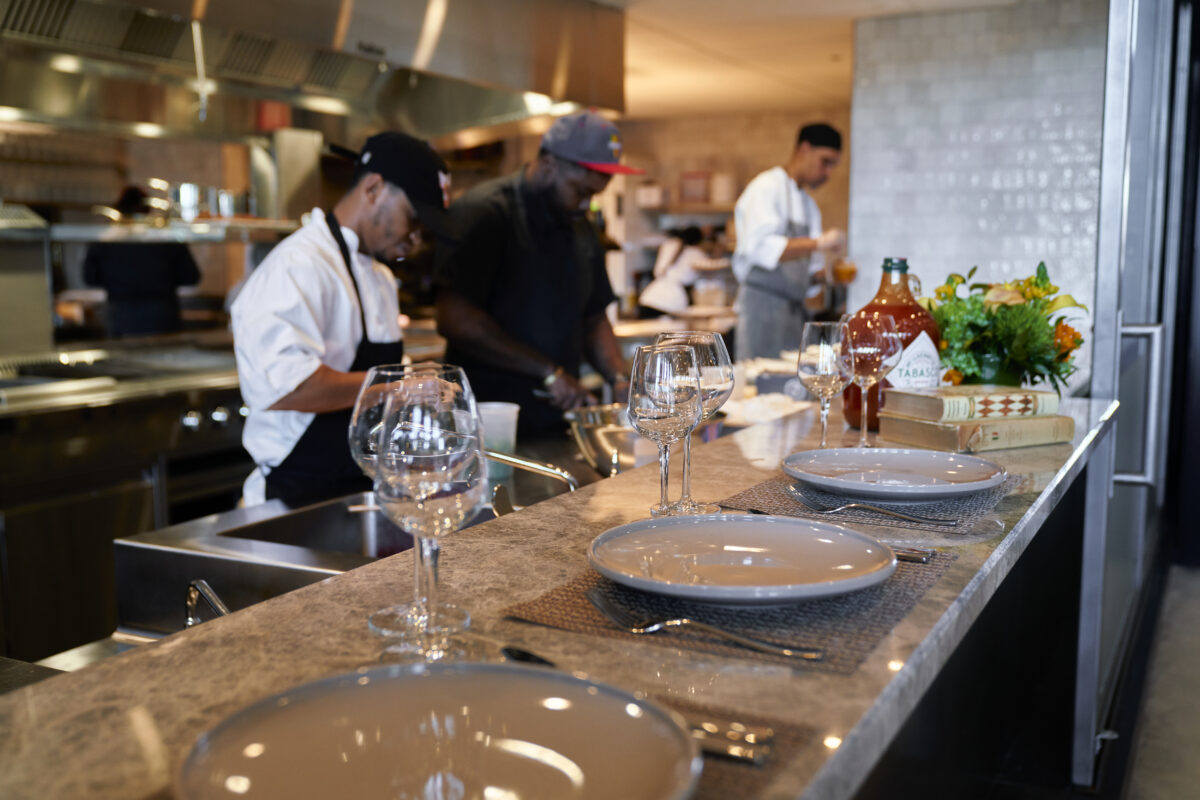 Trusted Partners with a Shared Mission 
Great Performances' long history of partnership and collaboration with the James Beard Foundation continues at Market 57 at Platform by the James Beard Foundation and Good to Go by JBF. We're delighted and honored to be selected as the operational and logistical partners to bring the Foundation's Good Food for Good® mission to life at the show kitchen and the kiosk. 
The Foundation's mission aligns closely with Great Performances' deep roots in the arts, New York City civic and community life, and established commitment to furthering equity in all its endeavors and serve as guideposts for the decisions that we make together to drive the success of the new venture. 
"We are thrilled to announce Great Performances as our operational partner for Platform by the James Beard Foundation and Good To Go by JBF," said Kris Moon, COO and President of the James Beard Foundation. "From the outset of this project, Great Performances has shown true leadership—supporting us in our vision to ensure that business operations for our Pier 57 spaces were closely aligned to our mission and values. We are grateful to be working together, and look forward to championing a standard of sustainability, equity, and a future where all can thrive at Platform and Good to Go."
Operational Excellence, Gracious Hospitality 
We leveraged our expertise running kitchens, restaurants, cafes, food trucks, and kiosks, providing best practices for kitchen and back of house layouts, establishing service guidelines, and recruiting, vetting, hiring and managing the staff that will ensure that day-to-day operations are executed with excellence. While the James Beard Foundation will provide the programming, including a weekly chef-in-residence program launching in May, our front and back of house teams will work to support resident and visiting talent, while helping to ensure that every guest enjoys the professional, intuitive, and gracious service that are hallmarks of Great Performances' (and JBF's!) hospitality. 
Sustainable Sourcing, Thoughtful Consumption 
As the nation's first caterer to own and operate an organic farm, Great Performances' constantly sets the bar for sourcing, sustainability, and waste reduction in the catering and hospitality industry. We're working closely with JBF and the guest chefs to implement our food waste reduction, sustainable sourcing, and sustainable packaging practices at Pier 57. 
Dynamic, Enriching, and Delicious Experiences 
From the first night, when JBF welcomes legendary chefs Jacques Pépin, Michel Nischan, and friends to Pier 57, we'll kick off an incredible culinary adventure together. Through weekly chef-in residence events, exciting dinners, wine tastings, cooking demos, hands-on culinary classes, interactive exhibits, book signings, industry trainings, and more, guests will enjoy dynamic and enriching experiences at Platform by JBF. 
Next door is Good To Go by JBF, an incubator for fast-casual concepts by established operators who embody JBF's mission and values. These menus will only be available for a short time, so we encourage everyone to visit – and to visit often. 
For full details about Platform and Good To Go and to reserve your tickets to Platform events. visit the Platform by JBF website at https://www.platformbyjbf.org/. We can't wait to welcome you to our table!