When days run together, or time seems to stand still, it becomes even more important to take some time to pause, reflect and celebrate. Whether its an accomplishment, the completion of a project, a birth or birthday, an anniversary, or a holiday, taking a moment to acknowledge that event and sharing with others is important. When we can't be together physically, technology has enabled us to be together in more than just spirit — we can connect via phone calls and video conferences. Technology has been the glue holding us together as a team, as friends and as family. The occasional glitches and challenges of managing the technology has only made it more human. People have also been sharing celebrations in novel ways: divided by a window; socially distanced in driveways; and even a parade of cars.
Check out how some of our GP family have been celebrating!
---
Birthday Toasts!
Tim Berryman, Director of Event Services

For his wife's birthday, Tim arranged a full-day of video conferences, toasts and games. Collaborating among their friends, they arranged a cupcake toast, shared a bottle (or more) of wine, and enjoyed Jeopardy! hosted by a friend and 6-time Jeopardy! champion!
---
Birth Days!
Kaitlin Walsh, Director of Design

Kaitlin met her new niece via video conference! Newborn Rose might not have the technology handled yet, but Kaitlin is clearly smitten with Rose's sweet face.
---
Birthday Parades
Sarah Saracino, Director of Human Resources
Sarah's twins celebrated their sixth birthday with delicious and beautiful cupcakes at home, and a drive-by parade from their cousins!
---
Live Streamed Bar and Bat Mitzvah
Our team — always going the extra mile — went to the home of Rebecca and Yehuda Shmidman to set up their daughter, Jordana's bat mitzvah that was live streamed to her family, friends and community. Amanda DiUglio, Madison Grando, and Dan Carr helped create a memorable celebration for Jordana.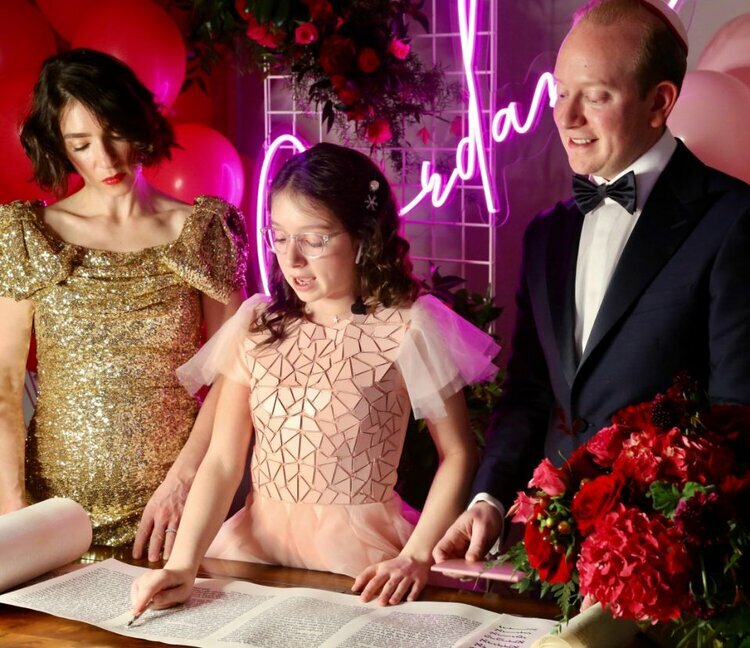 ---