We spoke with several of our brides who have had their weddings impacted by the Coronavirus. From planning weddings in the heart of New York City at The Plaza to pastoral weddings on farmland upstate, the brides we've talked to have had their carefully planned and joyfully anticipated weddings change dramatically. But through it all, they've been resilient and flexible, embracing new ways to celebrate their love.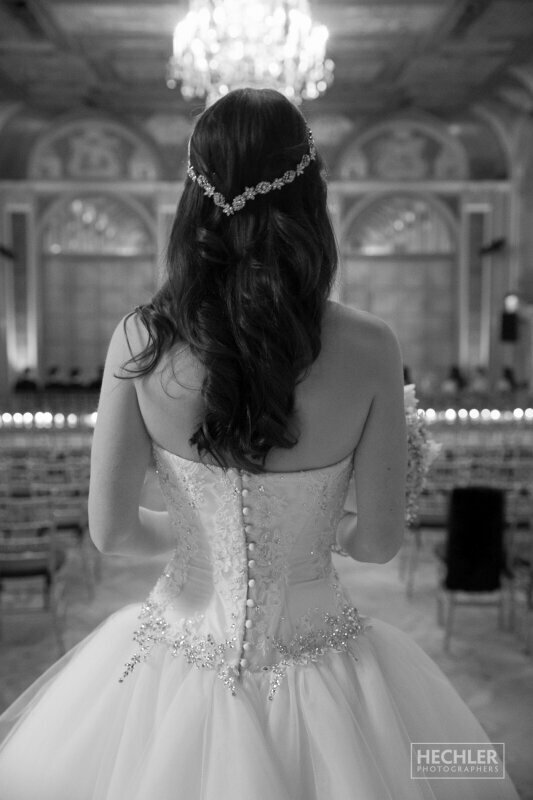 Virtual Wedding Ceremonies
Liana had planned a May wedding at The Plaza in New York City for more than 200 guests. But in March, she was forced to cancel her original plans and come up with a new solution. Instead of completely postponing getting married, she's opting for a virtual ceremony this year and will celebrate with family and friends in 2021.
Our original wedding was planned for May 2020 at The Plaza in New York City. We had more than 200 friends and family planning to join us at our celebration and we were excited at the prospect. But as we watched the news and how the Coronavirus pandemic was sweeping around the glove, we made the decision in March to change the date. We had hoped to get married on our original date but while the city clerk's office has started offering virtual meetings to acquire a marriage license, they didn't have any availability until June. So we'll have our meeting with them in June and then hopefully hold a virtual ceremony soon after.

It's been challenging keeping our friends and family informed, and we're disappointed we can no longer use our beautiful invitations. But I'm so grateful for the patience and kindness of everyone involved, especially my mom, and of course, our planners, Emily Reifel and Maxine Kaboll.

We did postpone our wedding celebration to June 2021 and we hope everything is able to stay as planned with one exception: we will already be married! So maybe we will do a vow renewal ceremony instead.

My advice to couples planning their wedding now is to give yourself plenty of time, to try to be flexible, and to enjoy it.

It can be really stressful (especially doing some things for a second time) so make sure to check in with yourself, and talk to someone if you're feeling under pressure.
Postponed Weddings
Gianna had planned a wedding for April 4, 2020 at The Plaza. She had to quickly change her plans but worked closely with the team to pick a new wedding date and plans to enjoy more time being engaged.
Our original plans were for April 4, 2020. We'd picked that date when we got engaged in December of 2017, and were so looking forward to it! We loved the ring of 4/4/2020. We decided to change our plans maybe 2-3 weeks before, right when the Bay Area/New York were starting to Shelter in Place. We live in California, so a good majority of our friends and family were flying from CA to NY for the wedding, and we didn't want to make anybody feel obliged/uncomfortable traveling to a wedding across the country in such a scary/uncertain time.

We postponed our wedding to early December. We really cannot wait for our winter New York wedding!! We got engaged in NY in December of 2017 and celebrated at The Plaza, so it really feels right book-ending the whole engagement journey/experience this way. Emily at The Plaza, our wedding planner/designers at Jes Gordon (Jes & Kait), and our Officiant, Susanna, were absolutely phenomenal in making us feel comfortable and supported through a really huge and quick decision. That made a huge difference. We've been planning with them for so long that we feel we like they're our little wedding planning family! I couldn't have dreamt of a better group to help us through every step of this process, and beyond that they're so much fun to work with and chat all things wedding too!

On April 4th, when we were supposed to get married, we had a really lovely day of watching our favorite movies and taking a few walks, and then my fiance surprised me by re-proposing in our living room and asking me to marry him on our new date! It's a memory I'll forever cherish because it was so sweet, thoughtful, and meant so much to me. The date we were looking forward to will still have a lot of meaning for the both of us.

Yes, most of our original plans in terms of decor, songs, cake, bridal party, etc are all still the same. We may make some tweaks here and there to make it more "winter" but nothing major. We're actually really enjoying having the wedding planned, getting to look forward to it, and not having to do any more major panning. It kind of takes away the pre-wedding wedding stress at least for now!

I'm a planner, a big check list/think 10 steps ahead kind of person, so the immediate stress and the unknown (not just of the wedding, but what was happening with the world) was a lot for me. But working with Jes, Kait, and Emily to adjust our plans helped a lot. Now that we have our new date, we're just excited and thankful that everybody including friends, family, our wedding planning team has been so unbelievably supportive and empathetic and we are so grateful for that. It was stressful, but once the decision was made we felt much more at ease and are just happy to have our friends, family, and each other be safe and healthy. That's really all that matters!

Despite the stress, there were positives! We have each other, and we get to enjoy being engaged a little longer which we love. It's a drop in the bucket, as we've been saying! We'll have our wedding, and we'll be married, and it will be beautiful, but we've really had the chance to remember how lucky we are to have each other for support, and how lucky we are to have the friends and family we do. Even before Covid happened, I've been so thankful to have my Mom and Dad for their help with everything – I would not have known where to start without them. Plus, we'll have a really great story to tell our children, like most of the 2020 brides/grooms will!!

For those planning their weddings, or have had changes, my advice is to keep the big picture in mind! You're having a wedding to celebrate your love, and your love is the only thing that's important at the end of the day. This time has put a lot into perspective for everybody, and it's important to remember the love you share for each other, the love your family and friends have for you, and taking advantage of appreciating the moment you're in. Being engaged is and should be fun! So have fun! Celebrate throughout the whole engagement, and enjoy all of the free champagne you'll get when you tell people you just got engaged!
Smaller, intimate weddings
Ali, one of our own expert event planners, is getting married on August 15, with some adjustments.
My fiancé and I were planning on getting married on August 15th, amongst friends and family coming from near and far, at my mother's repurposed farm in upstate New York. Even with COVID119, my fiancé and I are still getting married on August 15th with a smaller group of family and friends. While waiting to find out how many people we can have at our wedding, we are determined to get married this summer. To us, the part of this wedding we have always been most excited about is to be married, and to start the next chapter of our life together. Being isolated and quarantined together, has truthfully brought us closer and made us realize how we are supposed to be together, making us want to get married sooner. Our families have been amazing in helping us to work out how our wedding can come into fruition, we wouldn't be able to do it without them. We are excited to see what are wedding looks like!
---
We've been working with Caramoor and Wave Hill to create beautiful wedding experiences that adhere to social distancing and limited guest gatherings. We have a variety of options for celebrations of up to 50 guests.