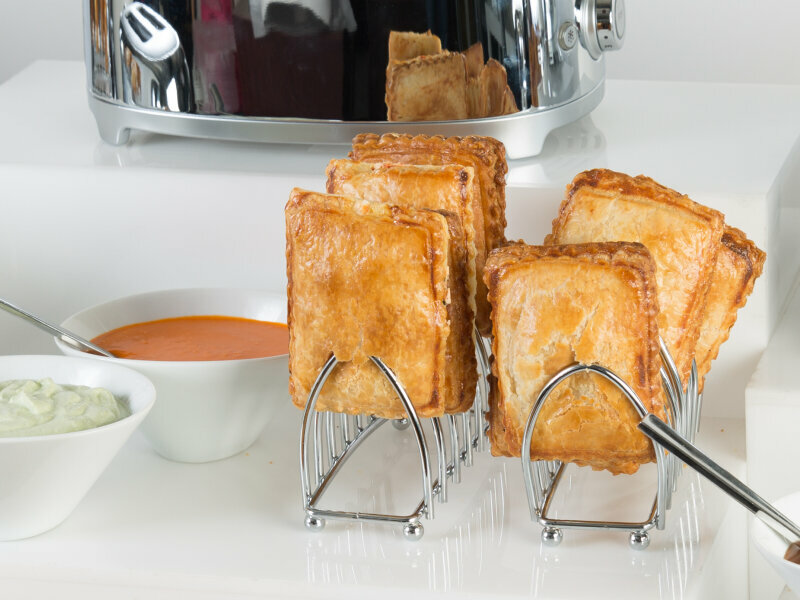 By Chef Rob Valencia
We love these hand pies as a savory alternative to its sweet, fruity cousin. Also perfect for breakfast or an afternoon snack, they can be prepared in advance and heated in the oven or in a toaster. Dress them up with a variety of sauces, or one might even serve with an egg on top.
BREAKFAST ROOTATOUILLE HAND PIES
Ingredients:
1 beet

1 parsnip

1 carrot

1 rutabaga 

4 turnips 

2 small shallots 

3 sprigs of thyme 

1 tsp herbes de Provence 

5 Tbsp Parmesan cheese, grated; plus extra for topping

2 oz olive oil 

1 egg

1 Tbsp water

Salt and pepper to taste
Directions:
Preheat oven to 375 degrees. 

Peel and dice all of the vegetables to roughly the same size. Toss vegetables with the olive oil, thyme, herbes de Provence, salt and pepper. 

Place vegetables on sheet pan and roast for 25-30 minutes until tender and caramelized. Remove from oven and sprinkle with Parmesan cheese. Cool completely.

Prepare an egg wash by mixing 1 egg with 1 Tbsp water.

Roll and cut dough into 3×5 rectangles approximately 1/8" thick. Place two tablespoons of mixture into each rectangle. Brush the edges of the dough with egg wash, cover with second rectangle of dough and seal by pressing firmly outer edge. Sprinkle top of pop tarts with salt, pepper and Parmesan cheese.

Poke a few steam vents into the top of the pop tart with a fork. Place on sheet pan. Put in oven for 8 minutes, rotate, and then bake for another 8 minutes. 

Allow to cool for 10 minutes and enjoy!