This month I am so excited to invite our Director of Catering, Mike Warren, to interview the incredibly talented and fabulous Baz Luhrmann, who directed this season's blockbuster hit The Great Gatsby. Mike worked tirelessly for weeks to create the speakeasy after-party with Warner Brothers and Samantha Sackler Productions, which took place in the gilded, turn of the century, Grand Ballroom. Read further to find out about Baz's socks.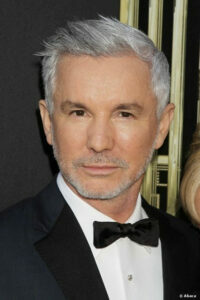 1) Where were you born?
Sydney, Australia
2) Where do you get your inspiration from?
I get it from the desire to live an adventurous life.
3) What made you want to direct The Great Gatsby?
I heard it on the train going through Siberia as an audiobook ten years ago and realized there was a different film version to be made.
4) Was Leonardo DiCaprio always your number one choice for Jay Gatsby?
Always. There was no list.
5) Why do you think F. Scott and Zelda loved the Plaza?
What's not to love?
6) Why do you love the Plaza?
Because of its history. It is glamorous, yes, but just a bit of outrage as well.
7) Tell us what you loved about the post-party bash in the Ballroom?
Those things nearly never work. And people hardly ever have a good time. But when Florence and Jay-Z are dancing together you know something is right.
8) What do you do for fun when you are not working?
I am never not working so I try and find fun when I am working.
9) Why don't you wear socks?
Because I've got the ankles for it.
10) If you could have dinner with three people tonight, who would they be?
Catherine Martin, Lillian Luhrmann, William Luhrmann
11) What is your favorite place to travel to?
Asia. With Russia a close second.
12) If you come back in another life, who do you want to be?
Myself, with hindsight and wisdom.
–Rob Arango