AUGUST FOOD FESTIVAL: TOMATO JAM
Our 2023 calendar theme, Preservation, is an ode to the art of preserving the harvest as well as a salute to the self-preservation of body and spirit. These have been challenging years! It's fair to say we have been pickled and fermented, but that life goes on. It is the celebratory moments and the opportunities to come together that we relish.
This month we're celebrating with a Tomato Jam recipe brought to you by our Executive Chef of Catering Operations, Mike Deuel.
We love preserving our fresh tomatoes from Katchkie Farm using this recipe. This sweet and savory jam is a great addition to any cheese board or sandwich, used as a pizza topper or glaze for meats…truly, the possibilities are endless! We hope you love it as much as we do.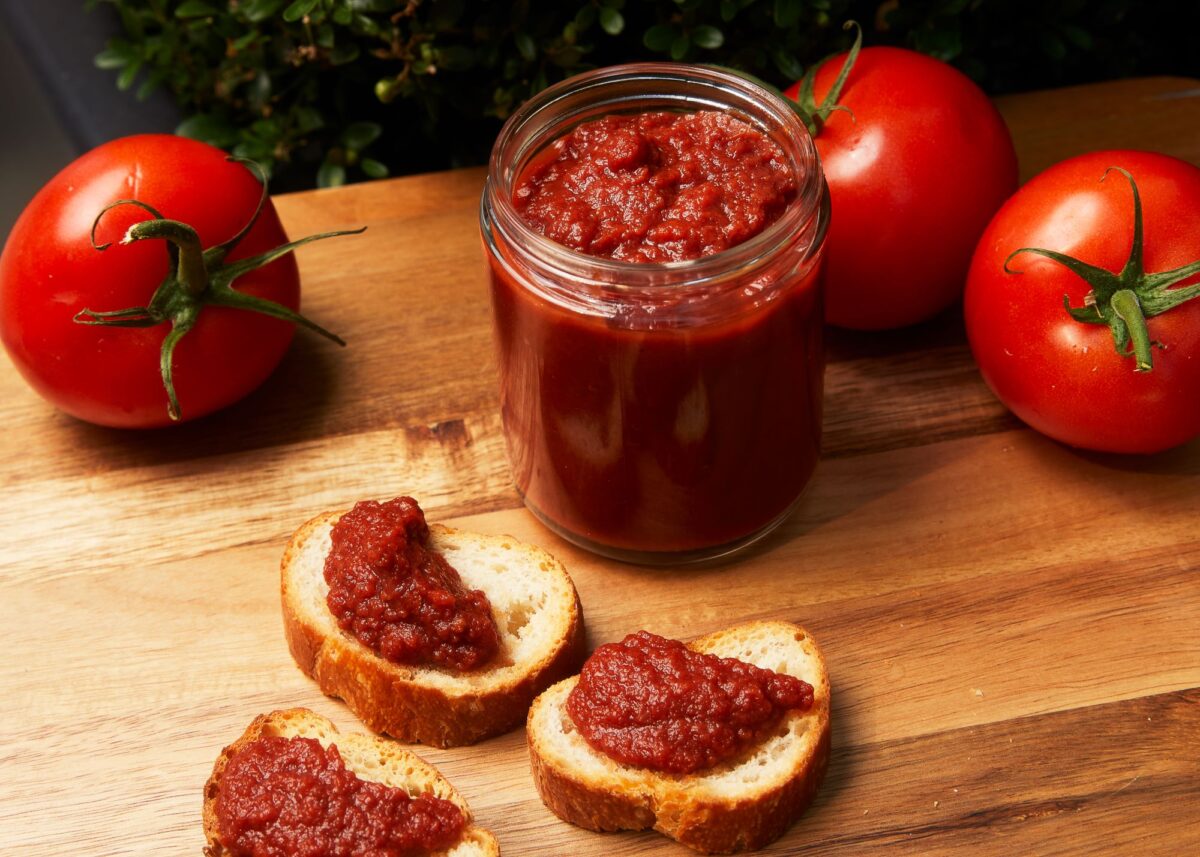 by Mike Deuel, Executive Chef of Catering Operations
Chef Mike is a huge fan of fresh, summer tomatoes – check out his recipe for a Tomato and Onion Curtido Salad on our website – but his not-so-guilty pleasure is a fresh tomato sandwich with bread, sliced ripe summer tomatoes, Hellmann's mayonnaise, and a sprinkle of salt and pepper. At his home garden, he and his wife have more than 100 tomato plants growing. Most are volunteers that grew on their own rather than being deliberately planted. When they come across an especially delicious tomato, they will sacrifice it for seeds to grow the next year.
2 1/2 lbs cherry tomatoes
1 3/4 c sugar
2 limes, juiced and zested
1 tsp freshly grated ginger
1/2 tsp cinnamon
1/4 tsp ground cloves
1 1/2 tsp salt
1 1/2 tsp red pepper flakes
Combine tomatoes, sugar, zest of 1 lime, lime juice, ginger, sinnamon, cloves, salt, and red pepper flakes to a non-reactive pot.
Boil and simmer uncovered for 1-2 hours, stirring till soft, sticky, and jammy.
Jar and allow to cool completely before storing in a fridge or freezing.
More Food Festival Recipes