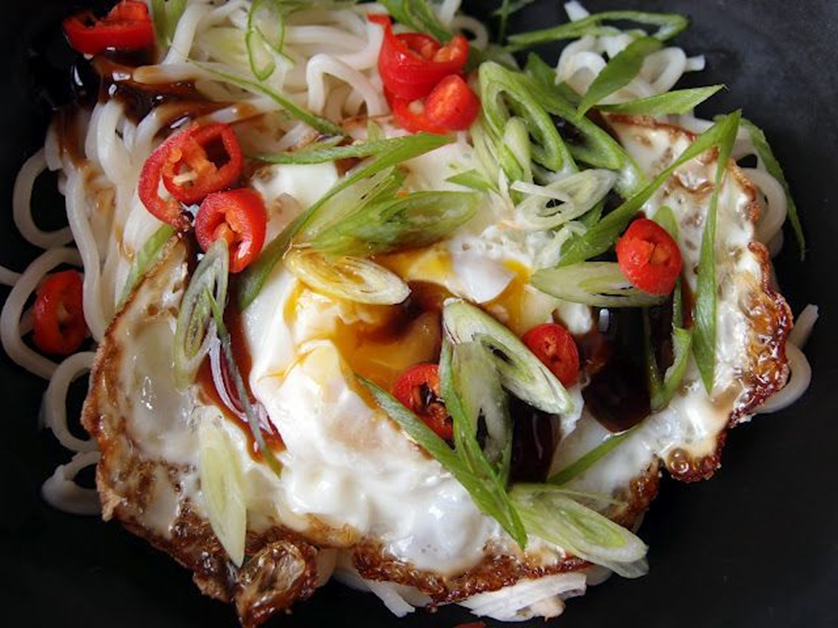 One egg contains 27% of the choline we need in a day. Choline is an essential nutrient involved in the regulation of memory, mood, muscle function and more.
Looking for more health supportive and wellness content? Check out GP Embrace
Each month, our Great Performances menus feature seasonal ingredients. It's our way of celebrating the earth and bringing our special touch to every menu.
This month, we're celebrating eggs with a bonus recipe! These fried eggs feature a crispy bottom and is garnished with some oyster sauce, scallions and chilies. Delicious on its own, on ride or noodles, or any way you imagine. Oscar taps into his Peruvian heritage recommends eating them with Chaufa, a Peruvian fried rice with Chinese origins.
THAI STYLE FRIED EGG (KAI DAO)
by Oscar Seguin, Saucier
Servings: 2-4
Ingredients
1 ½ cups vegetable oil

4 large free-range egg

1 tbsp oyster sauce

2 scallions, finely sliced

1-2 red bird's eye chilies, finely sliced
Procedure
Heat oil in a hot wok until the surface seems to shimmer. Crack eggs into the hot oil for 2 minutes.

Reduce heat to moderate allowing the underside of the egg to become firm and crisp. Carefully slide a spatula under the eggs and lift out the wok, then pour off the oil.

Return eggs to wok to for a minute to crisp further.

Remove eggs from wok drain off any excess oil before plating.

Drizzle eggs with oyster sauce and garnish with pepper shallots and chilies.