A Pizza Farm In Upstate New York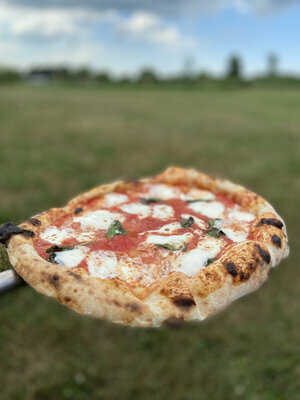 You've heard about organic farms, dairy farms, and poultry farms, maybe even wind farms, but have you heard of a pizza farm in Upstate New York?
Up at Katchkie Farm, we've got more than just fantastic produce growing in our fields; we're delighted to announce Rafi Bildner as our chef in residence this summer, slinging artisan sourdough pizzas at a pop-up version of his Hilltown Hot Pies. 
On weekends through September, he'll be using produce fresh from our fields and locally sourced meats and cheeses to create Neapolitan-style pizzas fired in our wood oven.
The pies are available by pre-order only and can be either picked up or, if there are tables available, enjoyed at the farm.
A portion of the sale of each pie will be donated to The Sylvia Center, the nonprofit dedicated to teaching nutrition and healthy cooking to children and their families in underserved communities in Columbia Co. and New York City, which maintains its Learning Garden at Katchkie Farm.
The flavors are fresh and exciting, including the Beetza, basil pesto, roasted beets, sweet caramelized onions, fresh mozzarella, chevre; the Field & Forest, plum tomato sauce, fresh mozzarella, roasted mushrooms, pickled onion and soppressata; and Garlic Goat,  green garlic  sauce, zucchini, chevre, fresh mozzarella, toasted pine nuts, chili flakes.
Vegan pies are also available, changing weekly to reflect the bounty of the farm.
Order your pies early — they sell out quickly!
You can order them online at https://hilltown-hot-pies-at-katchkie-farm.square.site/for pick-up Thursday through Sunday from 4 to 8 p.m. at the outdoor Pizza Pavilion on Katchkie Farm, 745 Fischer Road Extension, Kinderhook, NY 12106.
As you're waiting for the deliciousness, check out some photos of the farm, the pizza, and Rafi in action!