SYLVIA CENTER'S ART OF COOKING RECAP
By Sylvia Center Executive Director, Jennifer John
On Thursday, November 1st, The Sylvia Center Celebrated Both The Foundation And The Future Of The Organization With Their Art Of Cooking Benefit At Hudson Mercantile.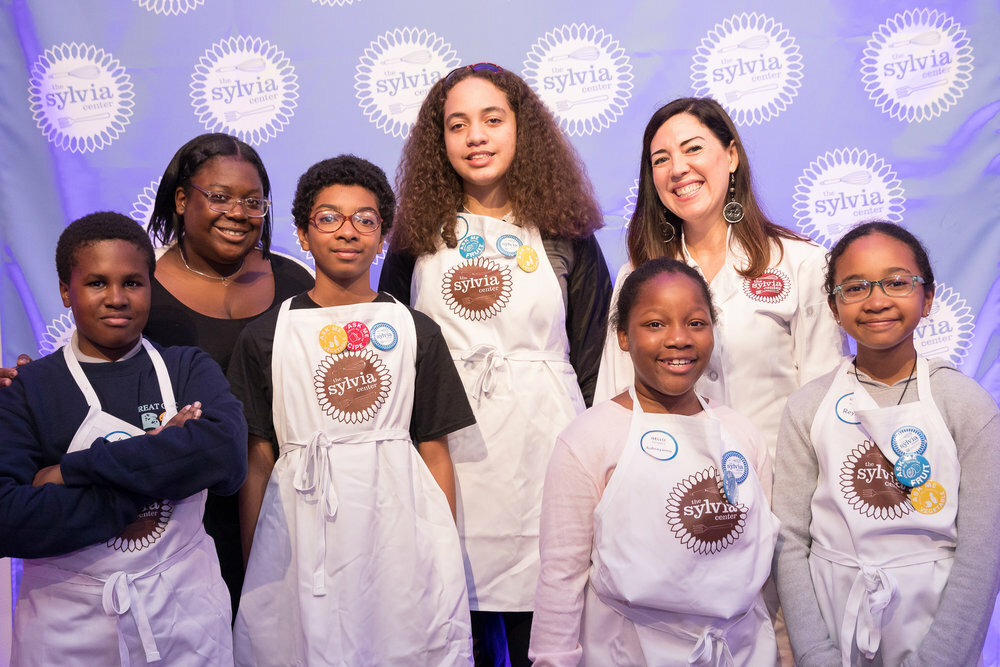 Over 270 guests enjoyed delicious food, great company, laughter, and were moved by stories from two recent graduates of the Teen Culinary Apprenticeship program. 
The night started off with cocktails and perfect bite size hors d'oeuvres inspired by our guest chef and student collaborations from all over the city. Patti Jackson (Delaware and Hudson), Sohui Kim (Insa and The Good Fork), and Antonio Mora (Quality Meats) shared their knowledge and skills with students during class in the previous weeks, and then prepared and served these appetizers together during the event. Guests were thrilled to talk with the students about what they have learned with The Sylvia Center. 
The night continued with a delicious dinner curated by Chef Anita Lo. Executive Director, Jennifer John, honored the seven founding board members for their vision and years of service to the young people of New York. Dr. Dodi Meyer accepted the honor on behalf of the group, which included Richard Aaron, Joel Cooperman, Rabbi Anne Ebersman, Trudy Elbaum Gottesman, Chaim Wachsberger, and Great Performance's own, Dean Martinus. Dr. Meyer's speech highlighted the deep need for programs that address food insecurity and diet-related diseases during the important early years of life.
Liz Neumark, Chair of the Board of Directors, presented The Sylvia Center Future Community Leader Award to Nerelly Jimenez and Rishon Philips. These Teen Chefs were recognized for their potential to serve their own community by sharing the principals of healthy eating with their peers, family, and neighbors. The program concluded with a lively auction conducted by Christie's veteran, John Hays. The marquee item of the evening was a private dinner prepared by Chefs Anita Lo and Sohui Kim. 
The Sylvia Center raised over $570,000 through the generous donations of many amazing supporters and sponsors. The Sylvia Center thanks Great Performances for their outstanding service and support, and Hudson Mercantile and Bentley Meeker for the beautiful event space. Most of all, The Sylvia Center thanks our community chefs and students for being role models in their communities and continuing to inspire us and others to grow together.
Photo Credit: Amanda Gentile