10TH ANNUAL LATKE FESTIVAL
IT'S BEGINNING TO LOOK A LOT LIKE…LATKE SEASON!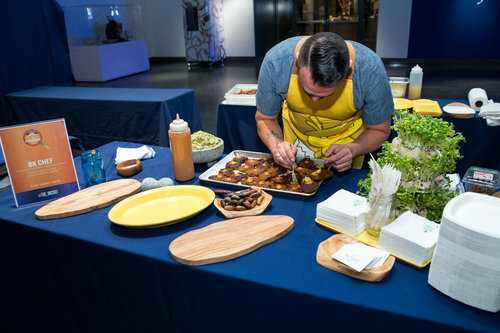 This year's Latke Festival on December 3 at the Brooklyn Museum will mark the tenth edition of the event produced by Great Performances as a fundraiser for The Sylvia Center, the nutrition education non-profit that helps young people develop the healthy habits that will lead to happier, more productive lives.
The festival, dedicated to the potato pancake and the myriad creative interpretations it can inspire, has become one of the New York City Holiday Season's most eagerly anticipated – and delicious – annual events.
New for 2018 is an additional winning category. In addition to the Best Latke, as determined by a panel of distinguished food expert judges and a People's Choice Best Latke voted on by the evening's guests, there will be Best Traditional Latke, also decided upon by the official judges. This year the panel will see the return of Alicia Glen, the deputy mayor of the City of New York and David Berliner, CEO of the Brooklyn Museum, who will be joined by some notable newcomers, including: Actress Debi Mazar and her Chef husband Gabriele Corcos, the hosts of the Cooking Channel's Extra Virgin; former longtime Editor-In-Chief of Food & Wine and now Executive Director of Speaking Broadly, Dana Cowin; Editor-In-Chief of Gastro Obsura, Alex Mayyasi; and CEO of Four Freedoms Park,
There will also be a number of new restaurants joining Latke Festival veterans such as Benchmark, the 2017 winner for Best Latke with their Plantain, Sweet Potato and Tortilla Latke with Ancho-Braised Chicken, Pickled Onion and Crema and Shelsky's of Brooklyn, the People's Choice Winner with a Latke Reuben Caraway Seeded Latke Stuffed with Riesling Braised Sauerkraut and Swiss Cheese, Topped with Corned Beef, along with The Norm, Burger & Lobster, Dizzy's, Kulushkat, and Velselka. Among the newcomers to the 20-plus restaurant roster are Bricolage, Baoburg, Dutch Boy Burgers, FONDA and White Tiger.
Tickets for the 10th Annual Latke Festival are $75 for General Admission and $110 for VIP perks such as an exclusive lounge. They can be purchased via Eventbrite.