JANUARY 2018 RUTABAGA FESTIVAL
Rutabaga, Kale And Potato Gratin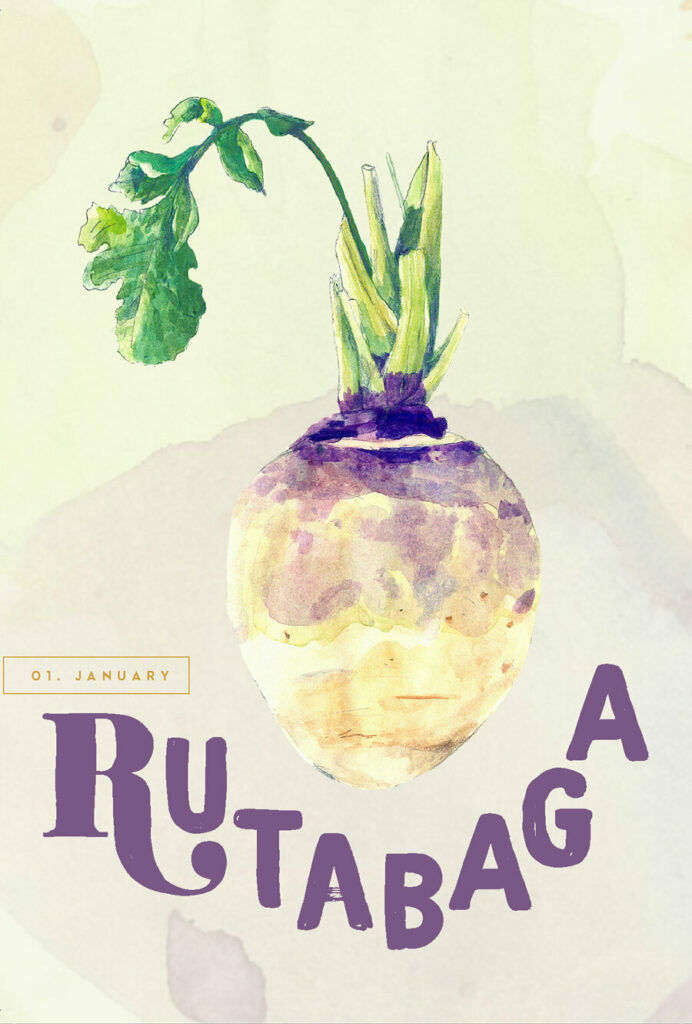 INGREDIENTS
1 lb rutabaga, peeled and thinly sliced
1 lb Idaho potato, peeled and thinly sliced
8 oz kale, shredded
2 oz shallots, brunoise
4 cloves garlic, confit
1 tbsp thyme
2 cups Gruyère cheese
3 oz butter
1 oz olive oil
2 cups heavy cream
2 tbsp maple syrup
1 lemon
1 sachet garni –cloves, cinnamon, star anise, rosemary stem & parsley stem
Salt, to taste
Fresh ground black pepper, to taste
DIRECTIONS
Heat olive oil in sauté pan on medium heat. Add garlic confit and brunoise shallots and cook for 3 minutes. Add kale and sauté for 2 more minutes.
Season with salt, pepper and fresh lemon juice. Pull off heat and reserve.
In pot, steep heavy cream seasoned with maple syrup and sachet, then reserve.
Butter bottom of baking tray, then layer rutabaga and potatoes on bottom.
Between each set of layers, add seasoned cream and grated cheese. Halfway through layer the kale.
When complete, sprinkle cheese and thyme on top. Bake for 35 minutes at 375 degrees.
FEBRUARY 2018 BEETS FESTIVAL
MARCH 2018 SQUASH FESTIVAL
Curried Winter Squash Soup With Chickpeas And Kale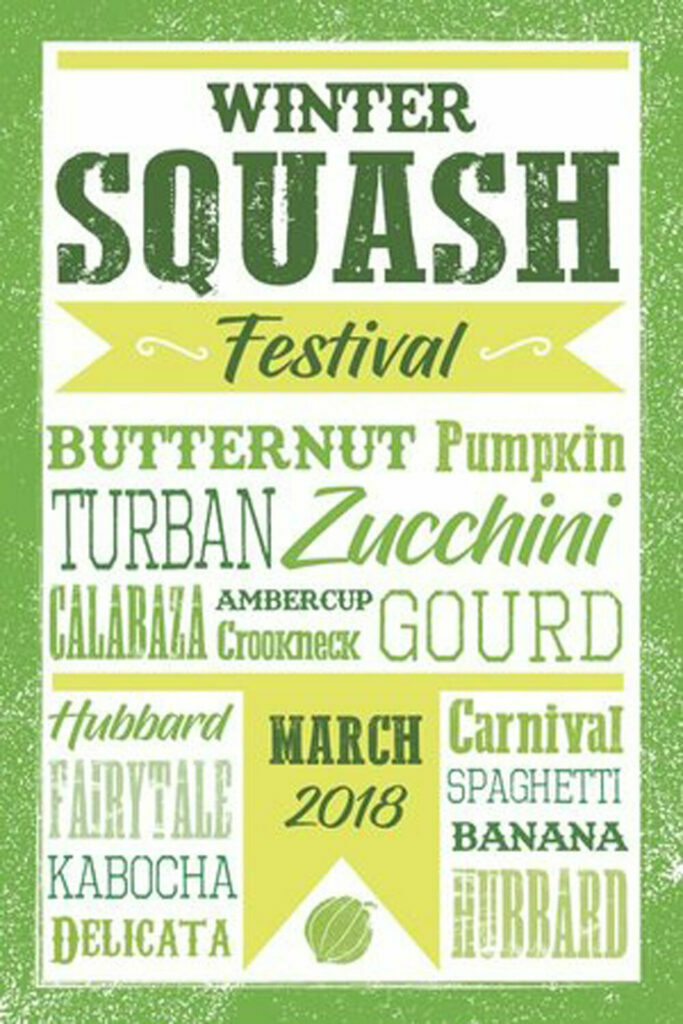 INGREDIENTS
4 cups butternut squash, cut into 1-inch cubes
4 stalks celery, cut into 1- inch pieces
1 bunch green kale, washed and sliced thin
1 medium onion, diced
4 tbsp ginger, grated
1 bunch cilantro leaves & stems, washed and roughly chopped
2 cloves garlic, sliced thin
1 can (12oz) chickpeas, strained and rinsed
2 tbsp tomato paste
1 can (8oz) unsweetened coconut milk
3 tbsp curry powder
4 tbsp fresh lime juice
¼ cup olive oil or coconut oil
DIRECTIONS
In a medium-sized pot, heat olive or coconut oil. Add sliced garlic and
toast until golden. Add onions and celery and cook for 4 minutes.
Add curry powder and cook for one minute. Add tomato paste and cook
for 2 more minutes, stirring well to prevent burning.
Add butternut squash, chickpeas and enough water to cover by one inch.
Season with salt to taste and bring to a simmer.
Simmer until the squash is tender. Add coconut milk, kale, ginger,
lime juice and cilantro. Bring back to a simmer for a few more minutes.
Taste for seasoning and serve when ready.
APRIL 2018 ARTICHOKES FESTIVAL
Sunchoke Polenta, Mushrooms & Poached Egg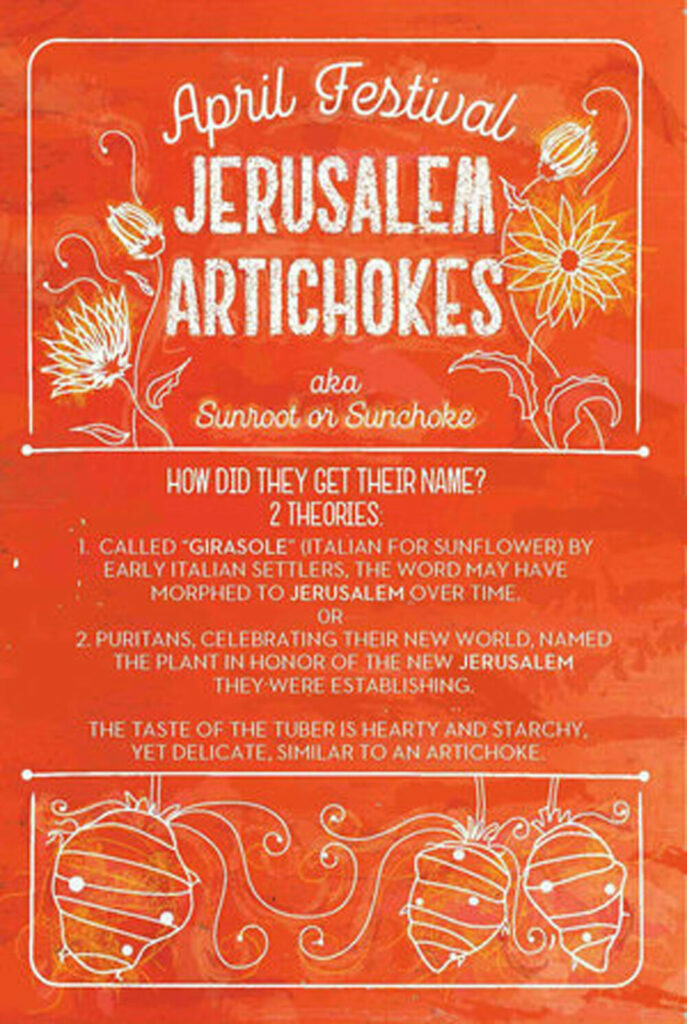 INGREDIENTS
Makes 6 Servings
1 lb sunchokes
12 oz instant polenta
⅓ cup parmesan cheese, grated
1 lb oyster mushrooms, trimmed
5 cups milk
Salt to taste
Black pepper to taste
¼ oz shallots, finely diced
¼ oz garlic, minced
A few sprigs fresh thyme
6 eggs, poached
6 tbsp canola oil, divided
DIRECTIONS
Bring milk to a simmer, and season with salt and pepper to taste. Add polenta, whisking gently until mixture is smooth. Lower heat and cook 10-15 minutes, stirring occasionally.
Add 4 tablespoons canola oil to a large saucepan on medium high. Distribute sunchokes evenly, and cook until lightly golden brown on both sides. Season with salt and pepper to taste, and move to a paper towel-lined plate.
Add 2 tablespoons canola oil to a sauté pan on medium high. Cook mushrooms until lightly golden brown, then add shallots, garlic and thyme. Cook 2 more minutes, and season with salt and pepper to taste. Move to a paper towel-lined plate.
Taste polenta for seasoning, and adjust consistency with milk if needed. Add parmesan and half of the sunchokes. Mix well.
Gently poach eggs in simmering water 5-6 minutes.
To serve, divide polenta in 6 warm bowls, and top with mushrooms, sunchokes, and poached egg. Sprinkle a little parmesan and freshly cracked black pepper on top.
MAY 2018 ASPARAGUS FESTIVAL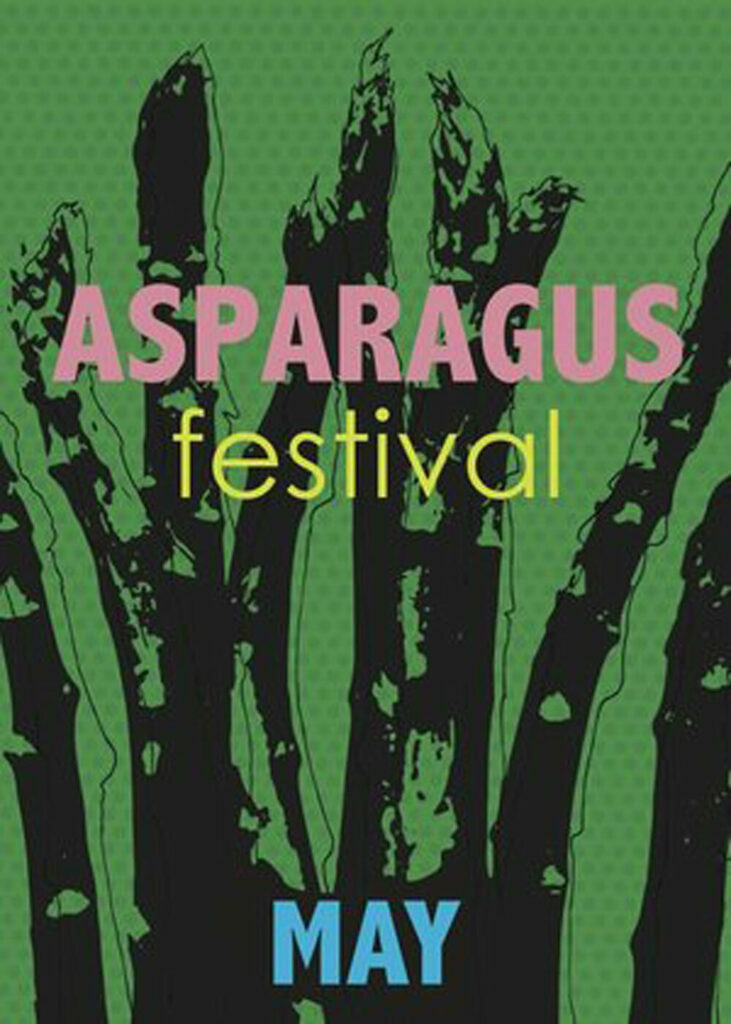 INGREDIENTS (serves 4-6)
4 heads Little Gem lettuce, leaves separated, washed and spun dry
5 breakfast radishes, sliced thinly
2 cups baby arugula
8 jumbo asparagus, sliced thinly on the bias
3 stalks celery, peeled then sliced thinly on the bias
1 cup toasted croutons
1/4 cup parmesan vinaigrette
Salt and pepper, to taste
Parmesan Vinaigrette
6 tbsp lemon juice
1 cup olive oil
1 clove fresh garlic, minced
1/4 cup grated parmesan cheese
Salt and pepper, to taste
DIRECTIONS
Prepare parmesan vinaigrette
Add lemon juice to a small bowl, add garlic and let sit for 5 minutes.
Add parmesan, whisk, and slowly add the olive oil while whisking.
Season with salt and black pepper to taste.
Store in a jar with a lid, and shake before using.
In a large bowl combine ingredients and toss gently to combine.
Season to taste with salt and pepper. Toss gently. Taste and adjust seasoning.
Serve on chilled plates.
JUNE 2018 STRAWBERRY FESTIVAL
Chamomile-Infused Tequila With Muddled Strawberries, Cucumbers & Grapefruit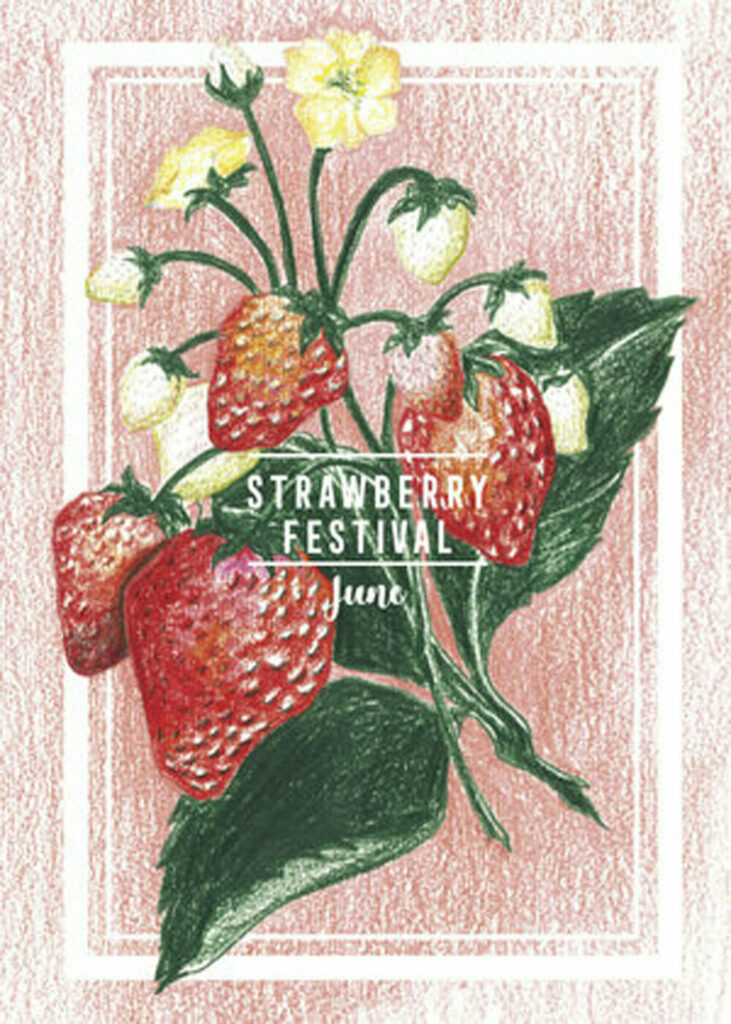 INGREDIENTS
2.5 oz chamomile-infused tequila
1 oz fresh crushed strawberries
1 oz ruby red grapefruit pulp
1 oz simple syrup
1 oz ruby red grapefruit juice
3 slices of cucumber
1 grapefruit peel twist
DIRECTIONS
Muddle strawberries, grapefruit gulp and cucumbers
Add ice, simple syrup, tequila and grapefruit juice. Shake, shake!!
Pour into serving glass
Garnish with cucumber slices and a grapefruit twist
JULY 2018 SUMMER SQUASH FESTIVAL
Spaghetti With Roasted Summer Squash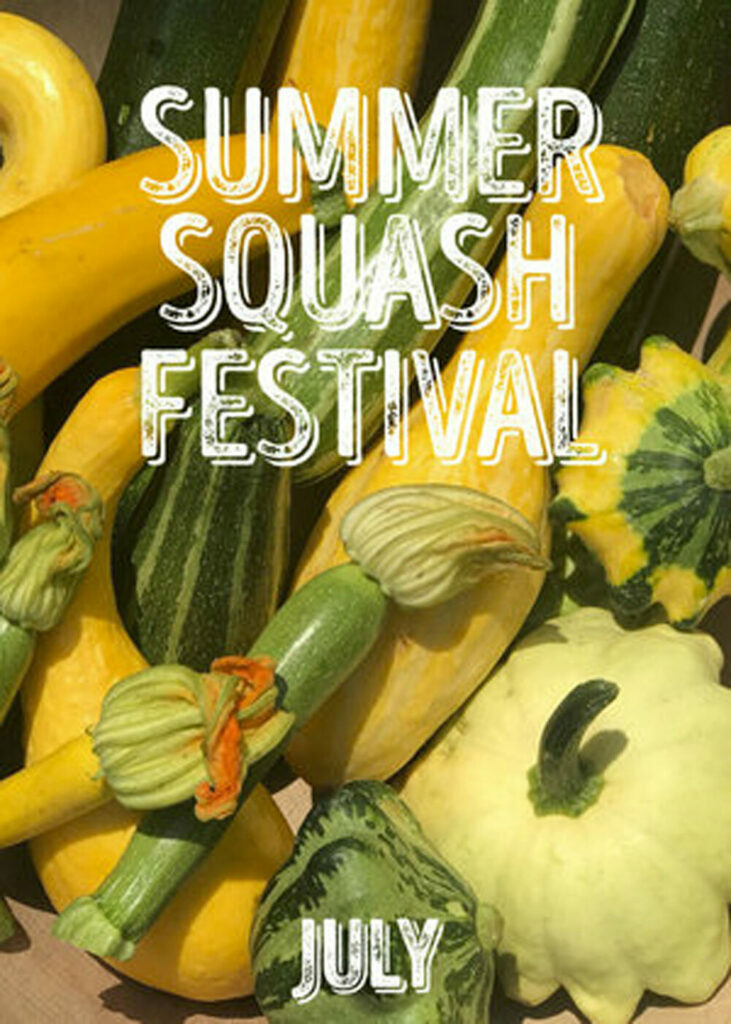 INGREDIENTS
12 oz dry spaghetti
1 clove garlic, sliced
1 ¾ cup zucchini, sliced 1/8 inch
1 ½ tbsp fresh mint, julienned fine
2 oz breadcrumbs, well toasted
2 tbsp parsley, chopped
DIRECTIONS
Fill a large pot with well-salted water, put on medium-heat.
Heat large sauté pan over a medium-heat. Once water comes to a boil, add pasta.
Add zucchini coins evenly to hot sauté pan; wait for beautiful caramelized color on one side, then toss.
Cook zucchini for 2 minutes, then add garlic, chili flakes and black pepper. Drain al dente pasta and add to sauté pan with zucchini, then toss.
Add parmesan, lemon zest, mint, parsley, a glug of olive oil and lemon juice, then toss.
Taste for seasoning, divide between warm pasta plates.
Sprinkle each portion of pasta with breadcrumbs and parmesan.
AUGUST 2018 TOMATO FESTIVAL
Tomato And Watermelon Salad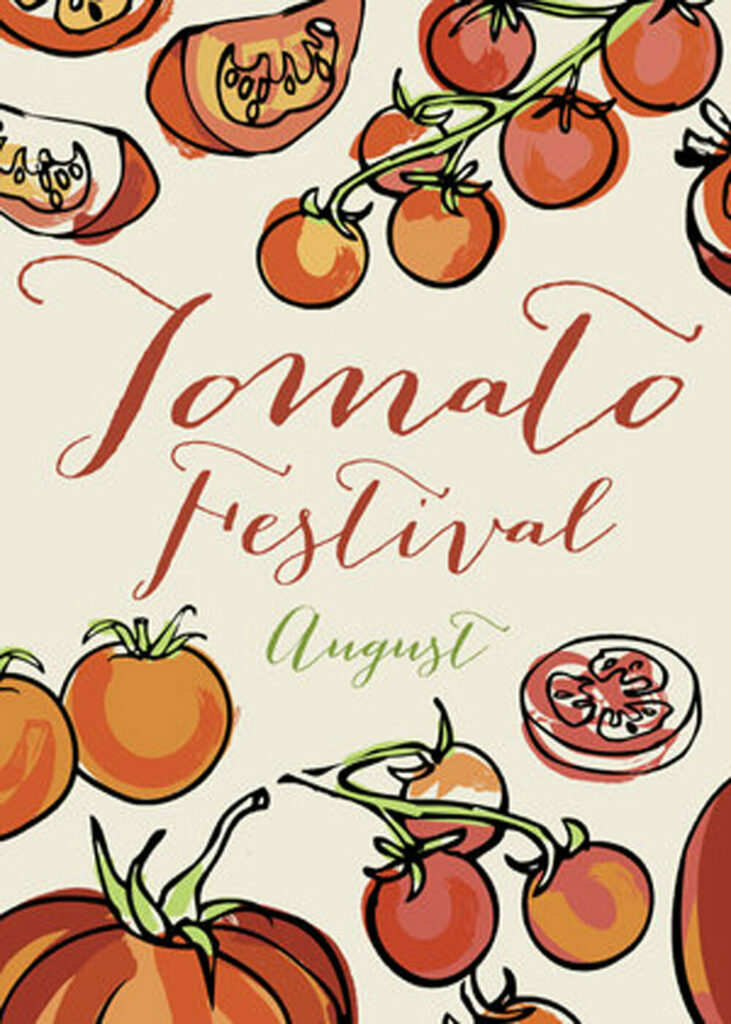 INGREDIENTS
1/4 cup white wine vinegar
2 1/2 tsp sugar
1 tsp kosher salt
2/3 cup red onion, sliced thinly
8 cups watermelon, 1-inch chunks
4 cups ripe tomatoes, 1-inch chunks
1/3 cup olive oil
DIRECTIONS
Combine vinegar, salt, sugar and cayenne in a small bowl, and mix well.
Add red onion to the vinegar mixture, and let sit for 30 minutes.
Combine vinegar mixture, olive oil, basil and mint with the tomatoes and watermelon in a large bowl, and use hands to gently toss.
Arrange salad onto chilled serving plates. Top with grated ricotta salata.
SEPTEMBER 2018 PEPPER FESTIVAL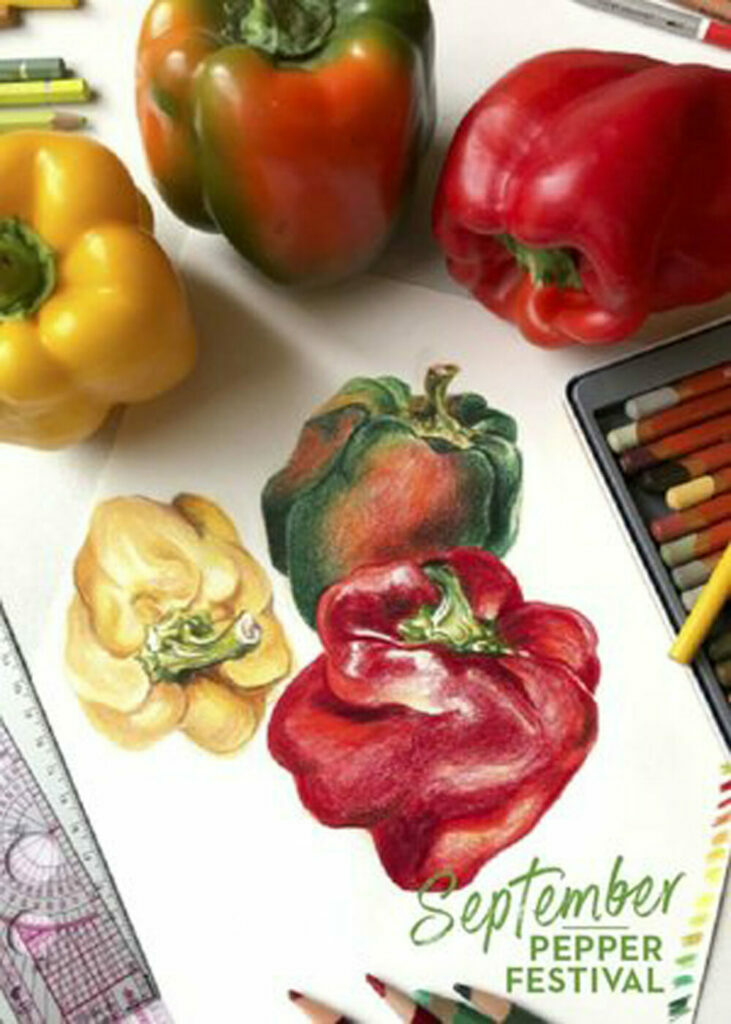 INGREDIENTS
1 Garlic Clove, Sliced
2 large Bell Peppers, Seeded & Sliced
½ cup Cucumber, Diced
15 Ripe Plum Tomatoes
2 oz. Pain De Mie
¼ Olive Oil
Sherry Vinegar to taste
Salt and pepper to taste
DIRECTIONS
Combine garlic, green pepper, tomatoes, bread, olive oil, vinegar and salt in a food processor    
Process until very smooth
Pass mixture through a fine chinois
Stir in water to achieve preferred consistency
Add more salt and vinegar as needed
Cover, chill at least 2 hours
Ladle into chilled bowls with diced cucumber and spanish olive oil
OCTOBER 2018 APPLE FESTIVAL
Apple Brown Betty Handpie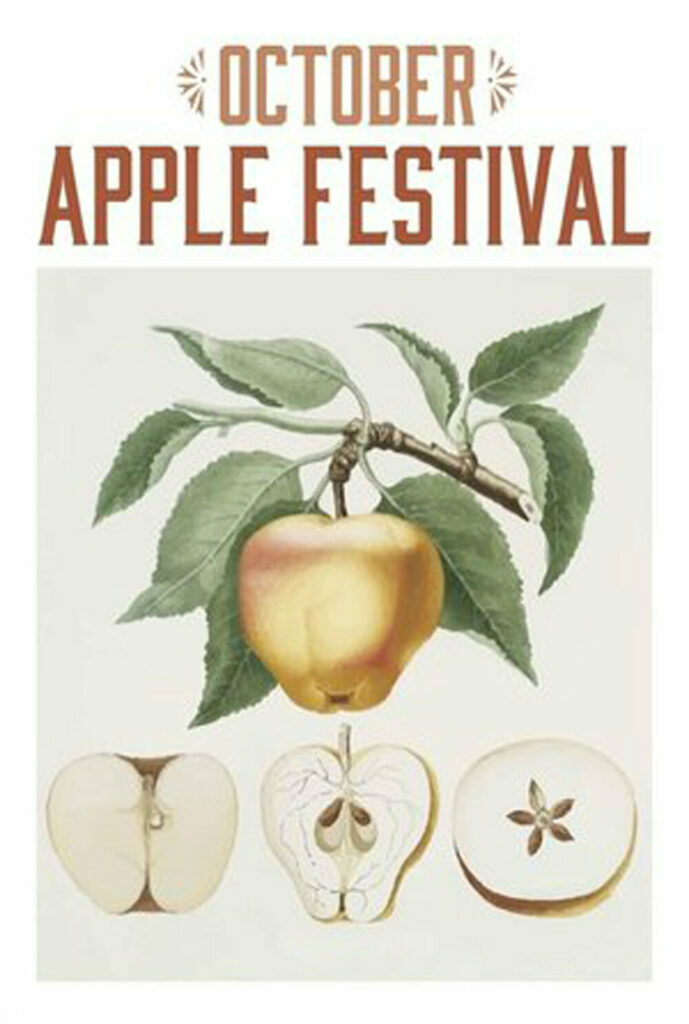 INGREDIENTS
Hand Pie Dough
2 1/2 cups All-Purpose Flour
1/2 tsp Salt
1 cup Unsalted Butter, chilled and cut into small pieces
1/2 cup Sour Cream
4 tsp Fresh Lemon Juice
1/2 cup Ice Water
Hand Pie Filling
3/4 stick of  Sweet Butter
4 tbsp All-Purpose Flour
2 1/2 tbsp Cornstarch
4 Granny Smith Apples, peeled, cored and cut into 1-inch size pieces
3/4 oz Water
4 1/2 oz Sugar
1 tsp Cinnamon
1 tbsp Vanilla Extract
1/2 tsp Salt
Crumble Topping
4 oz. Sweet Butter
1/2 cup All-Purpose Flour
1/3 cup Packed Brown Sugar
1/2 tsp Cinnamon
Pinch of Salt
DIRECTIONS
Hand Pie Dough Directions
Add the flour and salt to the bowl of a food processor.  Add butter & process until it resembles coarse meal.
Combine the sour cream, lemon juice and water & flour mixture. Pulse to form dough.
Hand Pie Filling Directions
Melt the butter, add the flour, whisk and cook for 5 minutes.
Make a slurry with the water and cornstarch. Add to the roux. Cook for 3 minutes.
Mix in the rest of the ingredients. Let cool.
Crumble Topping Directions
In a small bowl, mix butter, flour, brown sugar, cinnamon and salt until a
crumb forms. Set aside.
To Finish
Brush the pastry circles with water.
Spoon 1/2 cup of filling into the center of each pastry circle then fold over- Seal.
Brush with egg wash then top with the crumble.
Bake at 350˚F until golden. Bon Appetit