10 Ways to Love the Planet on Earth Day
Katchkie Farm
by Suzannah Schneider, Sustainability Connector
---
We adore Earth Day at Katchkie Farm. Not just because it's a day about supporting our environment, but because it's also Farmer Bob's birthday! Help the man celebrate by trying some of our favorite eco-friendly tricks. We promise it can be enjoyable, and even delicious, to help out the earth.
1. Give Meatless Monday a go. Or try Mark Bittman's VB6 method, or eat meat every other day, or swap meat for an increasingly believable meat substitute one day a week. Did you know that animal agriculture is responsible for 18% of all greenhouse gas emissions, which is more than the combined exhaust from all transportation? There are plenty of ways to reduce your impact by cutting back on meat just a bit.
2. Recycle your e-waste. Not only is it illegal in New York City to include electronics with normal trash and recycling, but tossing e-waste in your garbage can means that those heavy metals, acids, and other hazardous material may end up in your soil and drinking water. GrowNYC has a great network for e-waste disposal. Check it out!
3. Plant a windowsill garden. You can grow all your favorite herbs in a sunny window to cut down on costs at the grocery store or Greenmarket, and you will also enjoy the simple magic of watching things grow. It's nice to have a slice of nature in your very own urban apartment! Have more space? Check out Annie Novak's The Rooftop Growing Guide to turn your roof into an urban farm.
4. Spend an afternoon at the thrift store. Yes, shopping can be environmentally friendly! Thrifting keeps clothes out of landfills and your wardrobe fresh. With curated shops like Buffalo Exchange and Beacon's Closet all over the city, your recycled clothes won't look secondhand.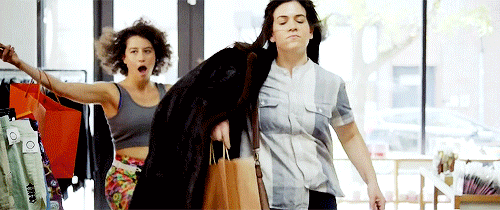 5. Wash your clothes in cold water then line-dry them. You're going to want to wash those used clothes before you wear them so they feel brand-spanking-new. Make sure to use cold water for the wash; then keep your clothes out of the dryer (or only dry for half of the time). This will reduce the amount of energy you use and extend the life of your clothes.
6. Get to know Birdie. GreeNYC's adorable mascot has all sorts of tips for simple steps you can take every day to live more sustainably. Birdie's educational Instagram account is sure to put a smile on your face, and his Simple Steps Giveaway is one of the best deals in town!
7. Cut down on food waste. Buy only what you think you can consume, revive what you can't, and compost the rest. The EPA has a wonderful tip sheet on keeping food out of landfills, and you can find more prosaic [and delicious] tips in Tamar Adler's An Everlasting Meal. Check out Great Performances' "Traditional" hors d'oeuvres line and this recipe inspired by produce from the farm for even more inspiration.
8. Keep it classy with cloth napkins and washable plates, silverware, and cups. You'll live in luxury with this simple shift to reduce the size of your trash bags.
9. Make use of public transportation. You don't have to think twice about this in New York City! Any time you take a bus, subway, or even a shared Lyft or Uber, you're taking more cars off the road to reduce your carbon emissions.
10. Sign up for a Katchkie Farm CSA share! Organic produce from the Hudson Valley will be picked just for you, then trucked only 2 ½ hours down to the city (not flown from the other coast or another continent) and delivered to your office or community pickup point. You'll be able to try new vegetables, and experience the amazing flavor that comes with eating in season. Learn more at KatchkieFarm.com, and sign up for a share at KatchkieFarm.CSASignup.com.